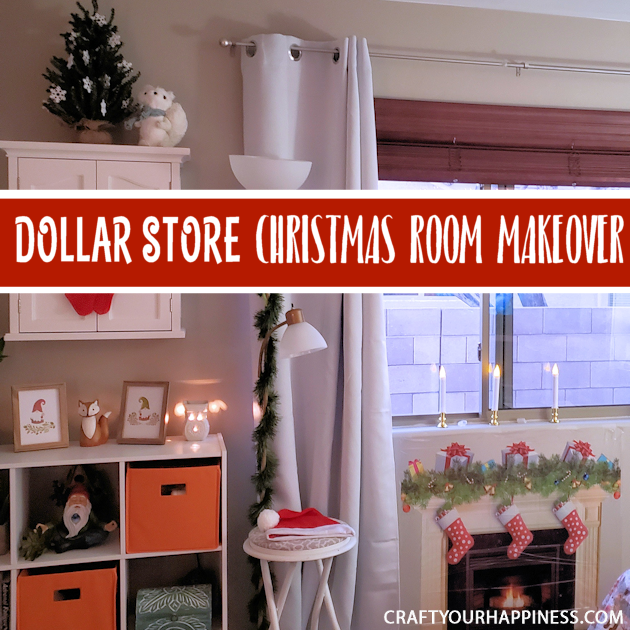 If you're like many people who celebrate the Christmas holiday it can be a very special time of year. For me, Christmas ties back to my childhood memories and it evokes powerful memories for me. I'm away from home right now working on health issues. Because of this I don't have access to all my Christmas decor. I have a beautiful large bedroom in my daughters home and because I spend a lot of time there I wanted my room to envelope that feeling Christmas gives me without spending a lot of money. I needed a budget Christmas decorating room makeover. With my daughter's help and the local Dollar store I created that.  Check out our Christmas Category for many unique inexpensive ways to celebrate the holiday!
Two of the items below have full tutorials you can click on. These are the Winter Wonderland Paper Ceiling Decor and the DIY Hanging Wall Christmas Tree.
As you can see our kitty Auggie loves Christmas as much as I do. Ü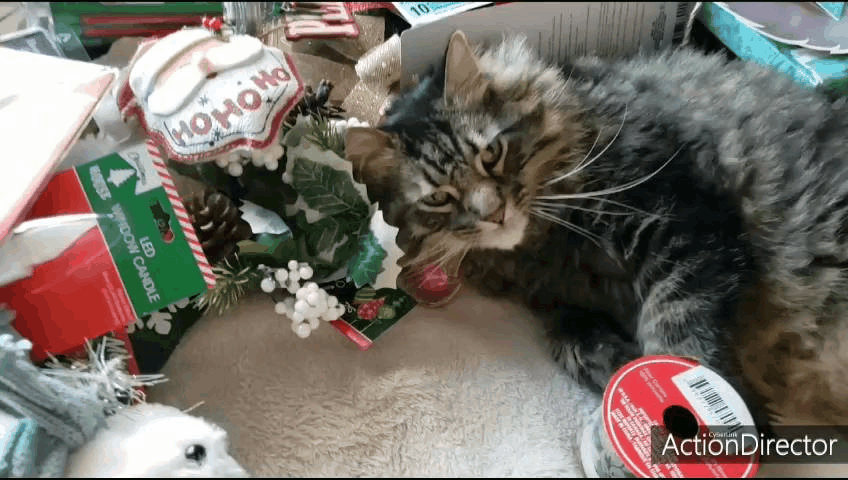 Some Supplies Used

The Makeover
The first stop was the Dollar Store.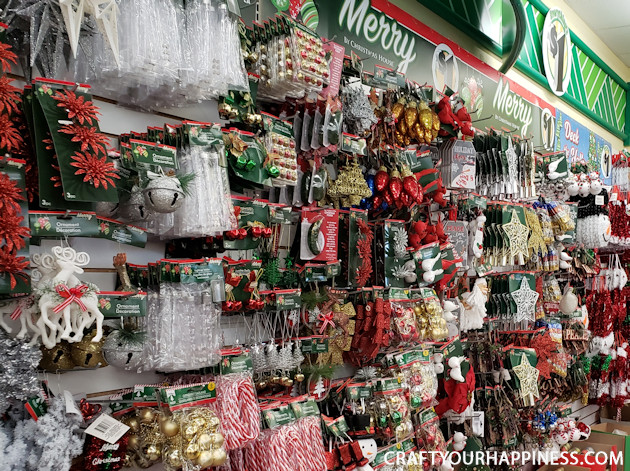 I did purchase a few things from Walmart. The two items on the left are wax melts and potpourri sticks. Both are perfect for getting the Christmas smell which is so important to the whole feeling.  I've always had a nativity up at Christmas so I splurged on this one. The nativity cost me $7.50 at Walmart.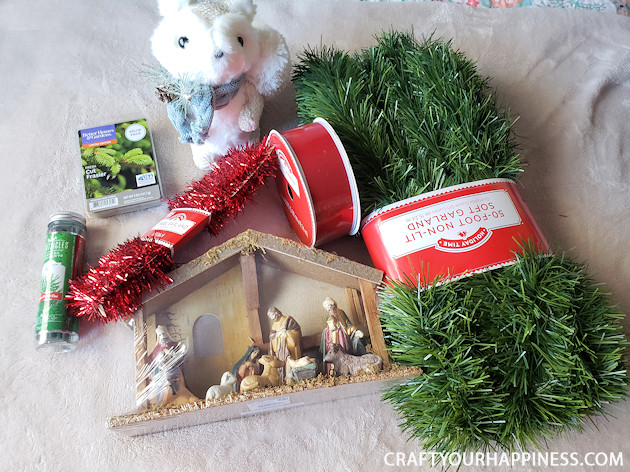 Here are some before shots of my room.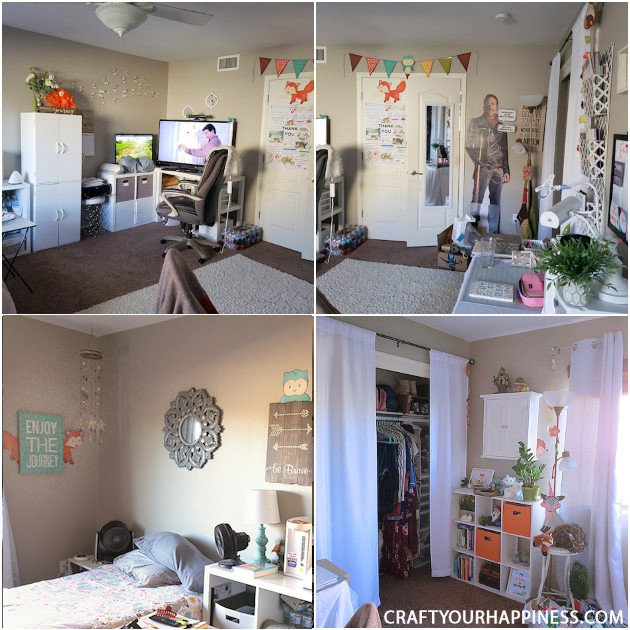 Growing up in Arizona we didn't have a fireplace so my parents purchased a cardboard one and I LOVED it.  You can actually see photos of that fireplace from my youth on this post. While in the Dollar Store I saw this plastic wall fireplace. I knew it was a bit cheesy but would serve my purpose.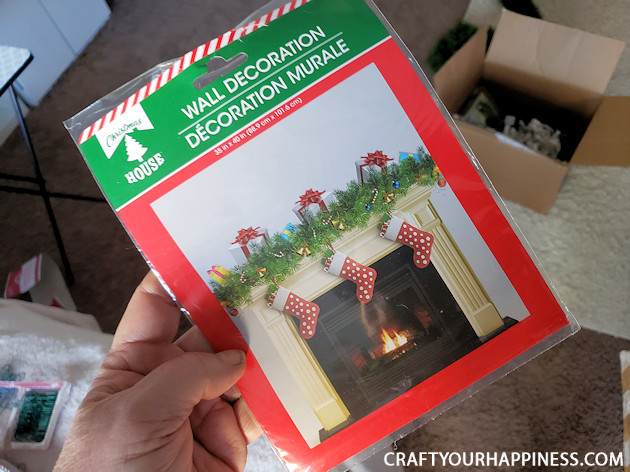 It was just a thin plastic sheet so we taped it up under my window.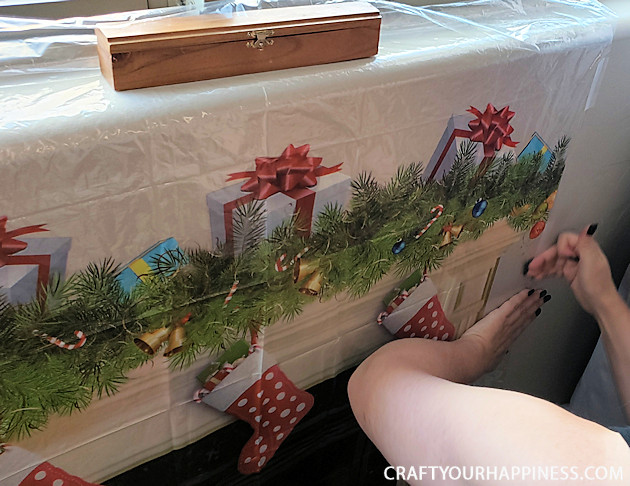 The surprising part was just how awesome it looked! Notice the stock on snowflakes on the window, purchased from the Dollar Store.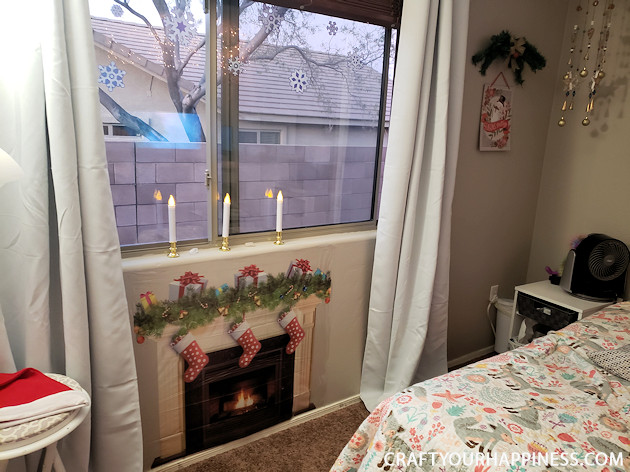 I bought three battery operated candlesticks at the Dollar Store which added to the ambiance.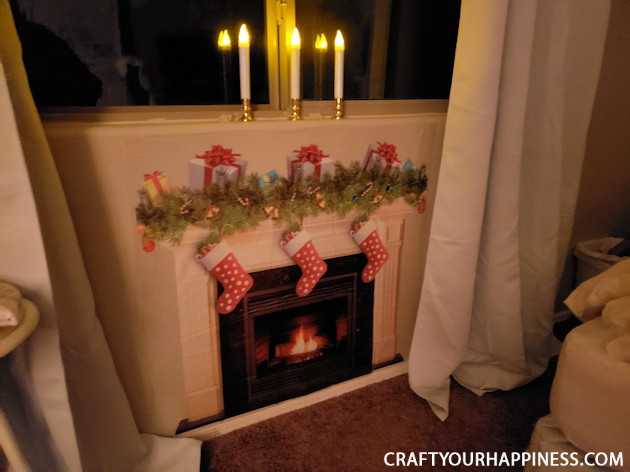 Next we hung garland and tinsel.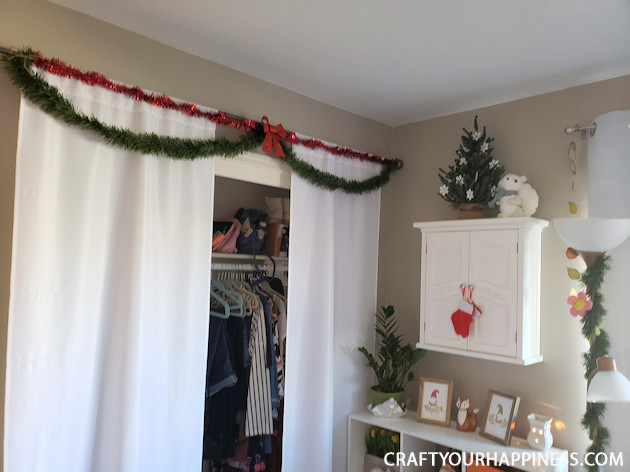 I took down some décor on my wall and other décor I added garland, bulbs etc. to make it festive.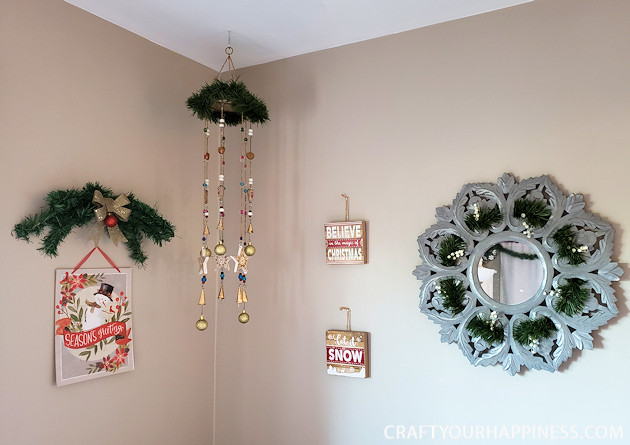 I had to have a tree but didn't really have room for a normal one so I made a hanging wall tree using dowels and dollar store items. FULL TUTORIAL HERE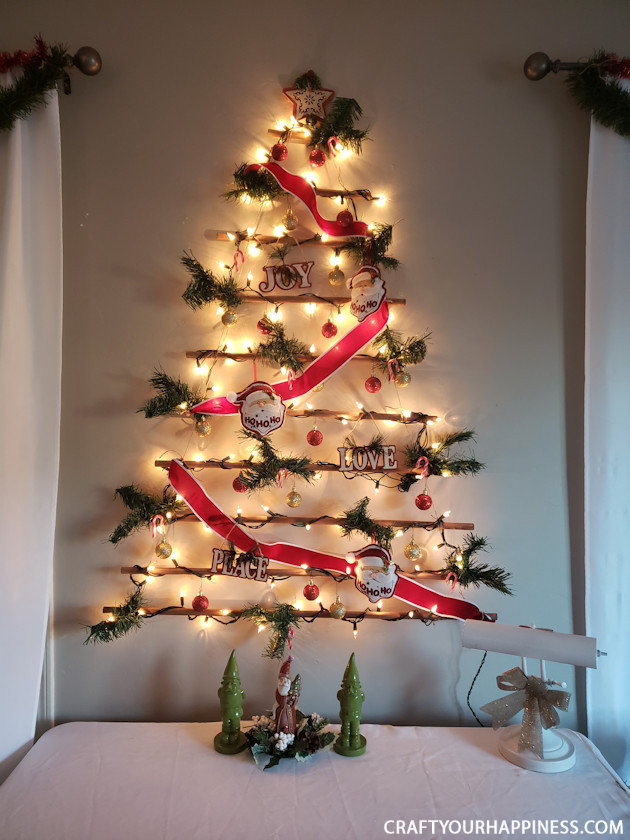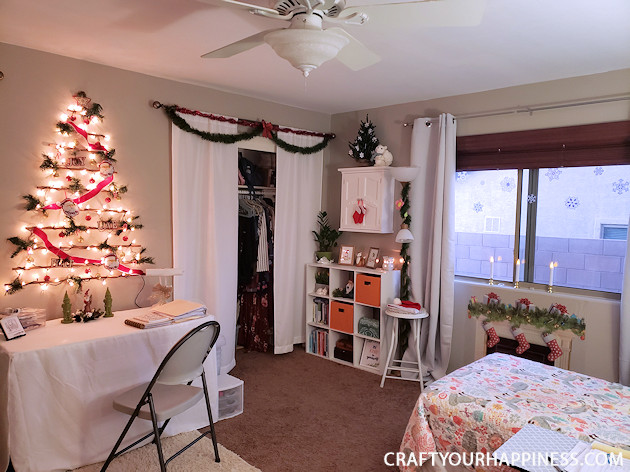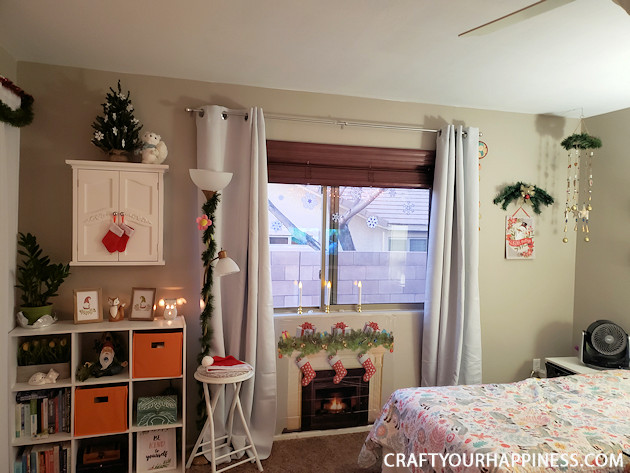 Aside from my wall tree this is my favorite part and literally cost me nothing. I call it my Buddy the Elf Winter Wonderland. FULL TUTORIAL HERE.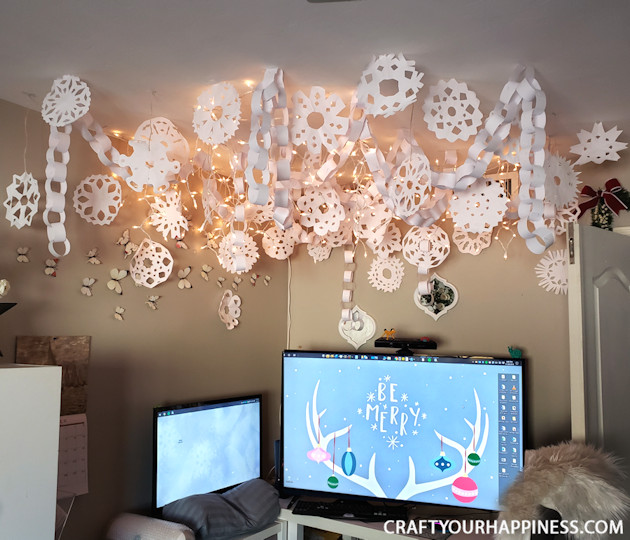 Paper, scissors, tape, stapler and some twinkle lights.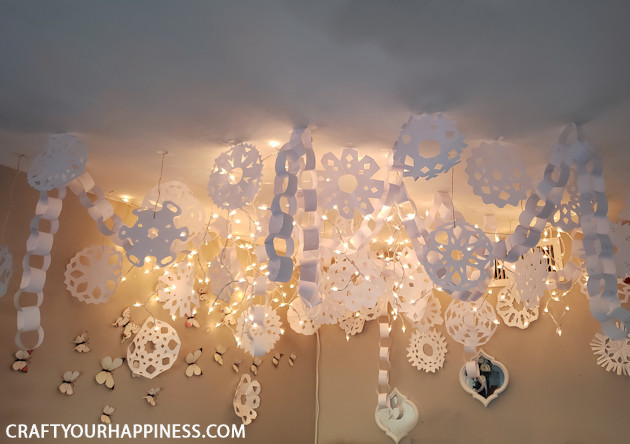 If you've followed us for a while you may have seen our post on my Motivational Negan (from The Walking Dead show) It's a cool story and he's been on my bedroom wall since I got him almost two years ago. He needed a little holiday cheer so a Santa hat did the tricks.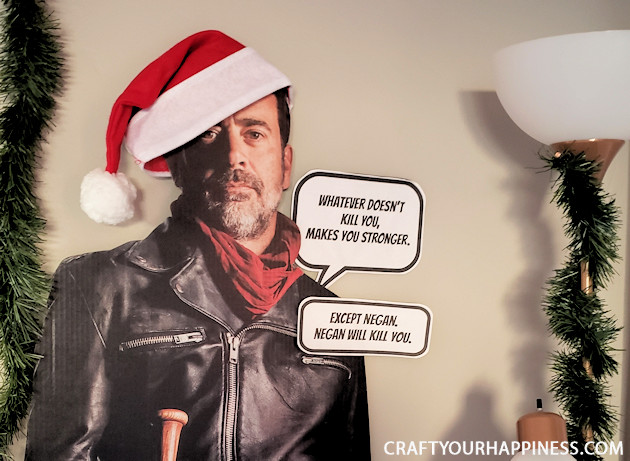 Placed a candle behind the nativity.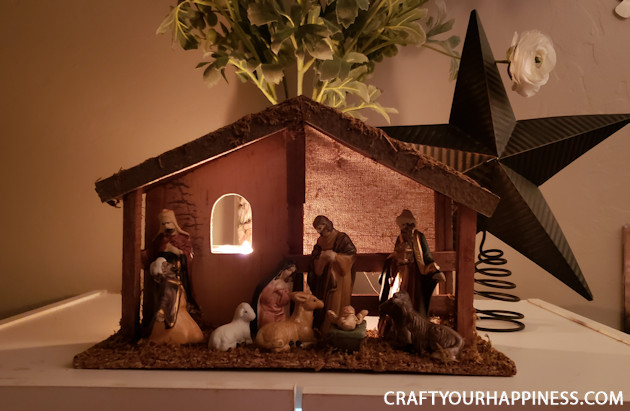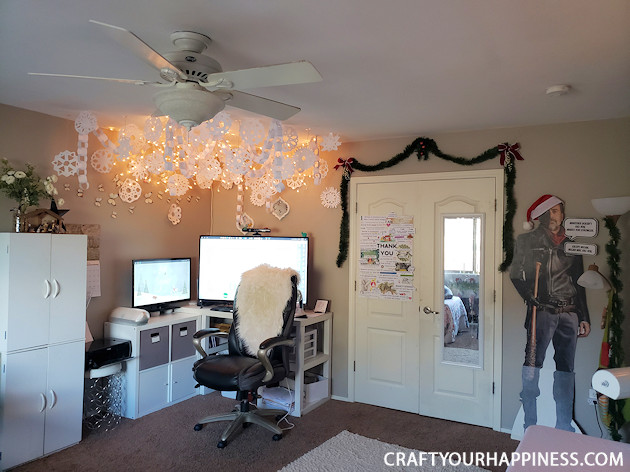 After the holidays the hanging wall tree was carefully folded over itself and then wrapped in saran wrap with all the decorations still on it.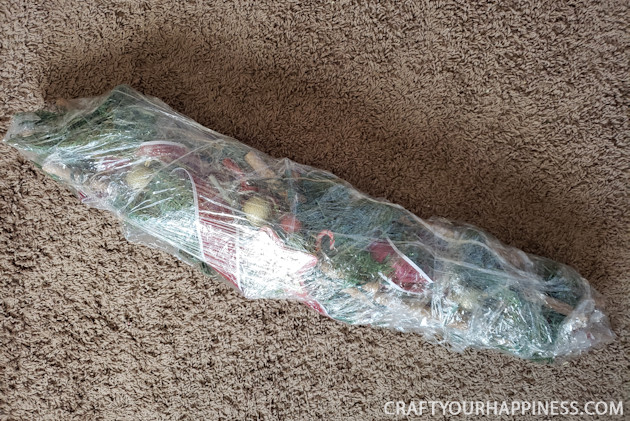 This is how I saved the snowflakes until next year. The chain was just tossed. We'll make a new one next time!