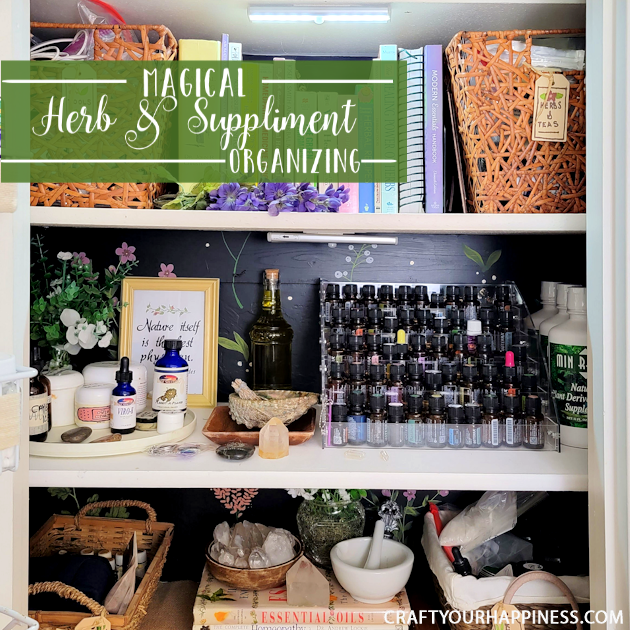 There's never been a more magical way to organize your supplements using a small closet that you'll want to crawl right into! We've used alternative healing for decades and boy has it served us well. Because of this, we have a LOT of herbs, oils, supplements, and a variety of other items that we need easy access to. We transformed a small linen closet into a mine magical world. It's our holistic home apothecary! Check out our full natural healing category here.  And if unique room makeovers are your thing you'll definitely want to take a peek at our Fun & Unique Guest Bathroom Ideas & Makeover, our Outdated Kitchen Transformation SERIES and the Final Reveal of My Whimsical Home Office Ideas!.
One Minute Video Tour
Supplies Used Throughout the Post
Many of the things throughout this post were purchased on Amazon through the years. I'll link them below.
BOOKS
We've been in our new home for a few months now. The only spot I could find for my herbs and supplements was this small linen closet.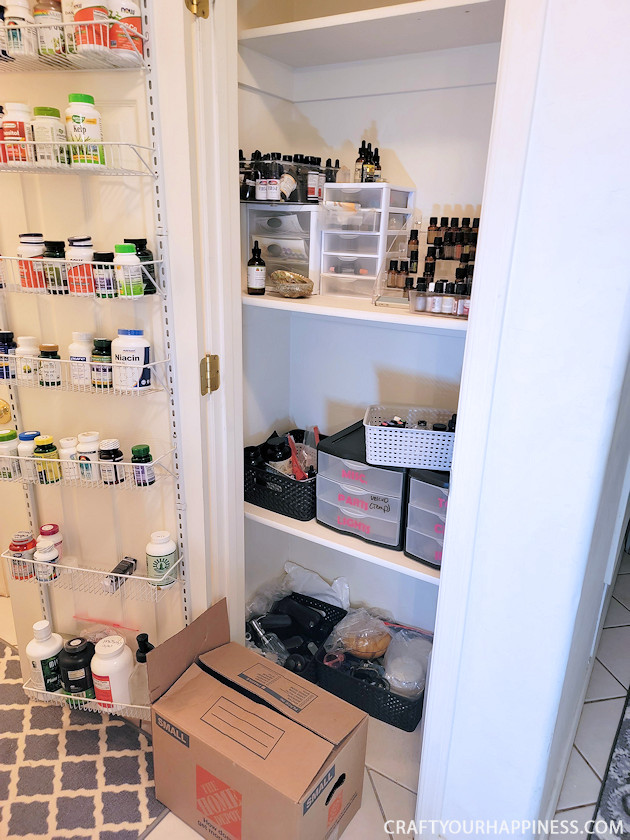 When I was finally ready to do the makeover I pulled all the items out.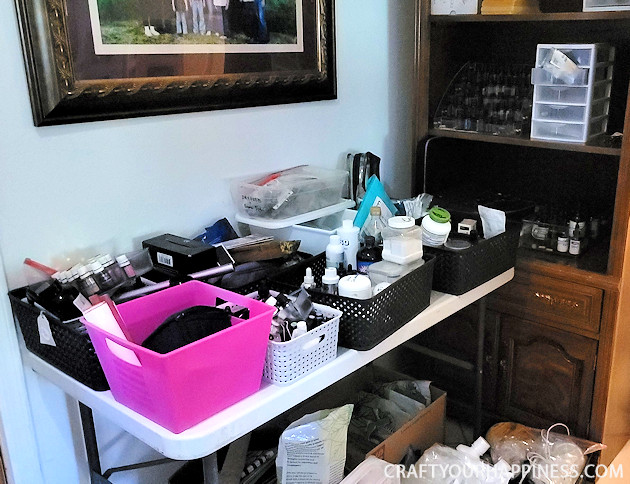 My husband put in an additional two shelves.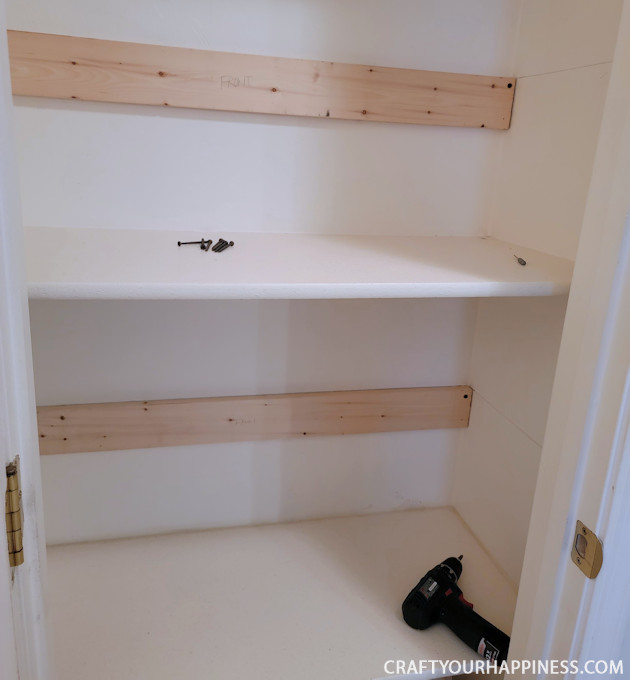 I now had 5 shelves instead of 3. I used a ClosetMaid 8 Tier Back of Door Rack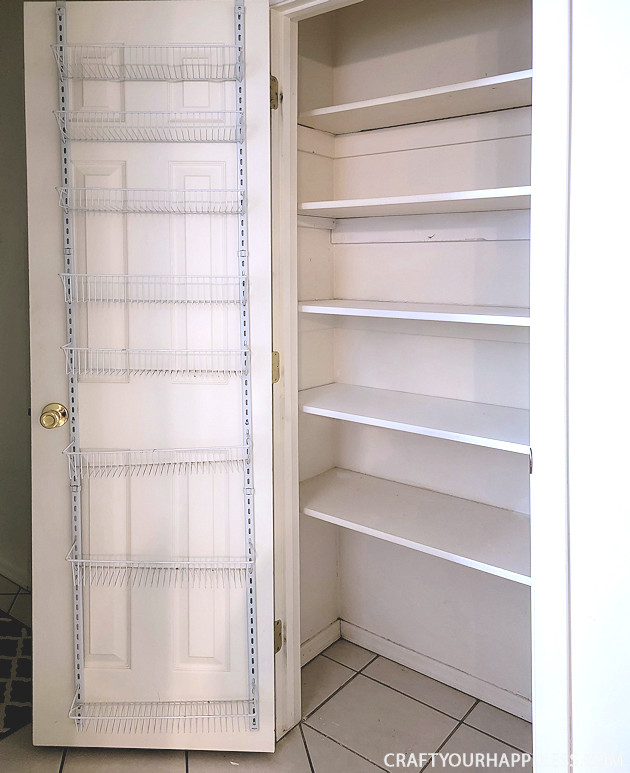 Now it was time for my daughter to work her magic. First she painted the back walls black.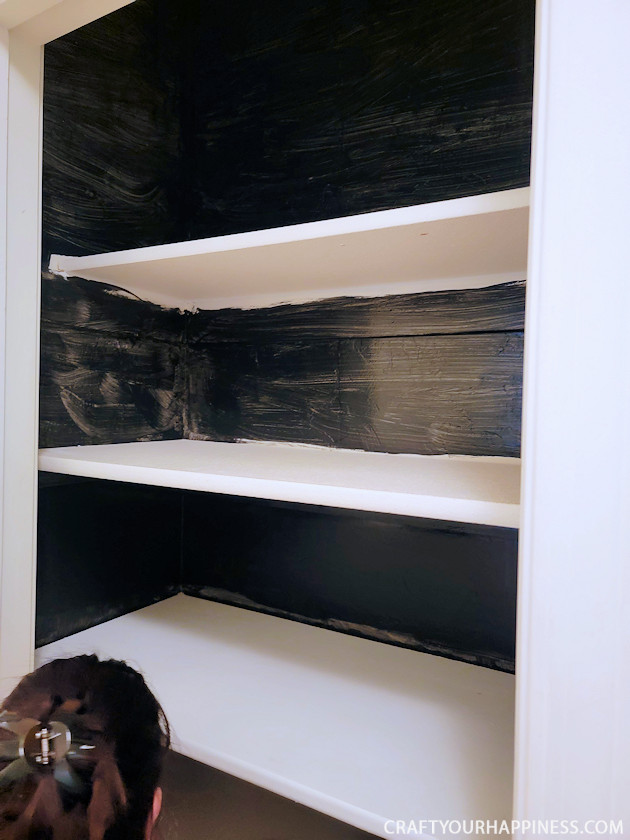 Next she grabbed her set of Acrylic Paint Pens and started hand painting on flowers, leaves and herbs!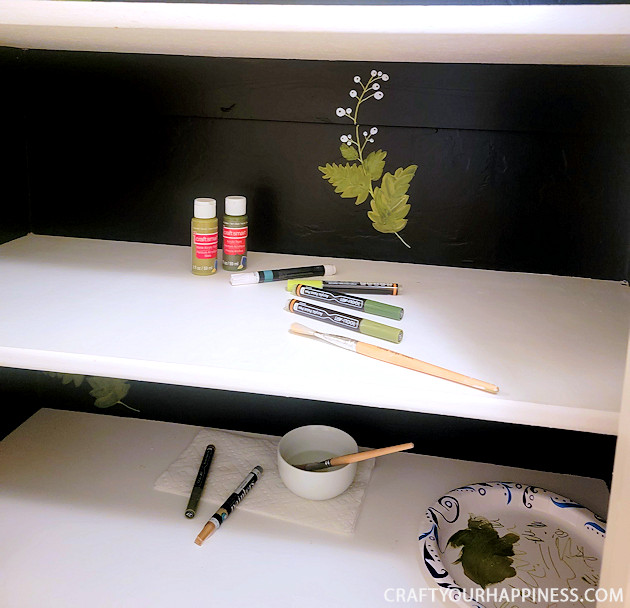 No pattern, just skill. lol. I could NEVER do this!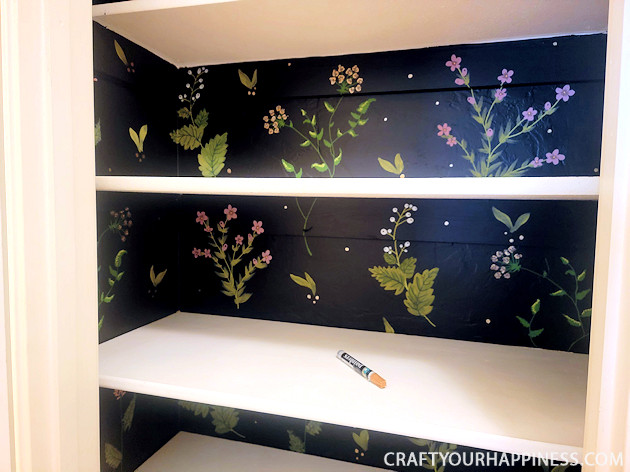 Next she took some old greenery I had and stapled it to the ceiling of the closet.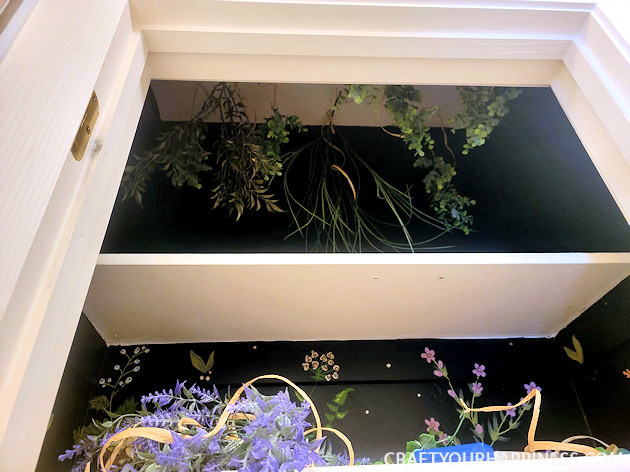 I had some wood tags which she decided to use to label the storage baskets. Wood Gift Tags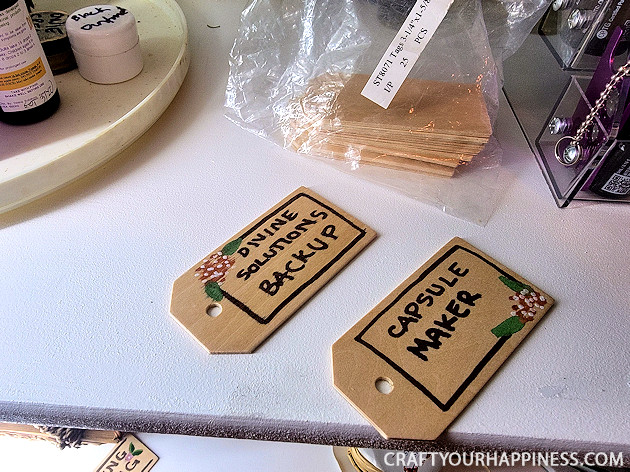 Above each shelf I placed a small inexpensive motion sensor activated light. (See the links under supplies up top)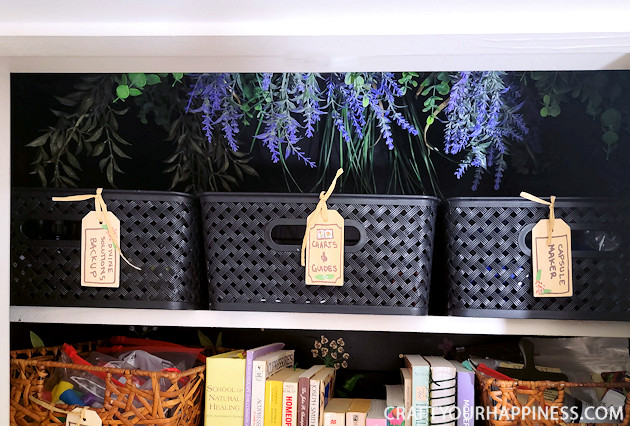 I have a huge library of alternative healing books etc. We put specific reference books on one shelf.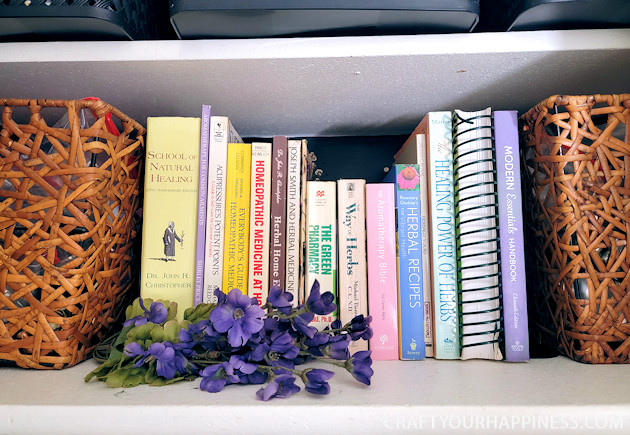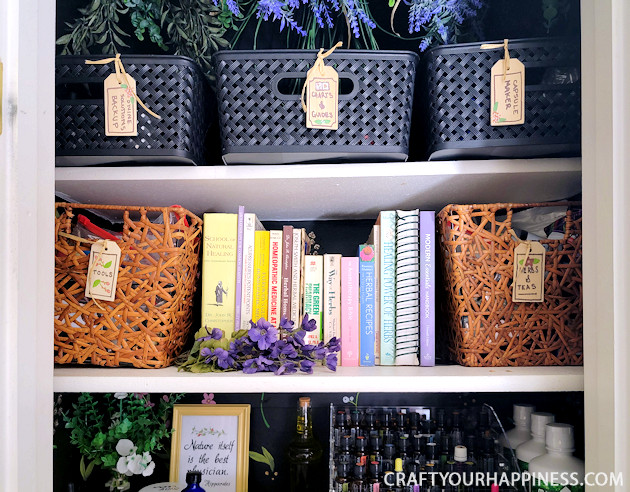 The middle shelf held things I grab regularly including a Large Decorator Bottles with Cork that holds ozonated oil and my smudging kit.  FYI Grab our FREE printable on how to smudge your own home here: Cleanse & Bless Your Home with a Sage Smudging Ceremony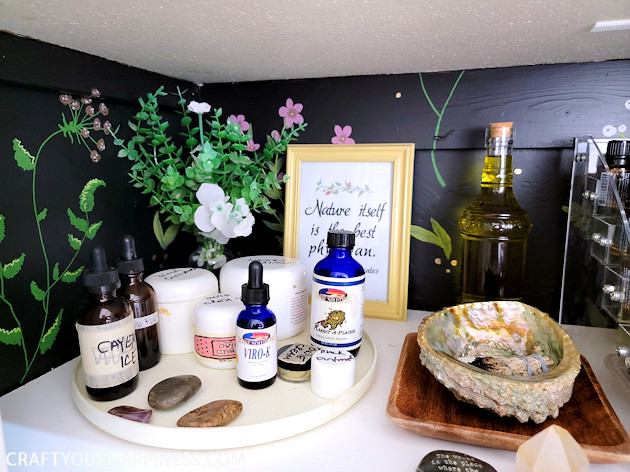 My Doterra oils are held on a tiered rack I purchased that was made for nail polish: Essential Oil Tiered Rack Doterra is my medicinal oil of choice for topical and internal use. Young Living went synthetic and should only be used as aromatherapy.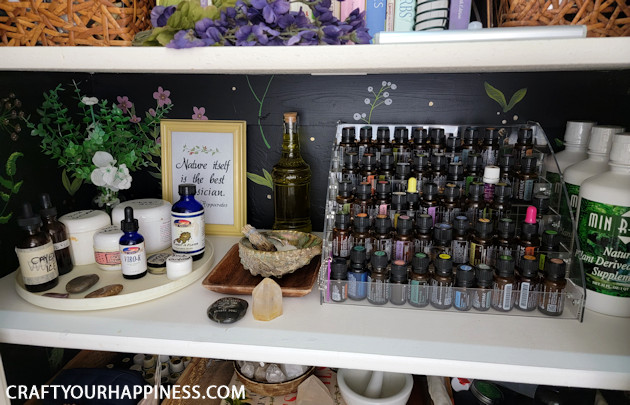 The next shelf held more books, crystals and other fun things!  Mortar Pestle and Pendulum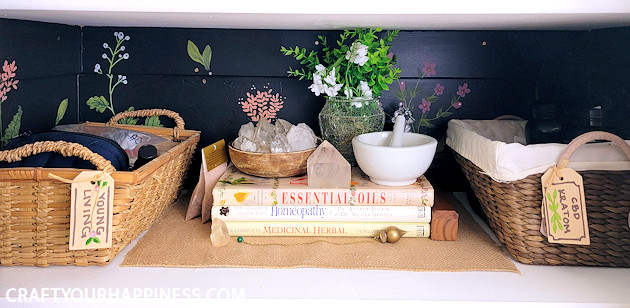 I would have preferred to buy a new black wire rack but in the interest of using what I have my daughter added some ribbon and foliage wrapped around the wire which was brilliant!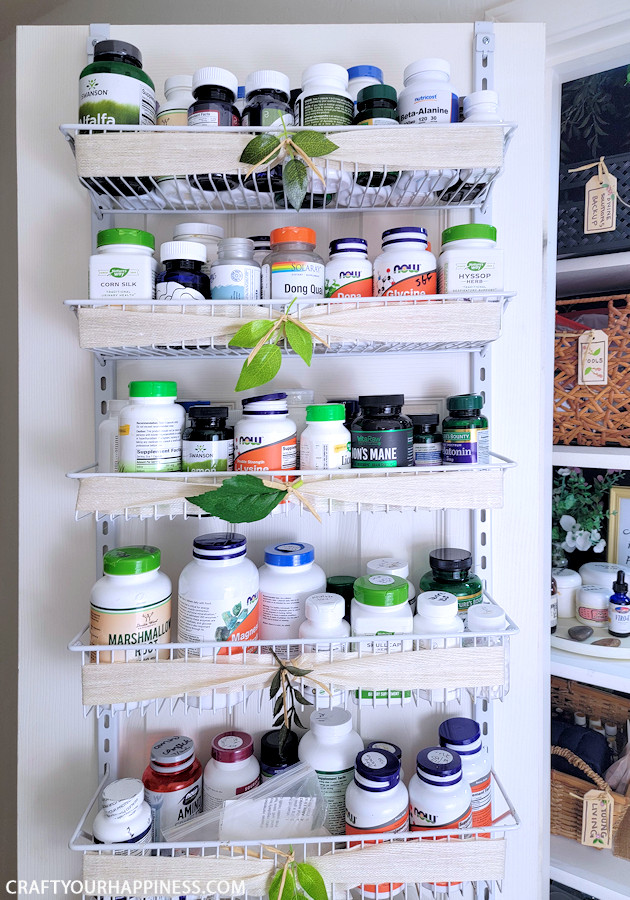 As I have quite a few charts and instruction sheets I created a file folder holder in the door. My case of homeopathics fit perfectly in the bottom slot.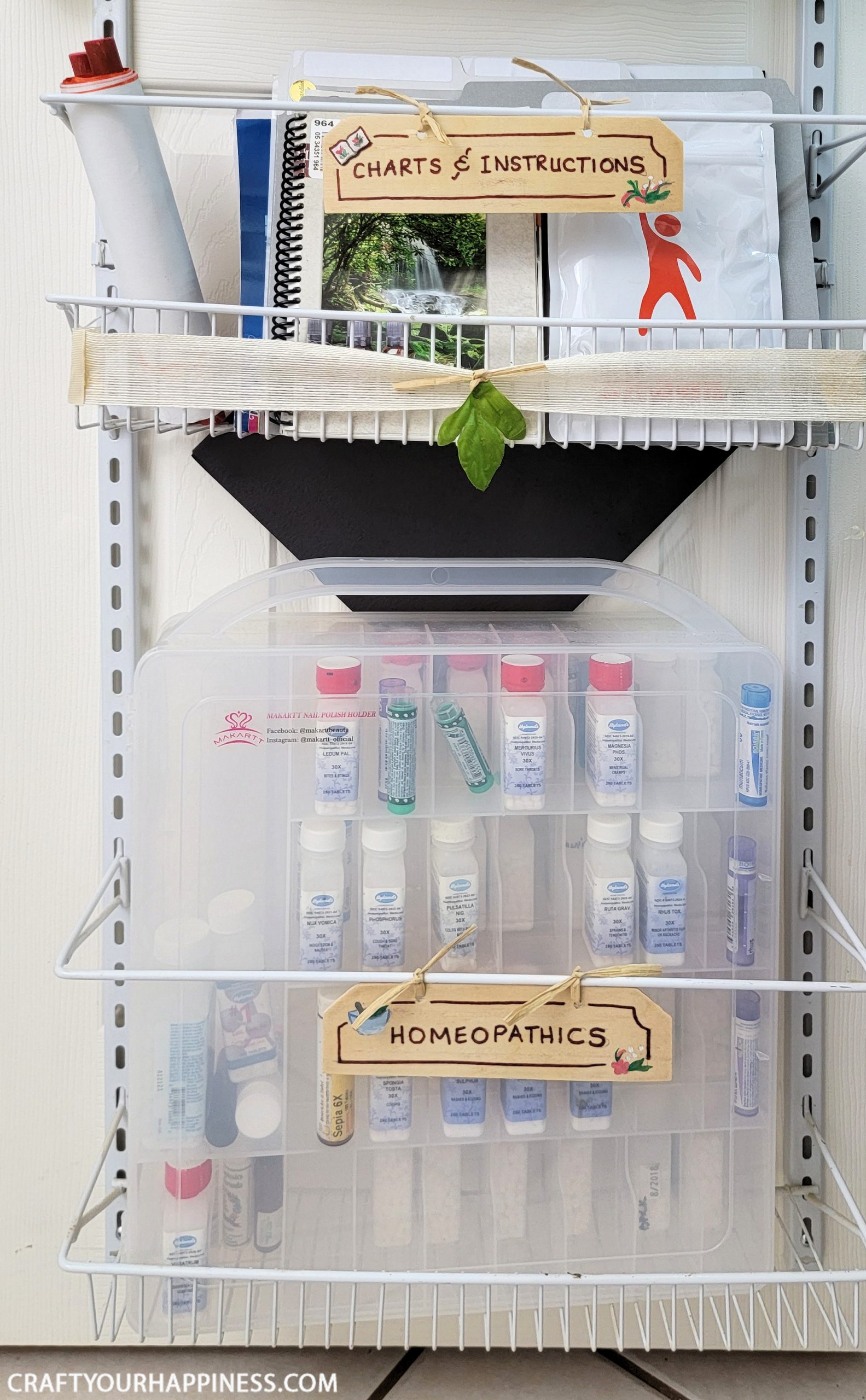 What a pleasure it is to open this door and have the lights pop on one at a time. Ü  The black suitcase with purple trim on the floor is my essential oil carry case. Essential oil Suitcase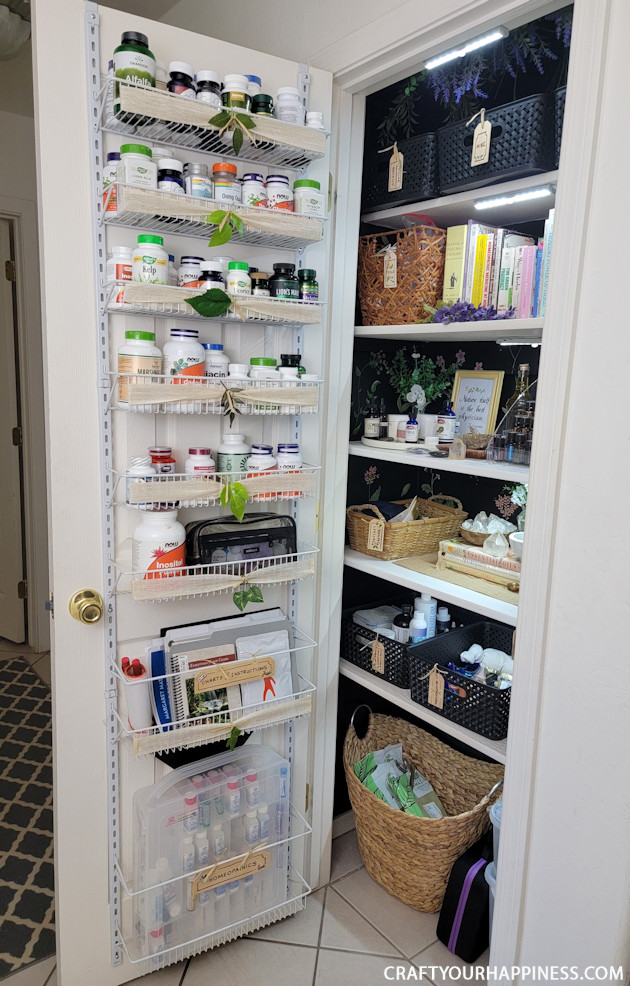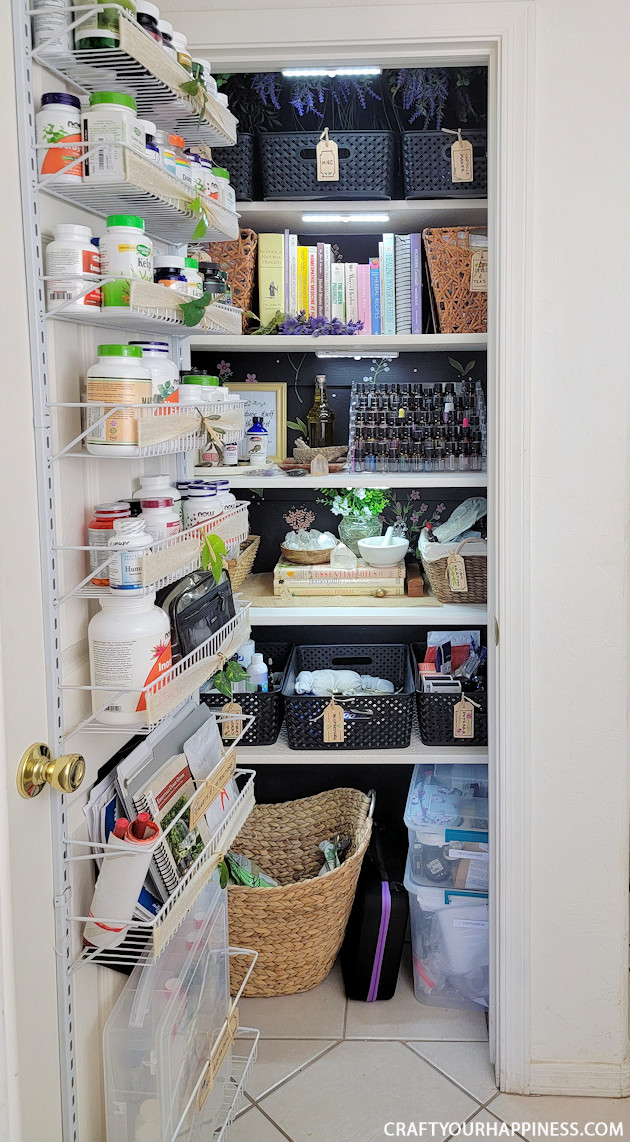 The grand finale was a home apothecary sign my daughter designed and made from clay.