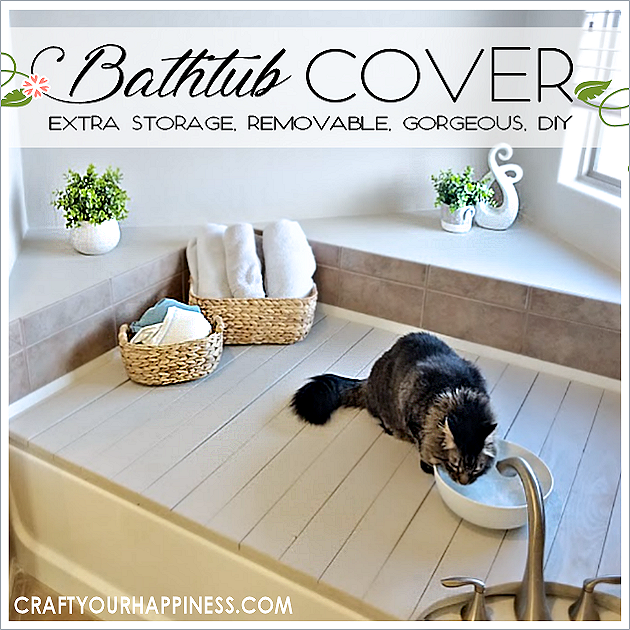 This bathtub cover was so easy and fun to make. As you might be aware of not everyone is a bathtub kinda person. Others consider their tub a "getaway" of sorts. We're not tub people. We bathed our kids in the tub when they were young of course and now the dog gets bathed in it but that's about it. My daughter's new home has a garden tub in the master bedroom. It was driving her crazy because, not only did she not use the tub, it was taking up a lot of space. Plus, because her home is one with many cats, it was always full of cat hair. Gross.
She decided to make her own tub cover that would keep the tub clean and give a space for the cats to not only sit on but for anyone to sit on the edge of if needed.  This can be done on any basic tub. If you never use the tub you now also have extra covered storage space!  If you'd like some more clever bathroom ideas make sure to check out How To Do A Sturdy & Stunning Granite Contact Paper Countertop Makeover, Quick Cardboard Pull Out Cabinet Organizer and our Fun & Unique Guest Bathroom Ideas & Makeover.
We also did a full makeover on our master bathroom complete with recovering the counter with contact paper. 
Make sure you check that out too>>>>>> Magical Dark Sea Bathroom Makeover

Bathtub Cover Supplies
Cheap pine boards (3.5″ wide and cut to the width of the bathtub… Enough pieces to go across the top..
1″x2″ wood (2 pieces cut to the length of the bathtub) *optional – see instructions*
Paint
Fabric *optional – see instructions*
Paint brush

Bathroom Wall Art Sale
Designed by Craft Your Happiness
Bathroom Wall Art: Nice
Set of 9 Printable Digital Posters
SALE – $0.99
Bathroom Wall Art: Naughty
Set of 9 Printable Digital Posters
SALE – $0.99
Instructions
The tub we were covering happened to be a garden tub, but this project will work with any tub in your home.   As you can see, the faucet on this tub is not wall mounted, which made our project a little more difficult.  There is also a small lip where the back of the seating area rises up about an inch.  If you don't have either of these issues, then making a flat, rectangular cover will go much quicker and you can skip the use of the 1″x 2″ wood pieces we had to use to raise our cover above the seating back.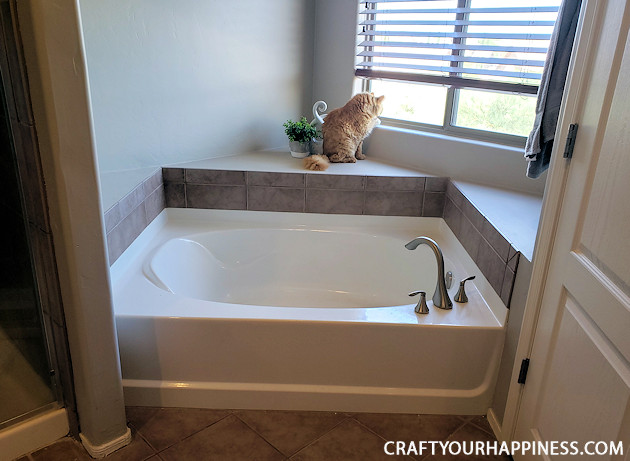 Start by measuring the width and length of your tub.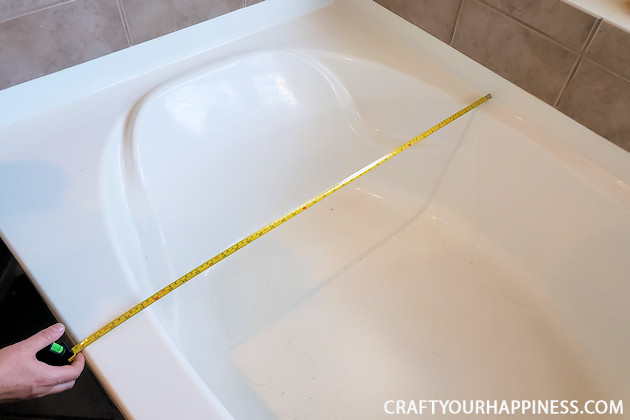 Because the back of the tub seat raised above the surface, we had to measure that, too.  You want to make sure you're final cover lies flat across the tub.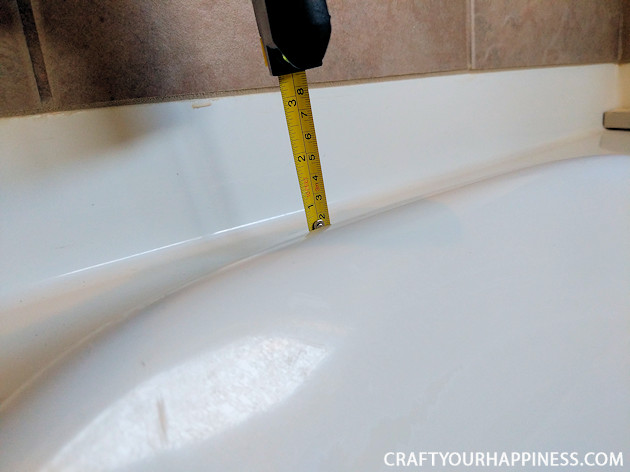 Hit your local home improvement shop and gather the necessary wood.  We opted for some cheap pine boards to keep our project from breaking the bank.  This is where a little math is involved.  Make sure you get enough wood that, when cut into planks, will line up to cover the surface of your tub.  Our tub was 41″ deep and 58″ wide.  This meant that, our 1″ x 3.5″ boards needed to be cut to 41″ long and I would need 17 of them to cover the tub.  Then we bought a couple 58″ long pieces of 1″x 2″ boards to place under our cover so that it would lie flat above the seat lip that was sticking up.  We had Home Depot cut all of our boards for us before we took them home.  This is a great option for those who don't own a saw, but also for those of us who need a little help with all that math.  (Bring in photos and measurements and these guys will do it all for you!)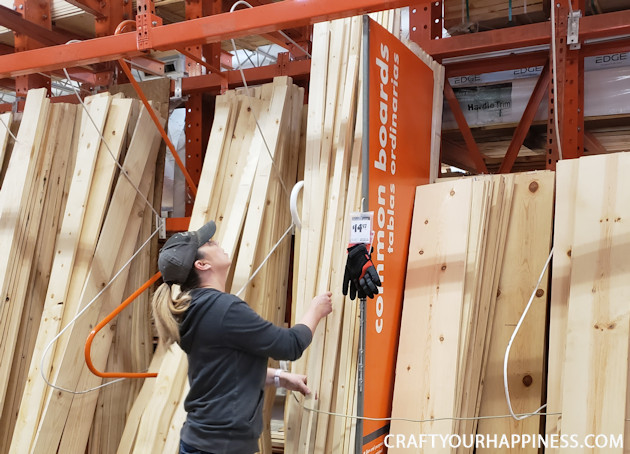 If you prefer to do the cutting yourself, simply measure the boards and cut to the depth of your tub.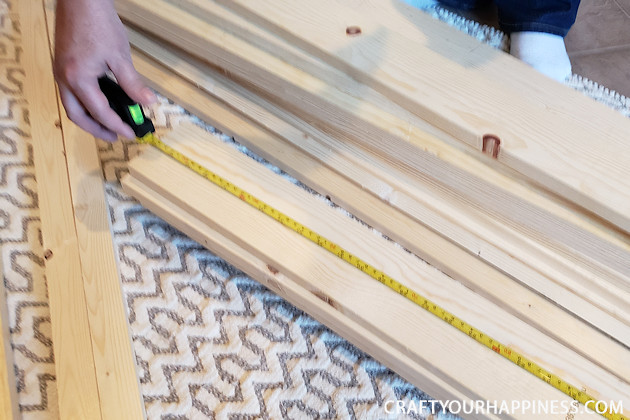 Because our faucet was mounted to the tub itself, we had to measure around it to cut out the space.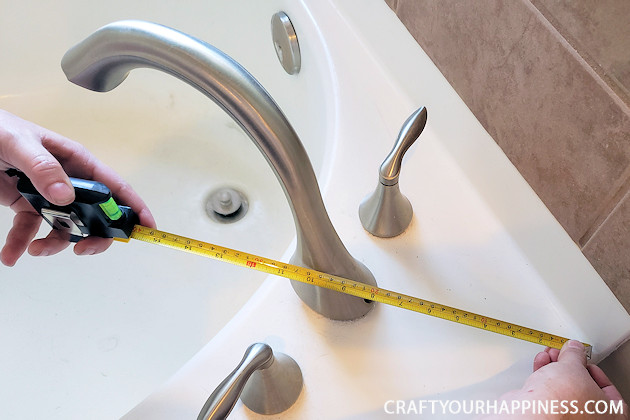 Then we aligned our boards on the ground and drew in the measurements so that we could cut out a relief for the hardware.  Again, if your faucets are wall-mounted, simply skip this step.  (You lucky dog!)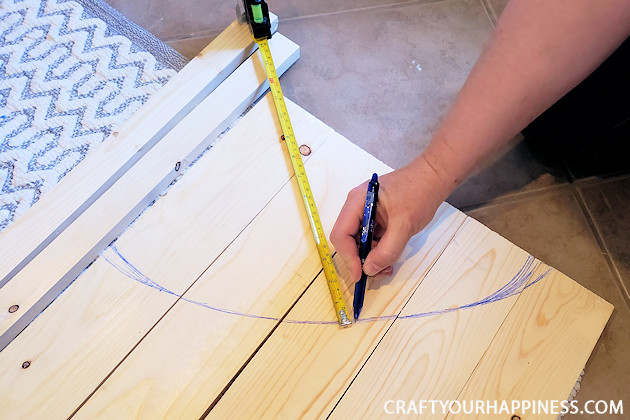 We used a jigsaw to cut the space for the faucet.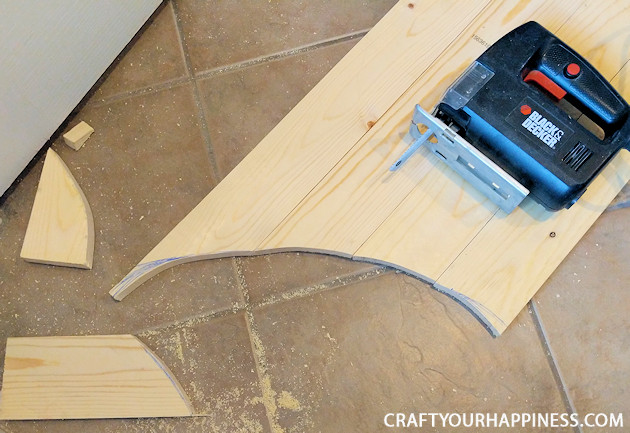 Then we sanded the edges to smooth out our cut job.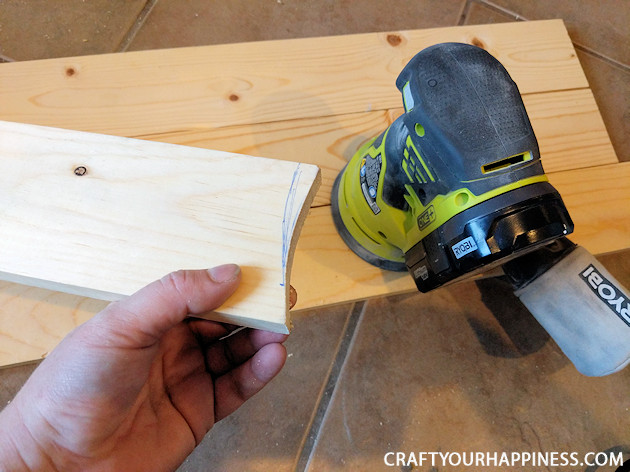 We also chose to sand ALL of the edges of each board at an angle, taking off the sharp corners.  This really is worth the extra 15 minutes and will give your project a much more finished look, so we highly recommend it.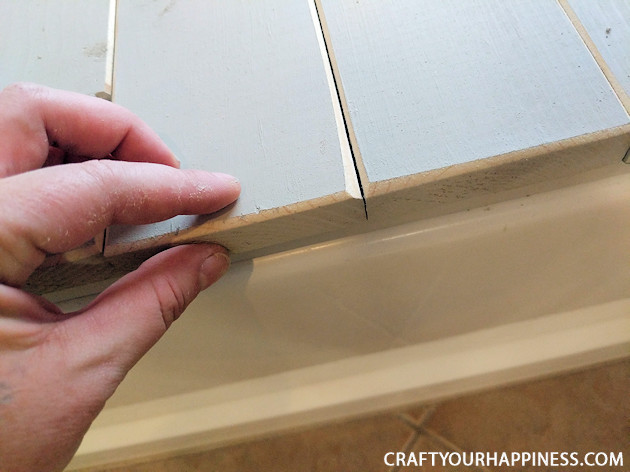 Once the sanding was done we painted our boards.  We opted for Sherwin Williams Anew Grey since the walls in the bathroom were already this color.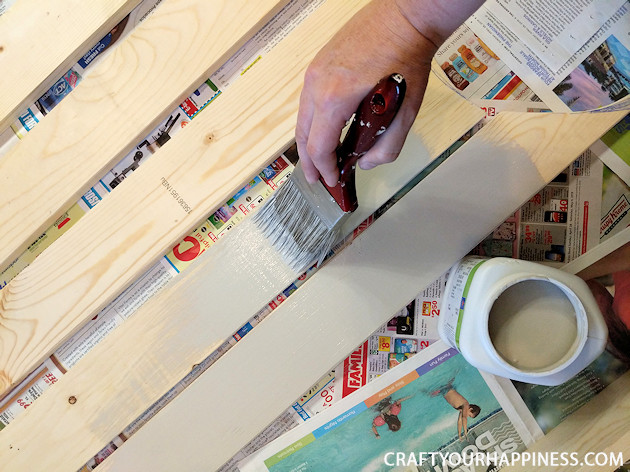 We painted all sides of our boards since this cover is removable and we wanted a 'finished' look, even if we were just lifting the top to pull some towels out of our new storage space.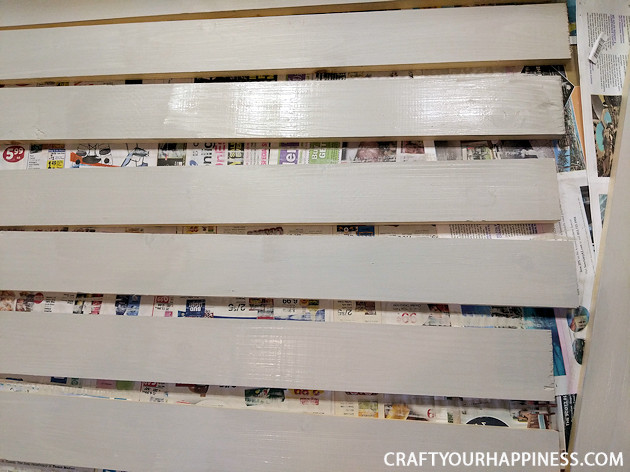 Once the paint is dry, do a dry-fit of your work and line it up to make sure everything looks right.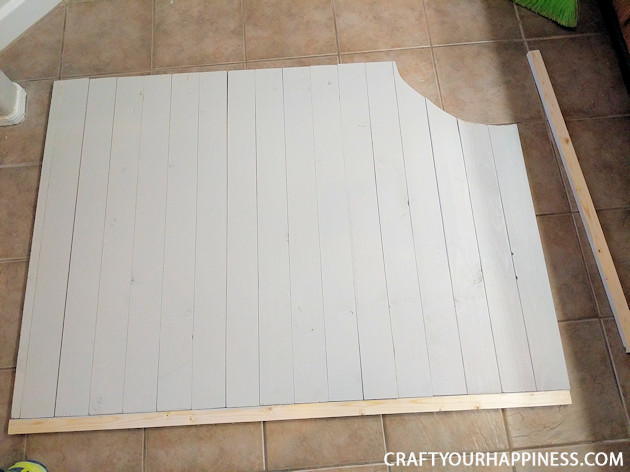 For convenience when removing, we opted to string our panels together with some heavy duty fabric.  This is completely optional and, as we discovered, would work better for a smaller, standard size bathtub.  The amount of wood needed for a garden tub was a little too heavy and cumbersome for this approach.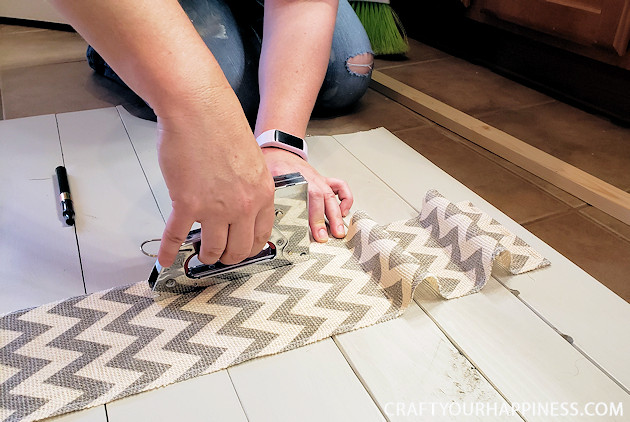 When rolled up, the fabric helped keep the bundle together.  Again. if we were working with a standard size bathtub this would've been great.  But with our larger tub, we recommend just sticking with the individual boards as it makes installing and removing the cover tremendously easier.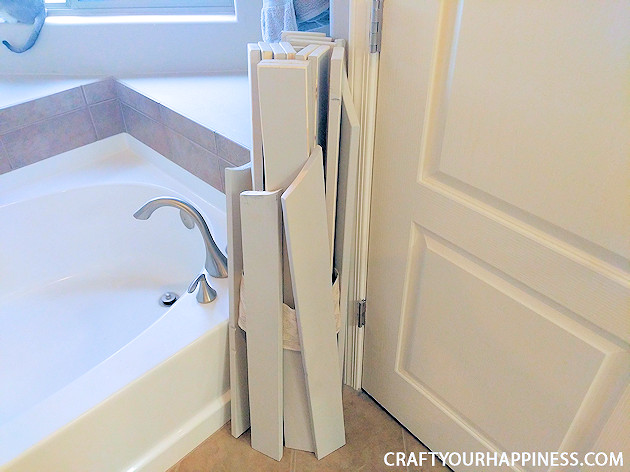 Because we had the back of the tub seat to deal with, we placed out 1″x 2″ boards around the frame of the tub and then unrolled our wooden topper.  This gave us a level surface that we were happy with.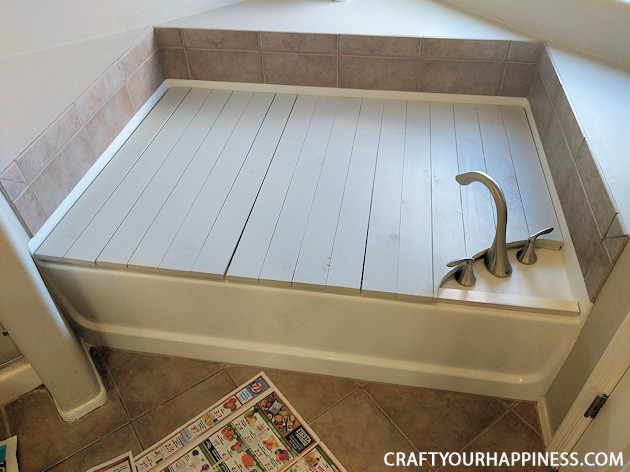 We then traced  the edge of the top onto the 1″ x 2″ boards.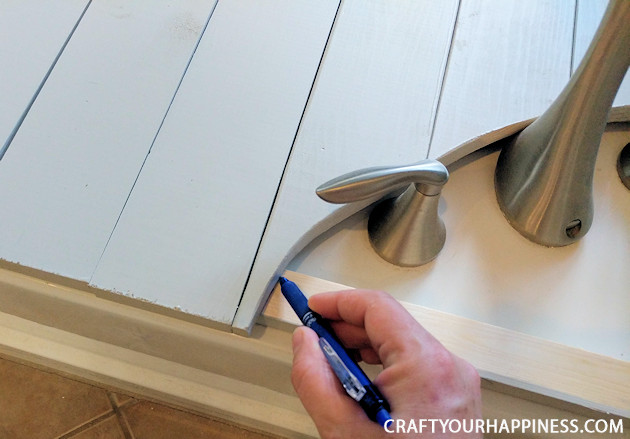 Then used some scrap wood to create a little extra support around the faucet and cut the 1″ x 2″ boards down so that they didn't show.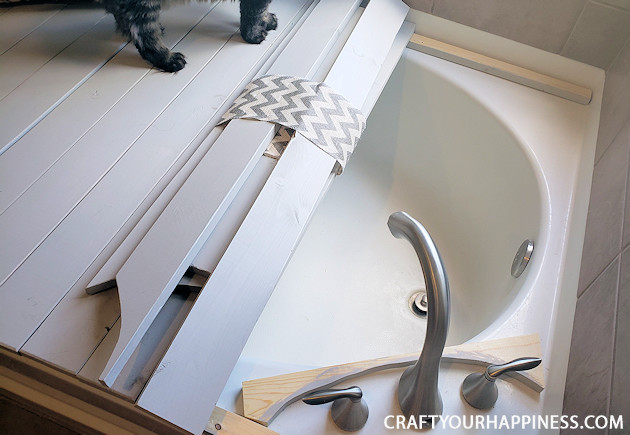 In the end we got a beautiful cover, extra storage, more lounging space for the kitties, and a bathtub that stays clean of kitty hair and is ready for our next bath.   We even utilized the faucet to create an additional water dish for our fur babies.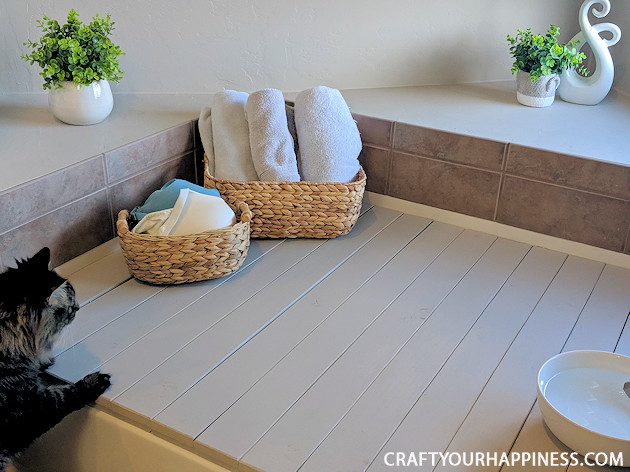 Another option to consider is weight.  Since only my kitties would be walking across the tub, we didn't build any support into the center of the cover.  If you want to use your tub as a sitting bench, simply opt for a 2″x 4″ frame with supports that cross the center of the tub.