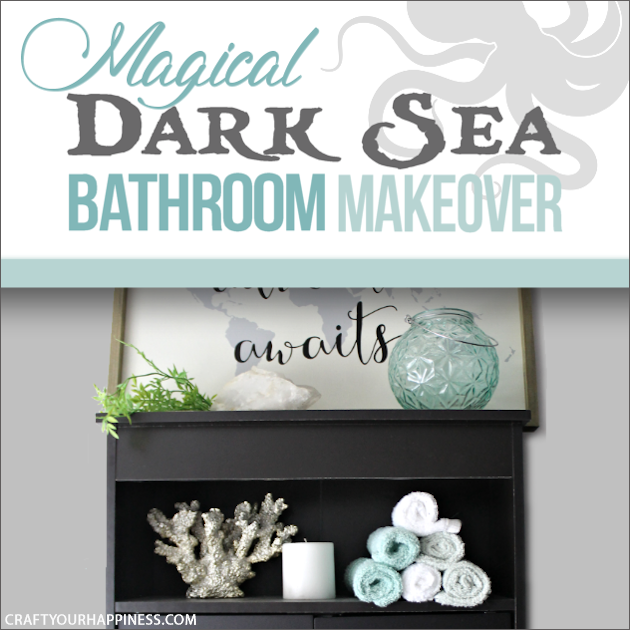 Let us show you how we turned a bleh master bathroom into a magical dark sea theme with our bathroom makeover. I used things I had and also purchased new items for this project. If you've followed us for a while you know that when it comes to my own home I try to make each room unique in its own special way. I want to walk into any room in my home and love being there. My bathrooms are no different. (If you doubt me check out our other post
Fun & Unique Guest Bathroom Ideas & Makeover
)  Our master bedroom was done in blacks, silver and grey so I wanted the master bathroom to reflect that.  It definitely turned out unique complete with octopus tentacles!

Bathroom Makeover Supplies
Instructions
I've broken the makeover down into sections.
Contact Paper Countertop Makeover
We did this on our other main bathroom and it turned out wonderful so we decided to do it in this bathroom. Cheapest way to get what looks like a "new" countertop every!
Because the process has a lot of info I'll refer you to our other post on which gives the exact steps to do this.  How to do a Sturdy & Stunning Granite Contact Paper Countertop Makeover
This is my "before" photo. Keep in mind this is a small bathroom so it was difficult to get full photos.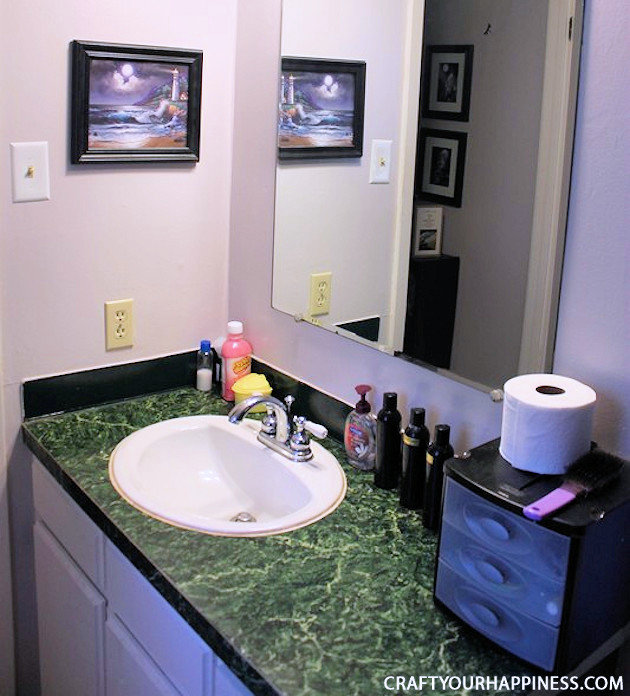 Cleaned and ready to go. Remember to click our link above to get all the details on how to do this! Before we started we painted the black splash board you see around the countertop.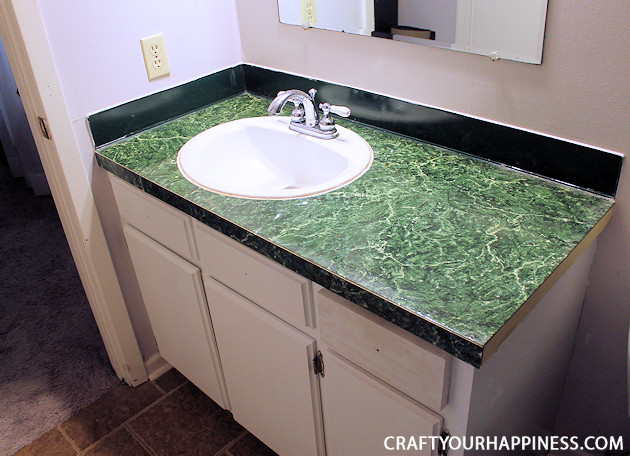 After measuring we chose a dark marble colored contact paper. The link for the exact one we used it under supplies.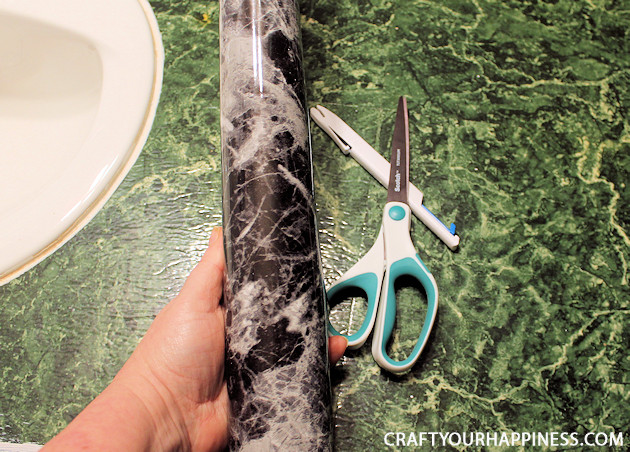 Member, all the steps are LISTED HERE on our other post. This contact paper was heavier than normal so we used a blow dryer to help soften and flatten it out before pulling the paper off the back.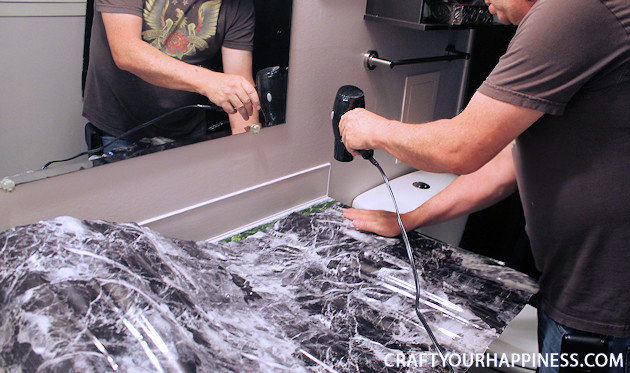 How gorgeous is that! This contact paper was heavy and had a nice gloss to it and it did not need to have seams so we DID NOT coat it using the Water Based Polyurethane Gloss Finish we used on the other bathroom.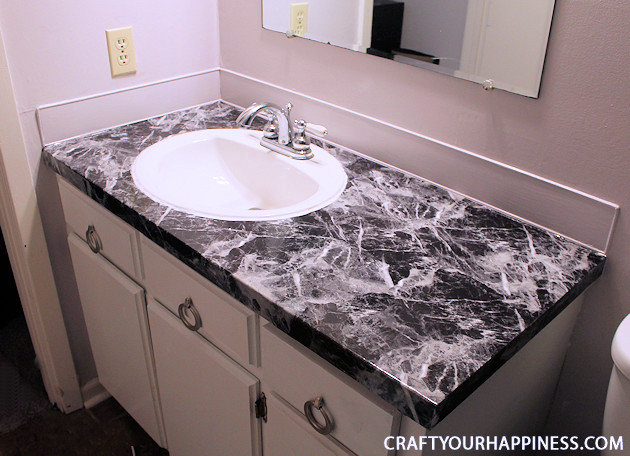 Sink Cabinet and Drawers
Under the sink was your typical open space though we had put down some contact paper.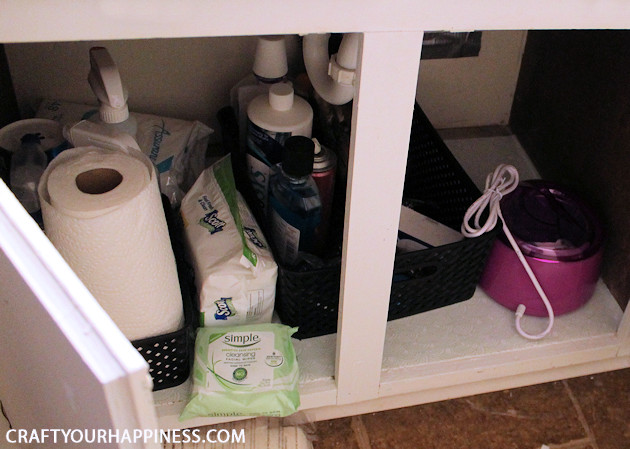 My husband measured and built some simple shelves.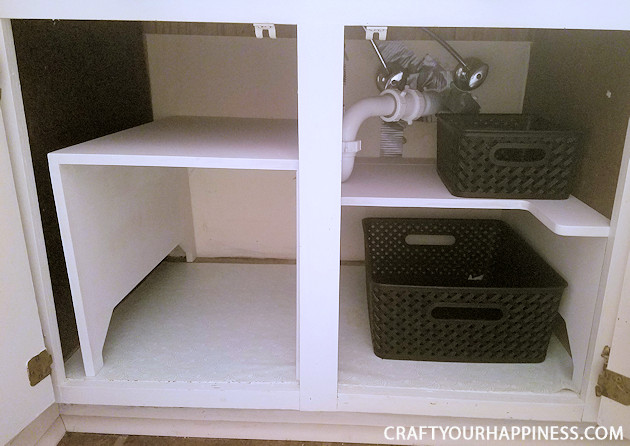 I used a Handi Hanger bag holder for trash. It mounted inside the door and used typical grocery bags. This helped with space since it was a small bathroom.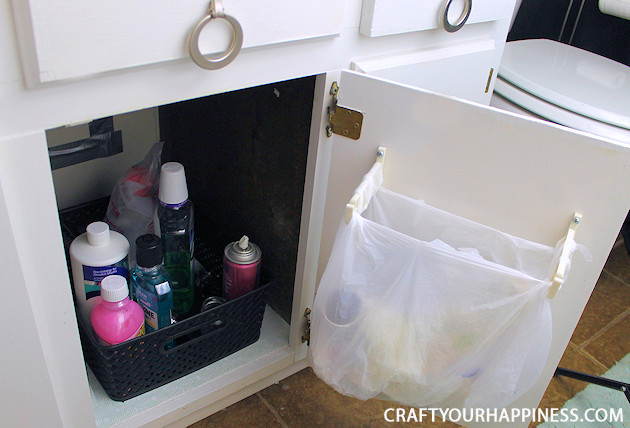 I attached a wireless led closet light switch under the sink which runs on batteries.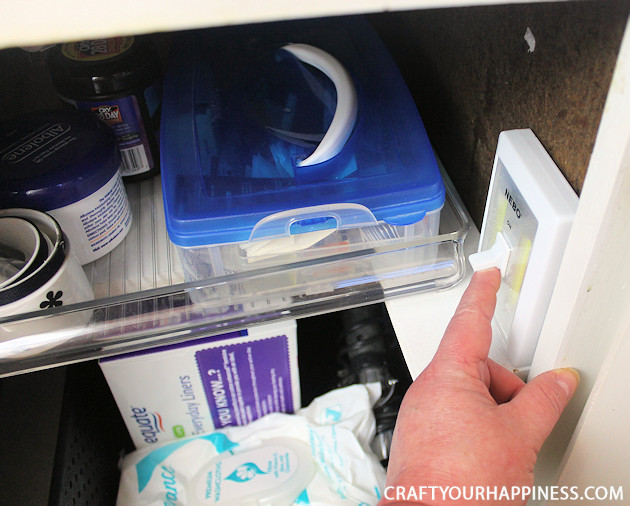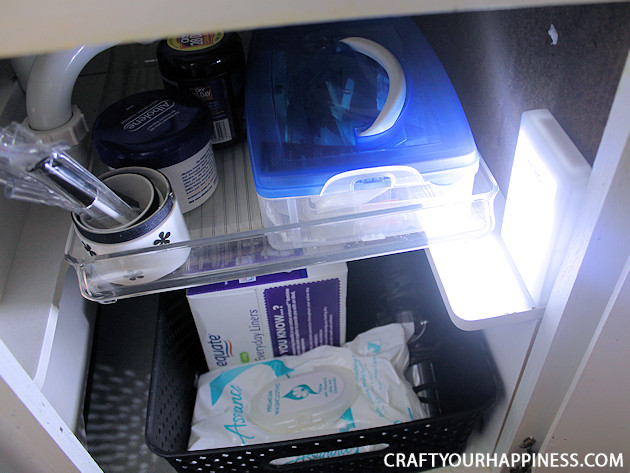 I also added some clear organizer bins.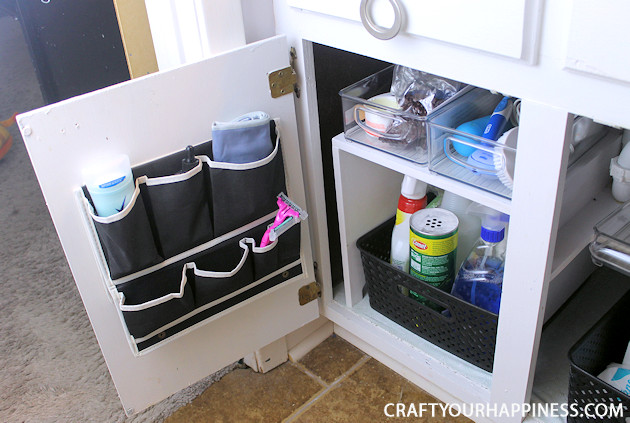 Next we worked on the far right cabinet. We put down some contact paper. We also added some nice drawer pulls. FYI only the right drawer opens. It was missing and we made a new one. At this point we had not beveled the edge yet.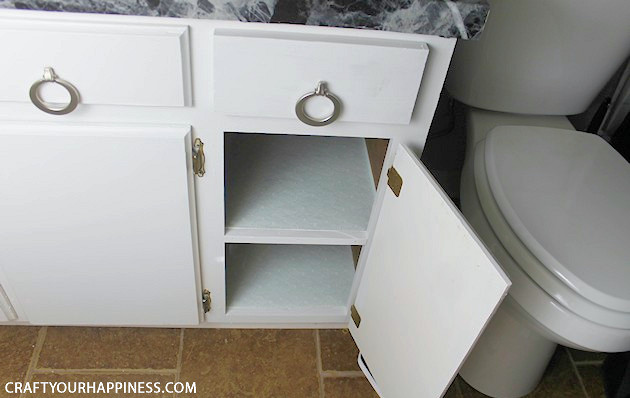 I made a makeshift pull out drawer from a cardboard box as the right cabinet was so deep.  I did a post on that here:  Quick Cardboard Pull Out Cabinet Organizer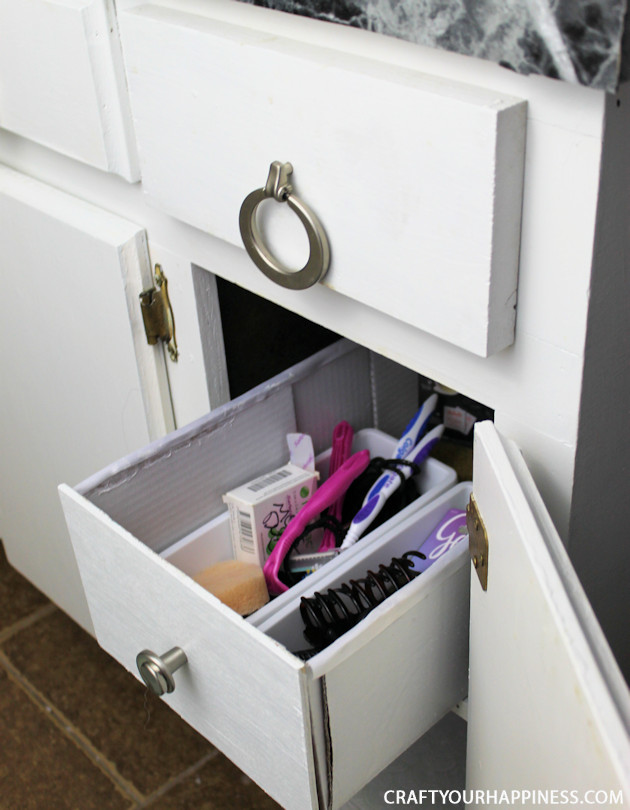 In the top pull out drawer I added an expandable drawer organizer.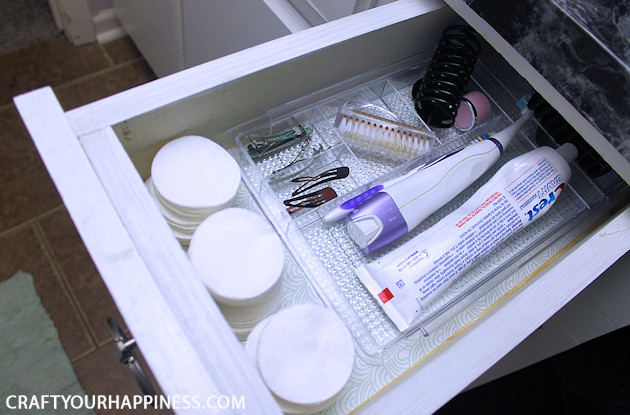 Tentacle Stickers Above Tub/Shower
I'm a HUGE fan of wall sticker art and these tentacle stickers were perfect!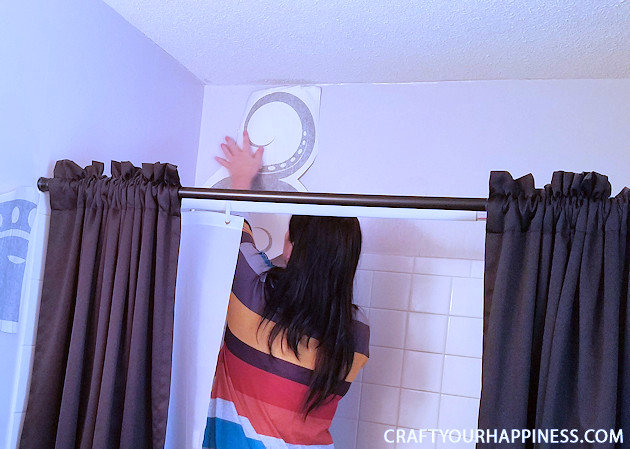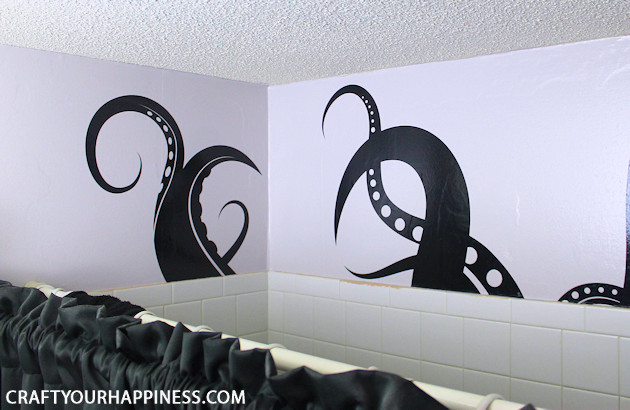 The Rest of the Bathroom
I like having a fan in the bathroom so I added a black fan, a small closeup illuminated makeup mirror, a clear invisible shelf  for facial items used regularly and a cute cabinet which I already had and painted black.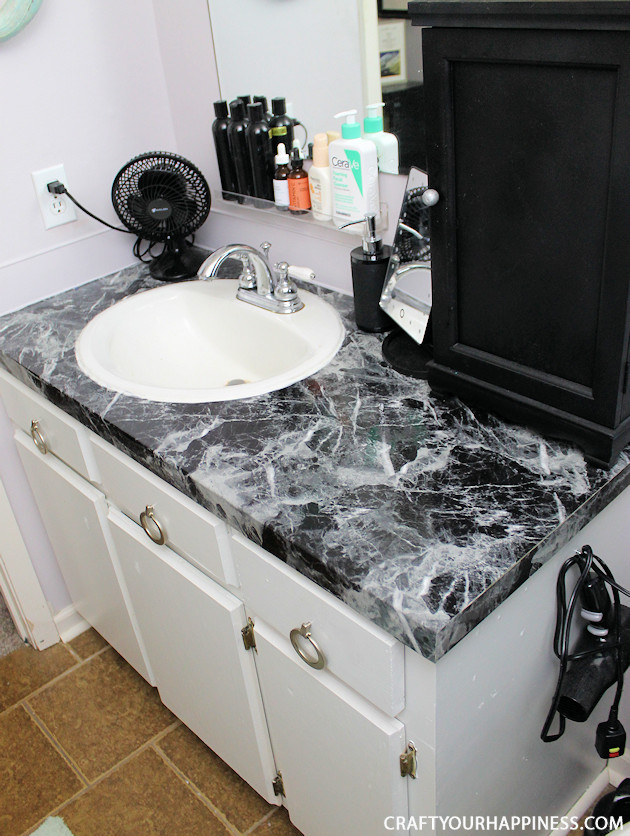 Black Bathroom Soap Dispenser and close up of shelf.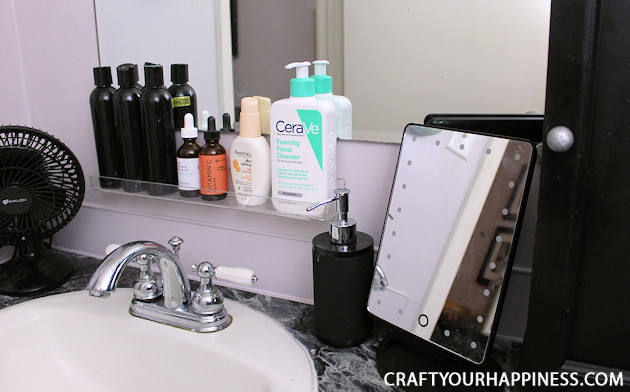 The cabinet held other facial items. The small black containers were upcycle brush holders.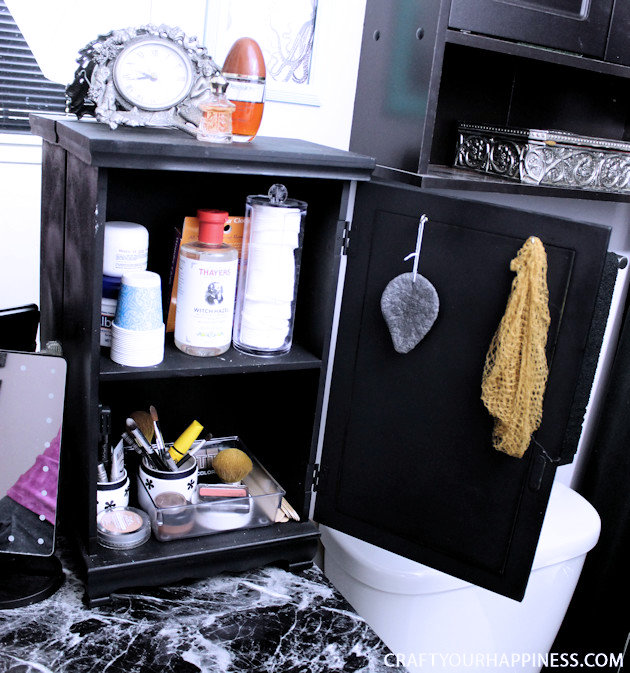 I purchased this mermaid clock years ago on amazon and its not available any more but it definitely fits my theme!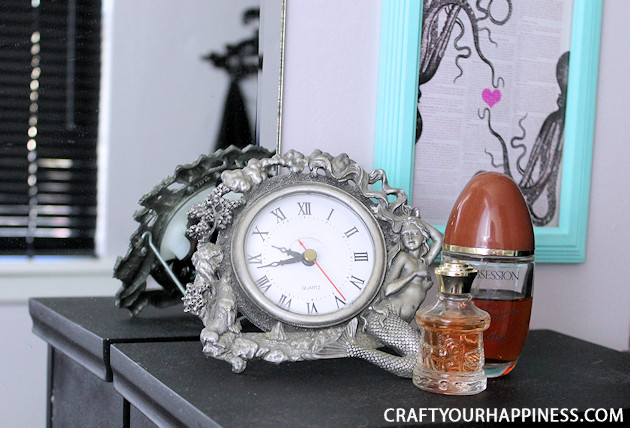 Added some white hooks on the side.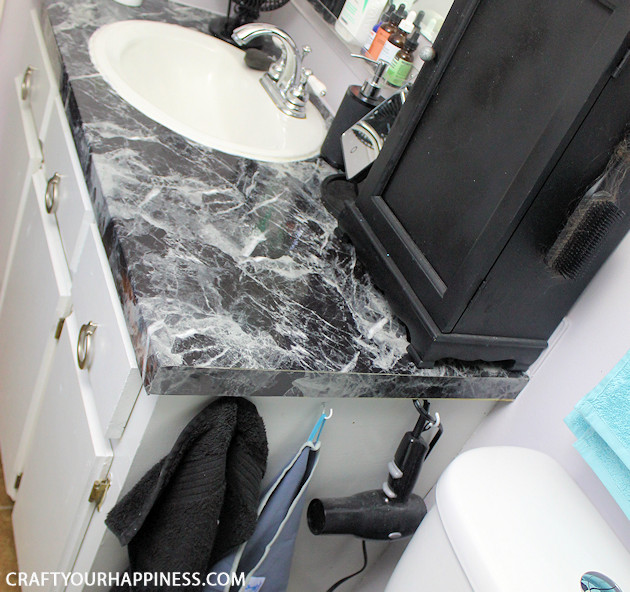 Purchased matching towels. Teal was for a pop of color!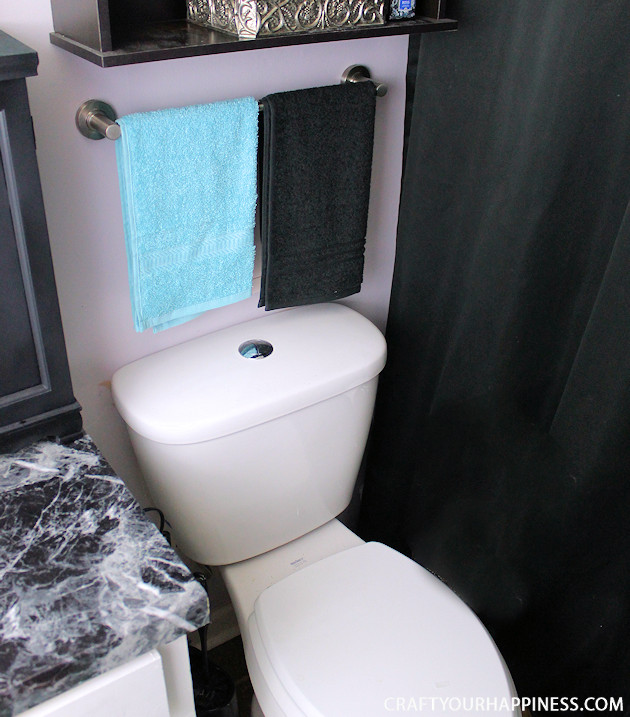 This is the blind that was in the bathroom.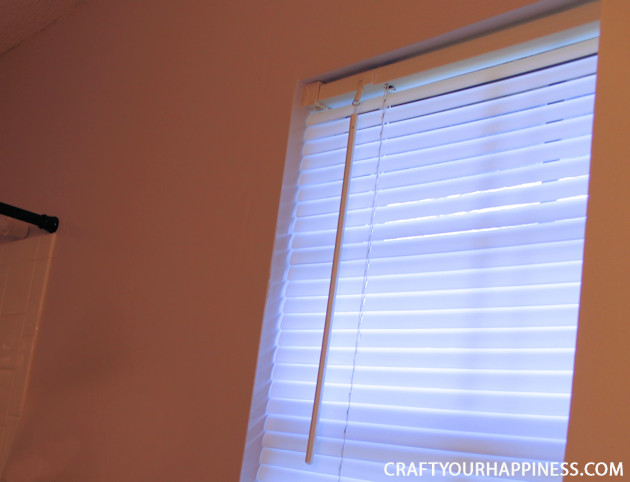 I replaced it with an inexpensive black blinds. I purchased octopus hooks and painted them silver.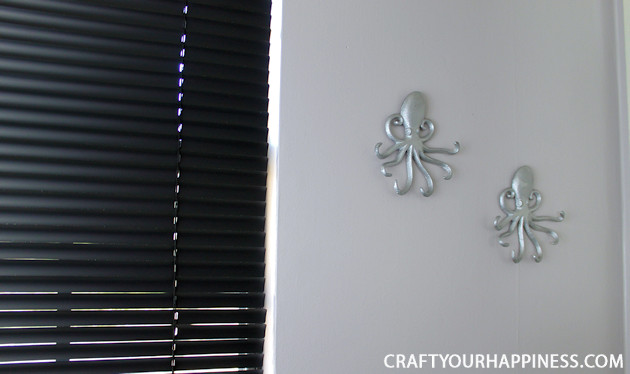 I purchased a black cabinet at walmart to put above the toilet.  All the decor you see we already had.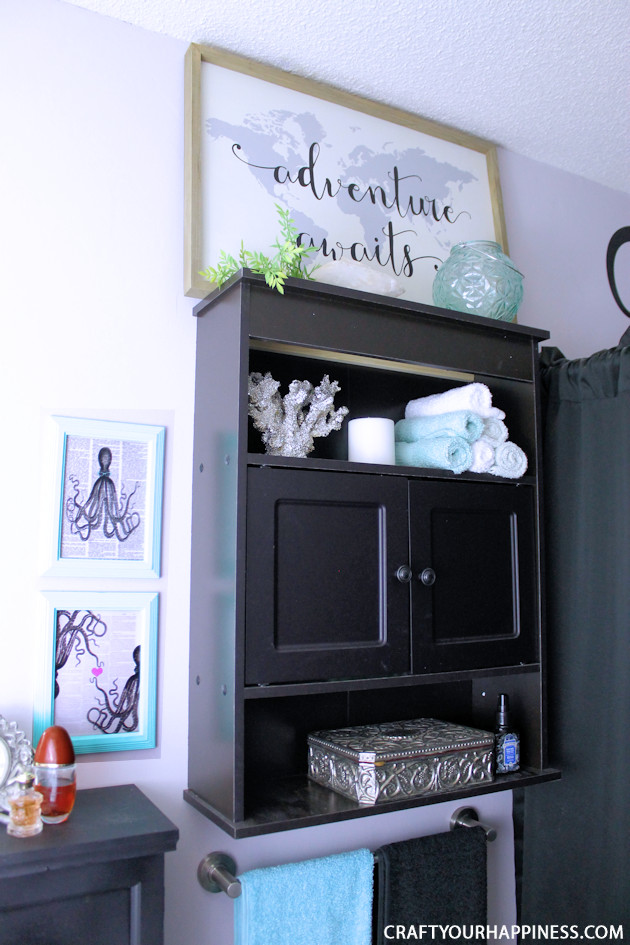 Inside the cabinet was other toiletries and hair items along with a quote. I also purchased a couple clear plastic drawer organizers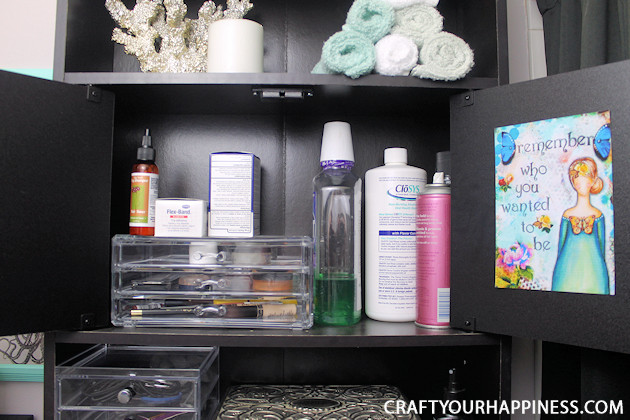 Tissue paper with holder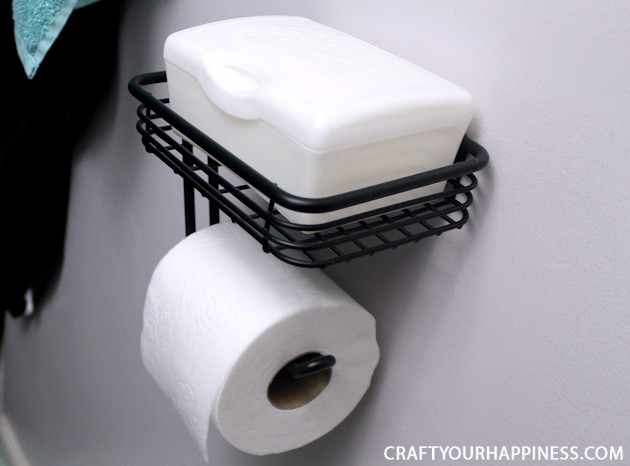 The tub/shower had a clear liner and I added a black curtain over it with a black spring-loaded rod.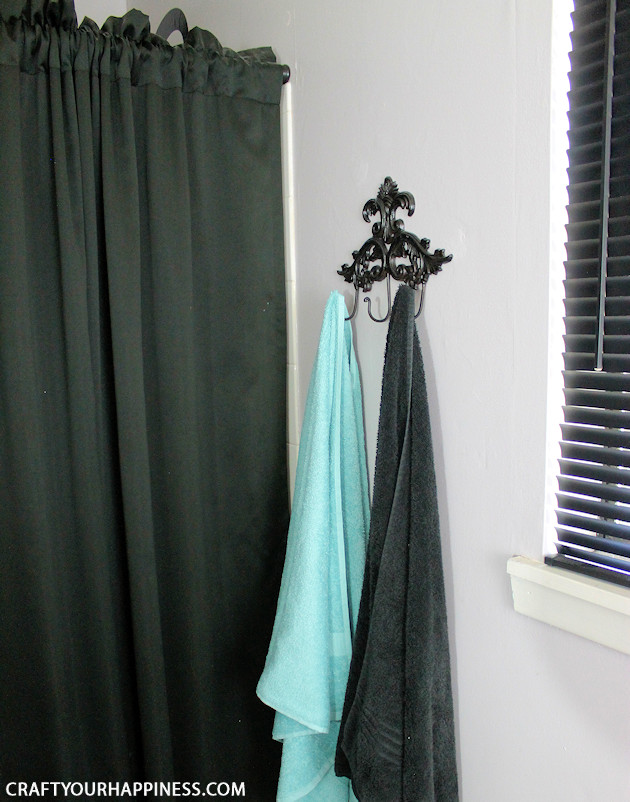 The hook for towels etc I already had and painted it black.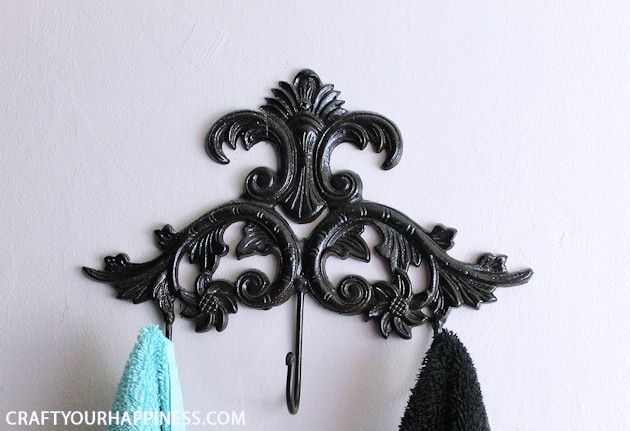 The teal carpet was purchased at Walmart.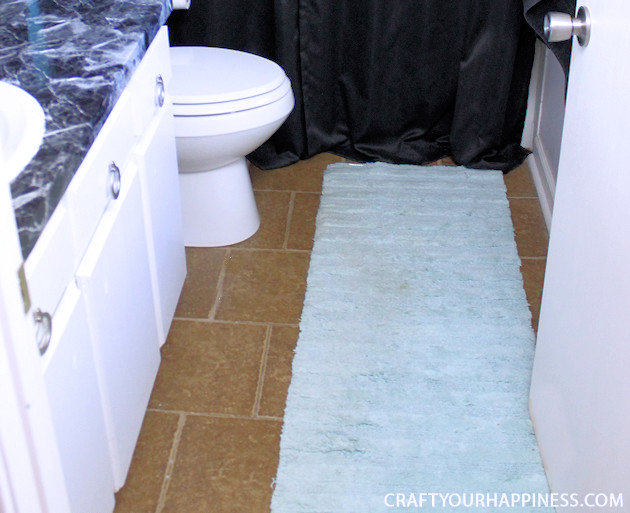 I printed my own photos and used old frames painted teal to put them in.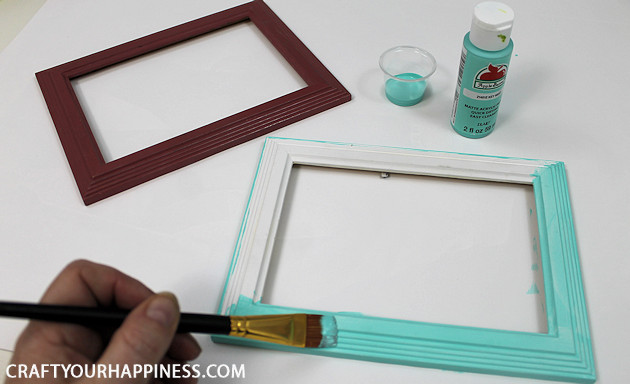 Turned out wonderful!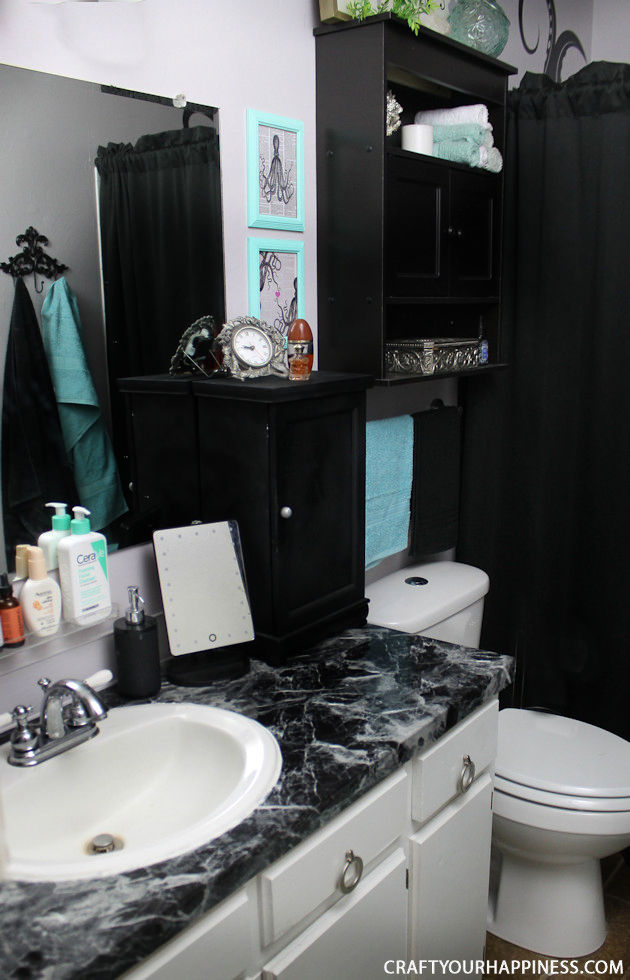 The mermaid shelf and sign were purchased at the local Ross store. We added some greenery and a sea glass bottle.