NOTICE: One year update at the bottom of this post. Please read before starting!

Doing a contact paper countertop makeover has been a popular way to inexpensively cover up an old ugly countertop. Granite contact paper is typically used as it resembles a real granite countertop  and while if done well it looks awesome, this comes with a variety of inherent problems. Well, we're going to show you how to fix almost all of them on one fell swoop! And if your looking for other great inexpensive fix-up ideas check out our Frugal DIY Bedroom Makeover Ideas and our Classy Living Room Ideas on a Budget.
We also did a full makeover on our master bathroom complete with recovering the counter with contact paper. 
Make sure you check that out too>>>>>> Magical Dark Sea Bathroom Makeover
PROBLEMS WITH A CONTACT PAPER COUNTERTOP
Seams. There's no way around having seams and even with pattern matching they tend to show. With granite paper you can't match patterns and they show up more. Accept it.
Water can get under the seams.  If it does, they will start to peel up.
It's easily damaged because, well, it's paper. In a kitchen you can't cut on it or put anything hot on it. In the bath room no curling irons can touch it.
Edges peel up. If your countertop has a straight edge as the one shown below, the paper will peel away easily where it meets together when anyone rubs against it.
Be careful. You just have to be careful because it can be nicked with anything sharp or discolored easily.
Those are some pretty big issues considering all the work you go through to put the stuff on. And it does take a good bit of work.  But we found a way to make it more sturdy and long lasting. You still can't set extremely hot things on it or cut on it but water and peeling should not be an issue which is the biggest problem in a bathroom.
NOTE: This is best done in bathrooms mainly because you can't cut or place hot things on it even with our method. However, if you're really careful in your kitchen, go for it!

How To Make a Contact Paper Countertop Last
Water Based Polyurethane Gloss Finish.  Because it's water based it doesn't harm the contact paper.  It seals over the seams and edges so water cannot get in. It protects the surface and all your hard work. The only type I found is linked below and made by Rust-Oleum. A little goes a long way. It's a bit pricey but we use it for all types of things such as my post on how to build a Large Surface Home Office Desk.  Buying it in the two quart package can save you almost $15.   This is of course optional. You can  just treat your contact paper with great care. But if you have kids or just don't want to worry about being extra careful you don't have to use it.  But if you have edges of your counter like mine, I'd still suggest gluing them somehow as they will find a way to peel just from leaning against them.
FYI This does make it more of a permanent thing. You cannot easily remove the paper later. You would have to do some light sanding to get through the gloss.
Contact Paper Countertop Supplies
NOTE: Once companies realized people were using granite contact paper to cover counters they raised the price of that type so its a bit more costly. Buy enough to cover your counter. If you're  using a pattern that you can match you'll need more.  One roll "barely" did my small countertop.
Time Frame
This job could be done in a day and ready to use the next day but you'd need to start early to allow yourself to get all the coats of varnish on.
How Long It Took Me
(I've never done this before.)
Covering small bathroom vanity: 2 Hours
Clear Coat: 1 day due to drying time of 2 hours in between each of three coats.
Download Reminders
Should you decide to not use clear varnish grab one of our free reminders to print and/or frame and  set on  your countertop! Photos of them printed up are at the bottom of post. Various sizes!
Instructions
Scrub and clean your countertop thoroughly and wipe with a clean dry cloth. You want to make sure there is nothing left on it to make the contact paper not adhere to the surface.
Having someone to help makes it go much faster and makes the paper easier to handle.
This project takes patience. If you hurry it up you'll mess up.

This is what our bathroom looked like before we repainted our walls.  The house must have been a rental because at some point they had painted over wall paper. Sad but true. For the moment we were looking for a quick fix up so we did a little sanding and hole filling and added a new coat of paint.   Eventually we'll redo the entire bathroom the "right" way and also replace the vanity but for now we were looking for a quick inexpensive facelift.
The walls had been painted here. But the counter top still needed some work. It appeared that some past owner had also painted the countertop. It wasn't too bad of a job, however, they went over everything including the part of the back splash that was metal.
I debated what to do and finally decided I would paint the metal parts metallic silver.
I chose Martha Stewart's metallic silver as it's close to the real thing.
I masked off everything with painters tape.
I probably didn't need to do the inside parts as those would be painted over anyway but I was thorough.
I painted two layers of silver paint on all the trim parts, allowing it to dry in between coats.
It looked quite a bit better in my opinion.
Now it was time to start on the counter top itself. I grabbed my roll of granite contact paper.
There will be some measuring involved on parts but for the larger areas you just unroll and start. Again, your surface should be cleaned spotless and free of any soaps etc. so that the paper sticks well.
The trick is to make sure you have no bubbles and that it's even as you lay it out. Use a credit card or something similar to help smooth it down as you go.
When you come to the sink you will carefully press up to it and down into the area around it. Because our sink was curves as many are we were only able to go so far and then needed to start cutting small slits that allowed us to press the paper closer to the sink. Cut a large hole out for the sink, making sure to give you plenty of paper to work with on all sides.
Notice how I cut the paper and moved on. At some point you might run out of paper and have to make a seam. I did not due to how short my counter was. If you do have to make a seam you can decide ahead of time where you might want to have it fall for atheistic purposes.
Once I had my paper laid longways across my counter, I'd go back and do the detail work around the rest of my sink. I make small slits with my X-acto knife, part way down and NOT TOO FAR, just enough to allow me to push the paper around the edge of the sink and curve it around as shown.
Again, you want no bubbles. This might require some lifting and re-positioning. It takes patience and time. Go slow. 
You want your paper tucked tightly next to your sink.
More slicing down to allow for the curve. Again, do not go down too far.
Trimming off extra.
Moving onto the other side.
The front edge.
The paper was not deep enough to go to the back which is where I thought I would rather have my seam as apposed to having a seam vertically down my sink.  I decided this would show much less.
I cut a piece of paper a bit larger than the area and moved it around to determine where the pattern was the "best". Remember you can't match granite exactly.
I then put it in place and rubbed it down.
My piece was going to need a seam at some point. I decided right behind the facet was perfect.
After it was in place I carefully trimmed it with my knife.
I cut the pieces for the backsplash and added and trimmed those, seaming if needed.
I was now ready to trim around the sink. I trimmed a bit high to start.
Then I went back and trimmed it where I wanted it. You'll notice my sink has a brown area where it was caulked years back. I plan on re-calking around it, so that's fine.
I bought a tube of waterproof DAP acrylic latex silicon caulk.
I squeezed out a bead around my sink.
Because it is water based I wet my finger slightly.
Then I smoothed it out.  Don't use too much water or it thins it out too much.
If you mess up,  you can quickly wipe it off with a damp rag and add more.
Make sure to wipe off any extra with a damp paper towel.
I now have a nicer edge to my sink.
I now need to cut the pieces to go on the edge of my counter.
I cut them larger and added them on. 
Corners like this are tricky and these areas problematic if the contact paper is not sealed with something as they tend to come up if leaned against.
I then trimmed the sides.
More trimming.
As an added precaution, I dabbed some clear glue under the corners.
Now comes the part that makes your new countertop last. The clear finish.
I added a light coat of this everywhere on my counter where I placed the paper.
Make sure its brushed on evenly. Let it dry 2 hours or until its not tacky. I then added another coat, it dry as before and added one more.  Once the last coat is on, let it cure 24 hours and its set!
You now have a beautiful new countertop that will last a good long while.
Here are some close ups to show the details.
  The seams are noticeable but because of how the human eye works, most people won't see them unless you point them out!
See the One Year Update at the bottom for a problem with the seams separating and possibly solutions.
You can choose to use this humorous poem to set on your counter or tape to your mirror  if you don't use the clear coating. Or even with it!
Here's a more standard reminder. Both are a free download on the top of this post.

One Year Update
March 3, 2018
It's been a year since I covered my countertop and I wanted to give an update. Overall the covering has held up perfectly, even on the sides where I had separate strips. The only problem is that my one seam, which I placed at the back where it would show less, has separated a tiny bit on most of it and in one small section it's lifted a little. It's almost like it shrunk away…  though the shorter piece to the left of the sink still looks good. I'm not sure why this happened but I'm  going to suggest that where you have any seams you might need to use some sort of glue and paint a strip down where the seams will meet… before you lay down the paper. But that's just a suggestion and I've not tried it.
The seams will show more or less depending on your contact paper design, but the lifting and separating makes them show worse… and dirt gets in them because there is no coating over where it separated. When I first noticed this  I should have added a strip of that clear coating I used. That may have helped. Anyway… I'm still very happy with it. I'm going to ask on some forums about that. If you have any suggestions please send them to me!
It does not look too bad from a distance.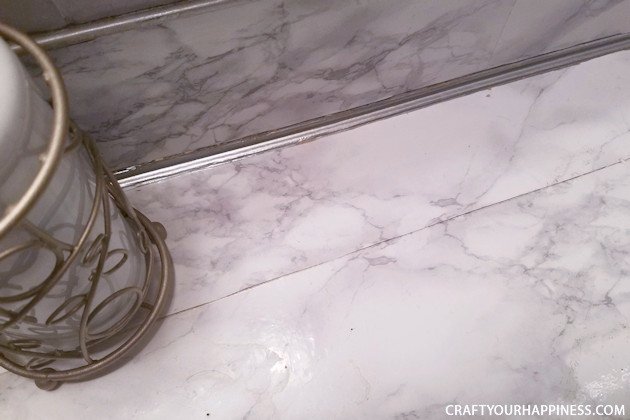 Another section. You can see on the right that it's separated a bit.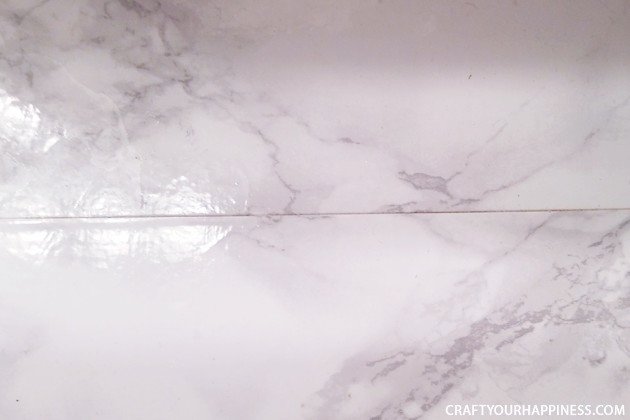 This is the worse spot and is CLOSE UP which of course makes it show up even more. But I wanted you to see it. Maybe I didn't press or coat it well enough on the seam.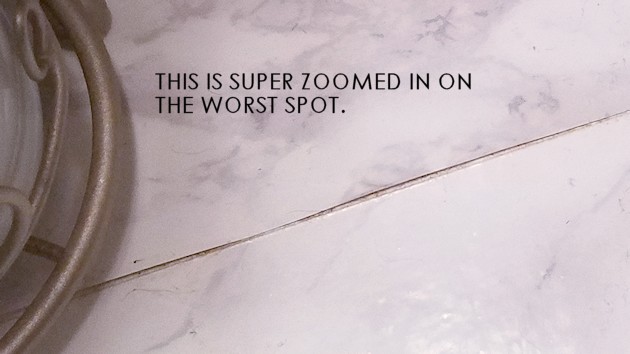 But as you can see, overall it's still gorgeous and I'm very happy with it.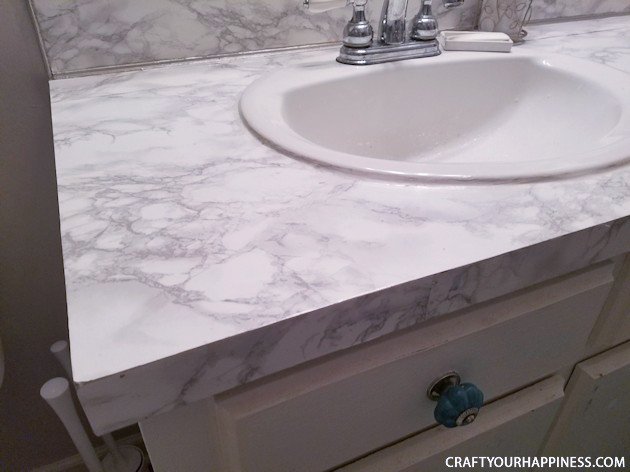 Image to Pin
Finished Contact Paper Countertop!