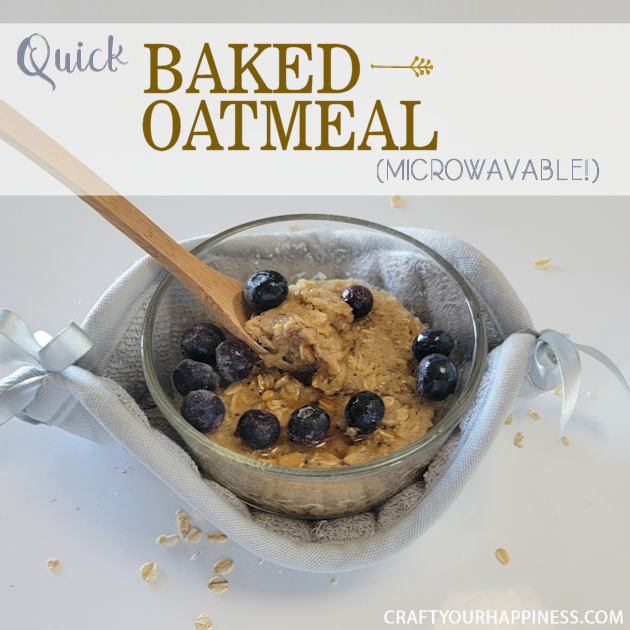 You can make this moist quick microwave baked oatmeal for a healthy breakfast or even a snack!  Works in the oven too! We specialize in recipes that are not only healthy but delicious. You can find many more great ideas for other great recipes such as Healthy Apple Nachos Supreme Recipe! or Healthy No Bake Cookies (No Heat Too!) you can find them in our Healthy Recipe Category!  We also have a quick DIY for on How to Make a Simple DIY Bowl Cozy from Hot Pads shown in the photos! Great for protecting hands from hot bowls in the microwave!
Healthy Apple Nachos Supreme Recipe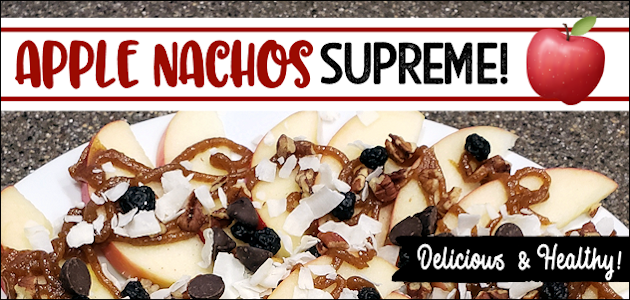 How to Make a Simple DIY Bowl Cozy from Hot Pads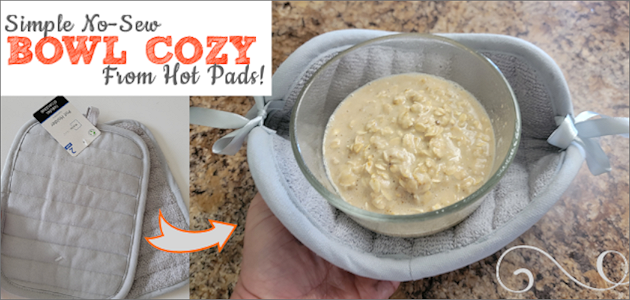 Supplies We Have Used
Printable Recipe
Moist Quick Microwave Baked Oatmeal
Author:
www.craftyourhappiness.com
Prep time:
Cook time:
Total time: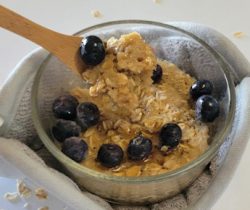 Ingredients
½ cup oats (whole or quick)
¼ cup flour of choice (we used almond)
¼ cup applesauce (or mashed banana)
¼ cup almond milk or any nondairy milk
1 TB maple syrup or honey
1½ tsp vanilla
½ tsp baking powder
Pinch salt
OPTIONAL INGREDIENTS
2 TB cocoa powder
2 TB mini chocolate chips
Instructions
Mix all ingredients in small bowl.
Place in 2 cup oven or microwave bowl. (We used a 2-cup ramekin)
Bake in microwave for 2 minutes. Let sit for 1 minute. (Microwave time can vary)
OR
Bake in 400 degree oven for 30 minutes. (We suggest testing after 20 minutes as ovens can also vary)
Step by Step Photos
Ingredients can vary but we opted for the applesauce (for moistness) though masked ripe banana will work if you like the flavor. We also used almond milk, old fashioned oats and maple syrup.  Any non dairy milk and flour will work. Honey can be used in place of real maple syrup.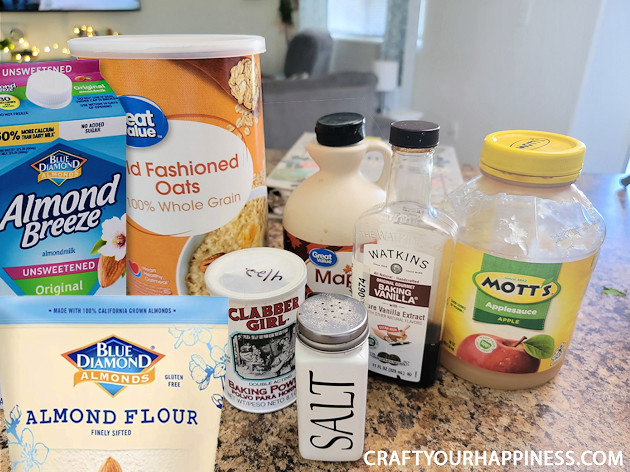 Measure out your ingredients.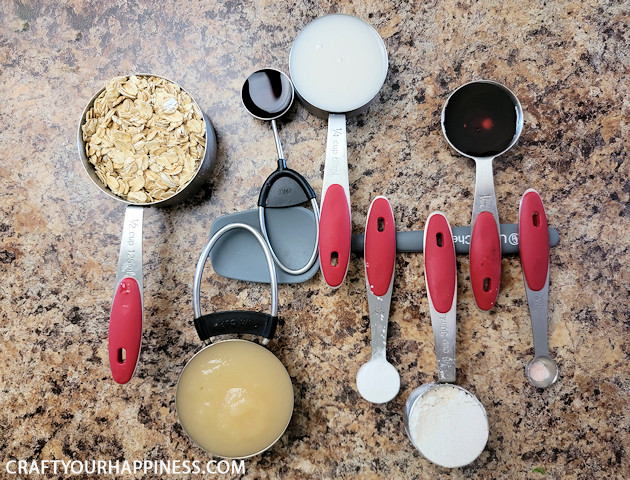 Put everything in a small bowl.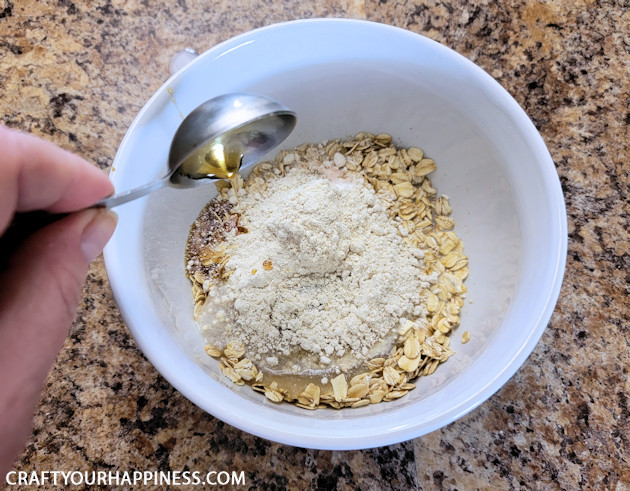 Carefully mix your ingredients.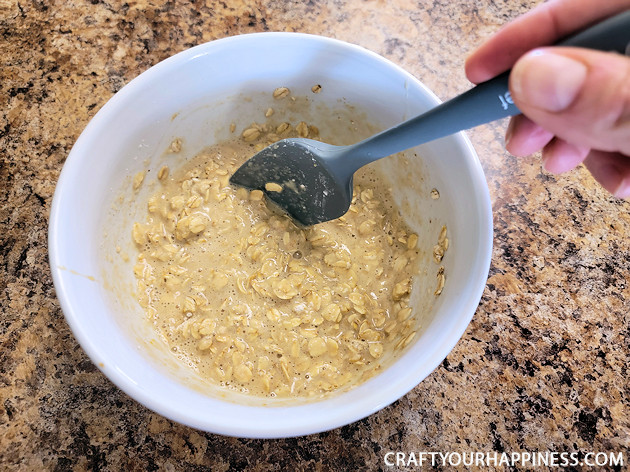 Pour into a 2 cup microwave or oven safe bowl.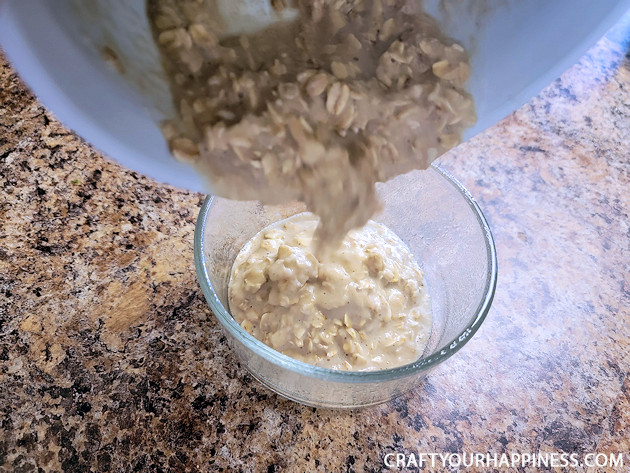 We used the microwave to bake ours so we placed it a easy to make DIY Bowl Cozy made from hot pads!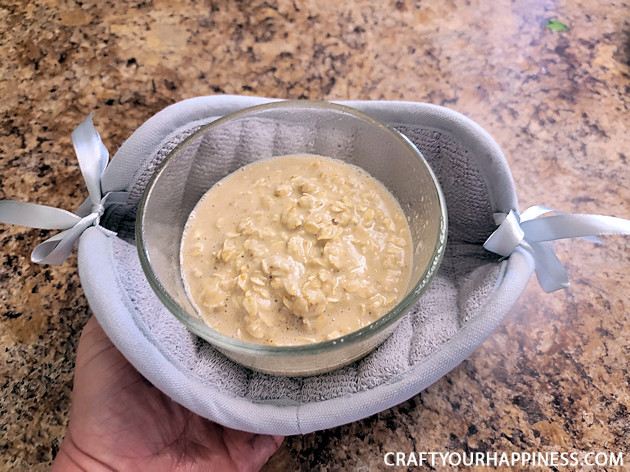 Bake in a microwave for approximately 2 minutes and let sit for 1 minute. Time can vary on different microwaves. Youc an also bake it in a 400-degree oven for approximately 30 minutes. Again, check after 20 minutes as ovens also vary.