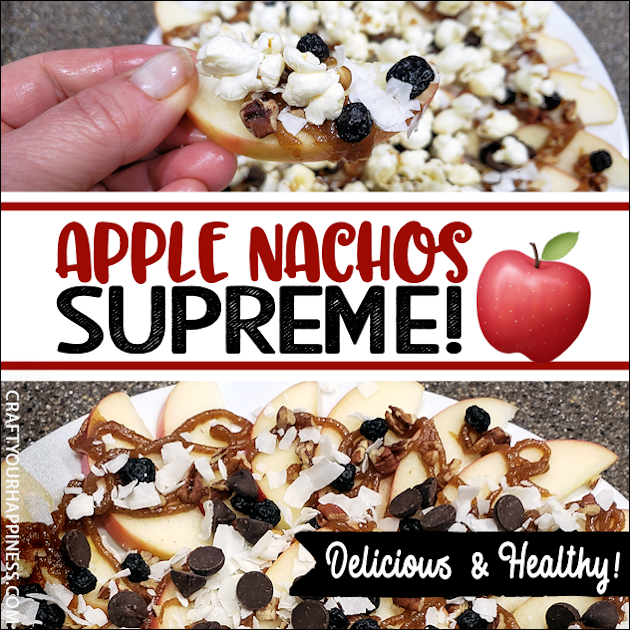 You've not snacked guilt-free until you've had our delicious Apple Nachos Supreme dessert recipe! It's perfect for parties, movie night or a healthy snack for kids. They're so fun to make! And they would not be the same without our fabulous date caramel sauce, recipe also included. You can use a variety of toppings depending on your personal choice. I like mine  loaded! **There is a printable recipe below for the nachos and the caramel sauce plus photos to show you all the steps.
If you're looking for more healthy snacks and desserts make sure to check out our Chocolate Avocado Pudding, Healthy No Bake Cookies, and my favorite Healthy Cookie Dough Recipe!

Supplies & Ingredients I Buy Online
These are a few item I buy online to make my apple nachos. If you're eating for health try to use ingredients that are not full of chemicals, sugar, fat etc.

Apple Nachos Supreme Recipe (Printable)
Healthy Apple Nachos Supreme Recipe!

You've not snacked guilt-free until you've had our delicious Apple Nachos Supreme dessert recipe! It's perfect for parties, movie night or a healthy snack for kids. They're so fun to make! The Date Caramel Sauce is the best!
Ingredients
APPLE BASE
Apples. I love Gala. Use however many desired. 1 large apple makes a dinner plate size.
CARAMEL SAUCE
1 cup dates (Medjool are softest but any type will work. If they are hard you can soak for a few minutes first then drain.)
½ tsp Ceylon cinnamon or regular cinnamon
½ tsp nutmeg
⅓ tsp sea salt
¼ tsp allspice (optional but adds flavor)
½ tsp pure vanilla extract
⅔ cup water + extra depending on how thick/thin you want it.


TOPPING IDEAS
Date Caramel Sauce (This is a main topping!)
Nut butter of choice, warmed for drizzling
Popcorn, fresh popped
Dark chocolate chips
Chopped nuts of choice
Raisins, dried cranberries, dried blue berries etc.
Coconut shreds, unsweetened
Instructions
Make the date caramel sauce first. Its the best caramel replacer ever! The amounts shown make a scant 2 cups which will keep in the refrigerator for couple of weeks at least.


CARAMEL SAUCE
Place the dates, cinnamon, nutmeg, sea salt, allspice, vanilla and water into a blender.
Blend till smooth. I add extra water than shown because it's easier to squeeze out of a squeeze bottle.
Scrape the caramel sauce into a container. You can heat small amounts and drizzle by spoon or you can fill a squeeze bottle with it as shown.
PREPARE APPLES
How many you use, depends on how much you want. 1 large gala apple will fill a normal size dinner plate.Which can feed from 1 to 4 people.
Wash and cut apples into thin ¼" wedges. I keep the skin on but feel free to remove it.
Arrange them on a plate in a spiral.
ASSEMBLE APPLE NACHOS
This is a matter of what toppings you chose and how much of each one you want. This is how I assemble mine:
Drizzle the date caramel sauce over all the apples.
Drizzle warm nut butter if you use that.
Add your toppings as desired. I put on nuts, dried fruit, unsweetened coconut shreds if I have them and dark chocolate chips.
Last I ALWAYS pop up a tiny bit of popcorn in a pan and add that. (not butter or salt)
Feel free to layer them however you like!

Visual Instructions
These show a few toppings I use. Feel free to adapt to your own taste! FYI The Date Caramel Sauce is the best part so I always use that!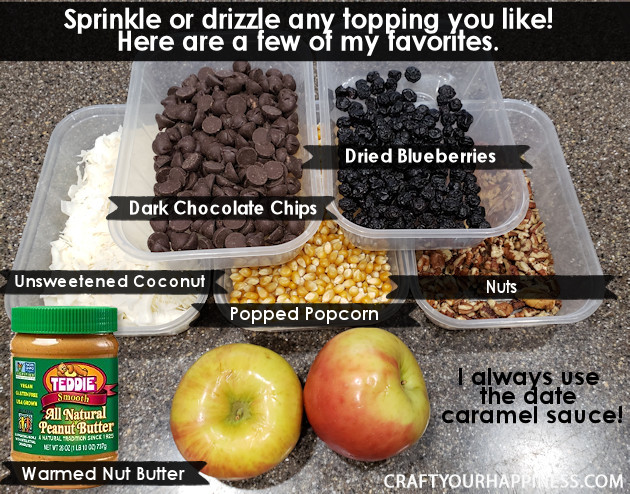 Wash and slice your apples into 1/4″ wedges.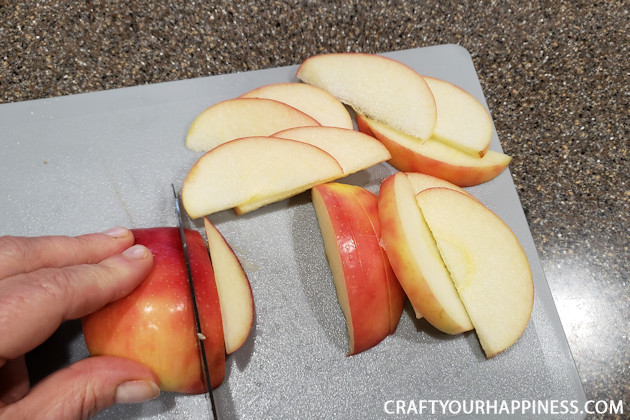 Arrange on a plate.

Place a few slices in the middle.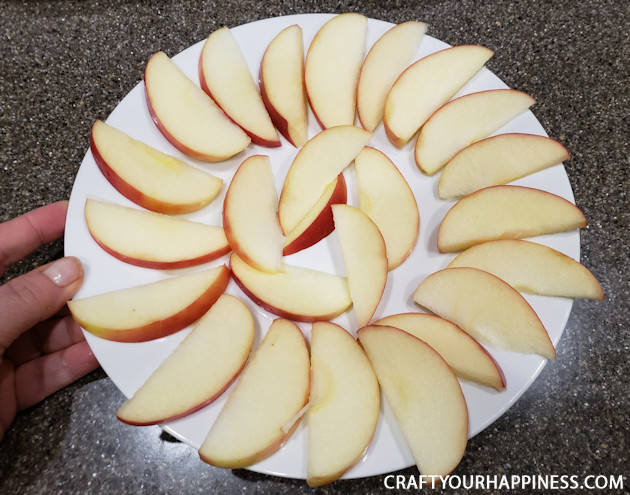 These are not nearly as delicious without the sauce. It's the best part!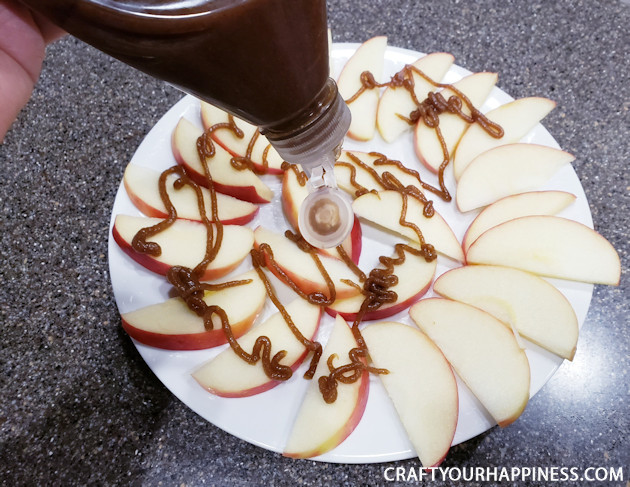 Start adding your toppings of choice.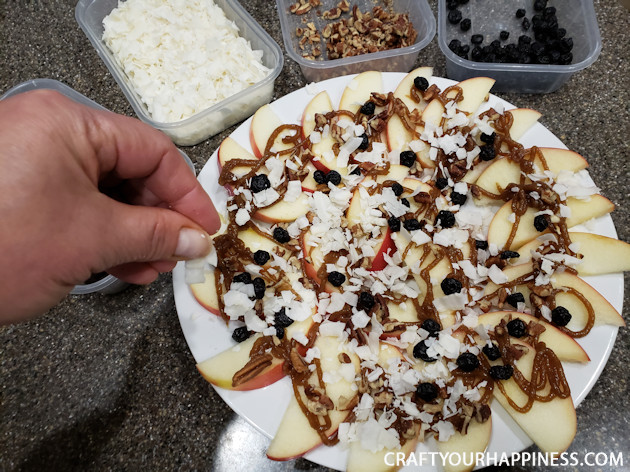 This is Apple Nachos without the popcorn on top. These are great just like this.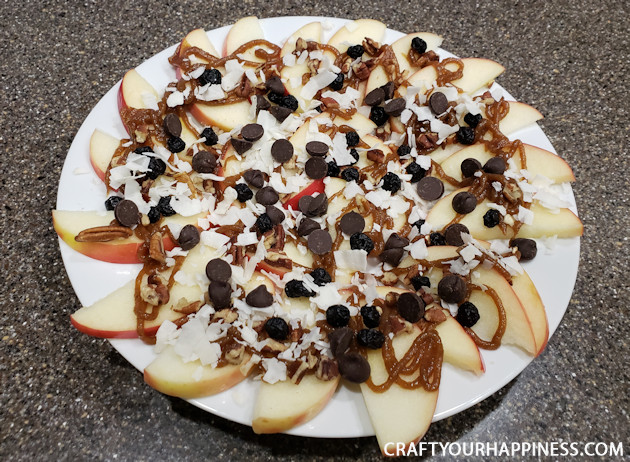 I, however, LOVE the flavor of the plain popcorn. So I pop up a small fresh batch on the stove in some grapeseed oil.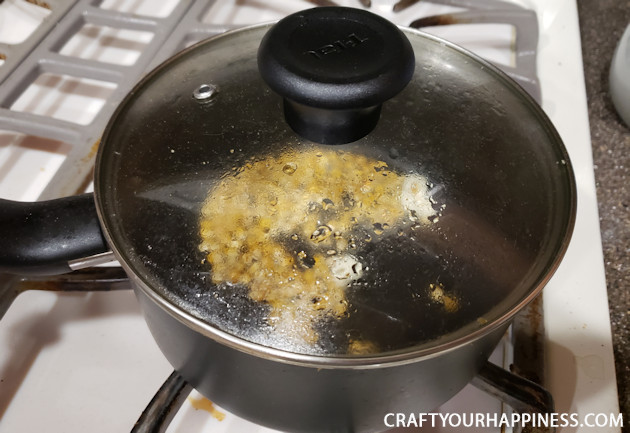 The popcorn is my final topping. Feel free to layer your toppings as you like.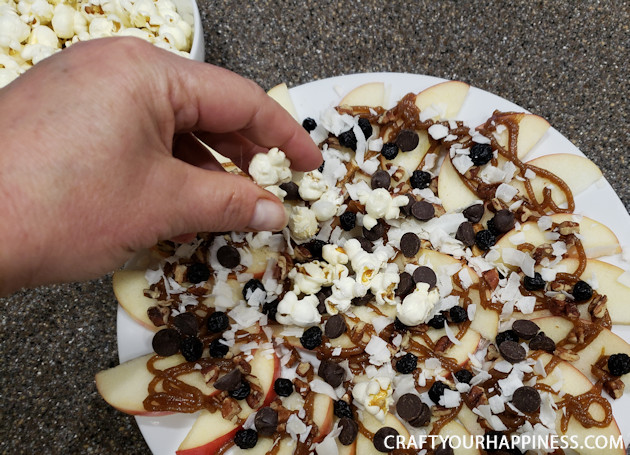 These are ready to serve! They need to be eaten soon as the apples will start to brown.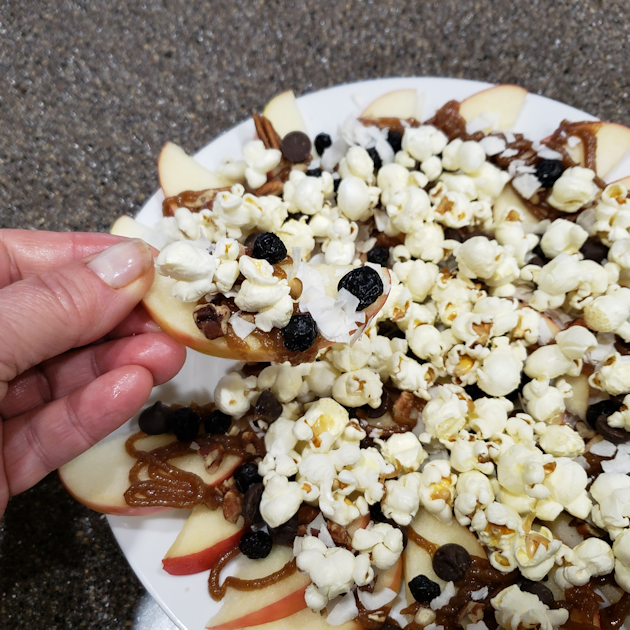 Date Caramel Sauce Instructions
Necessity is the mother of invention and when I made my first batch of these, I tried a variety of ways to dispense the caramel sauce. You can keep it in any container in the fridge and warm small amounts to drizzle if desired. But I make Apple Nachos a couple times a week so I wanted a way to store my sauce and easily dispense it without heating. I eventually ordered a squirt bottle (linked under supplies at the top of this post) but in the meantime I used a dish liquid bottle. Worked great too though it was hard to squeeze as the plastic was thick.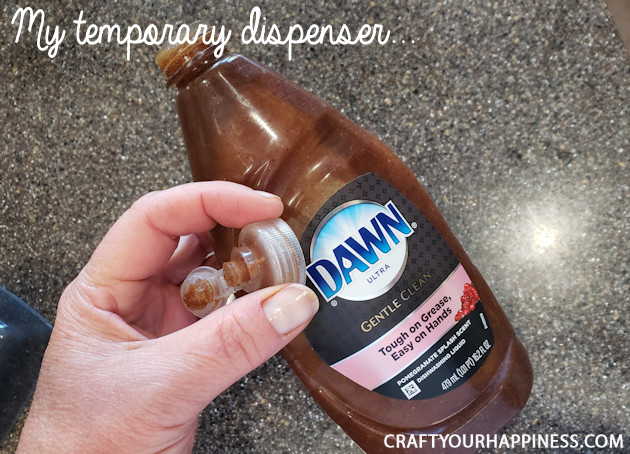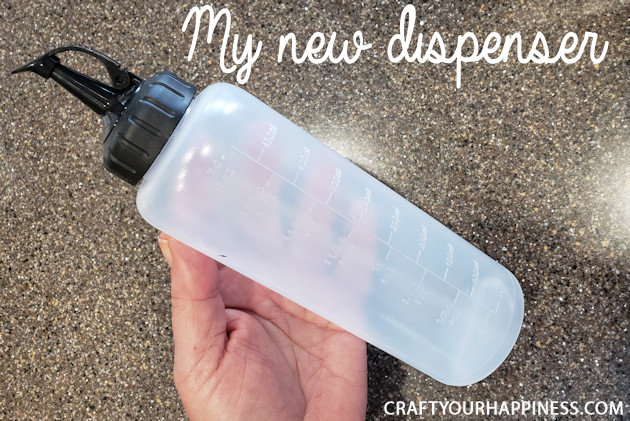 These are the ingredients for the flavorful caramel sauce made from dates. No refined sugar and the best caramel replacement I've ever found!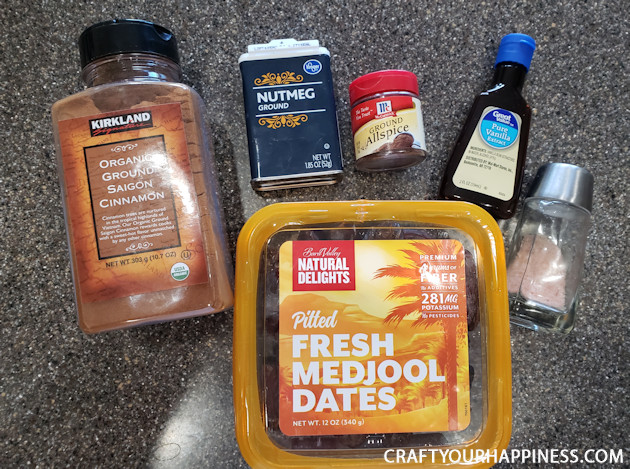 Add all the sauce ingredients into a blender. Add less water to start until you determine the consistency desired. I prefer mine thinner for easy drizzling so I add more water than the recipe calls for.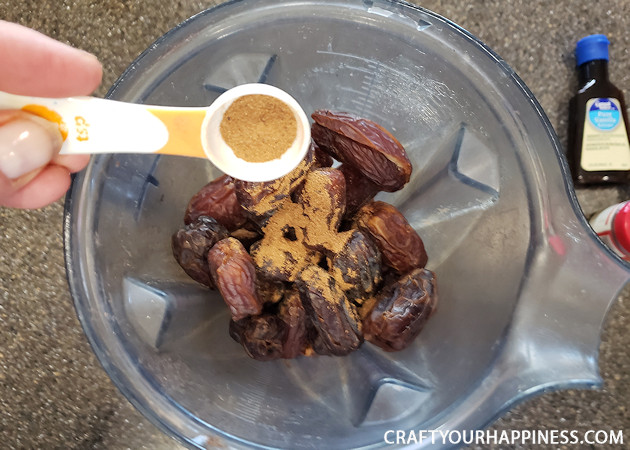 Blend until smooth.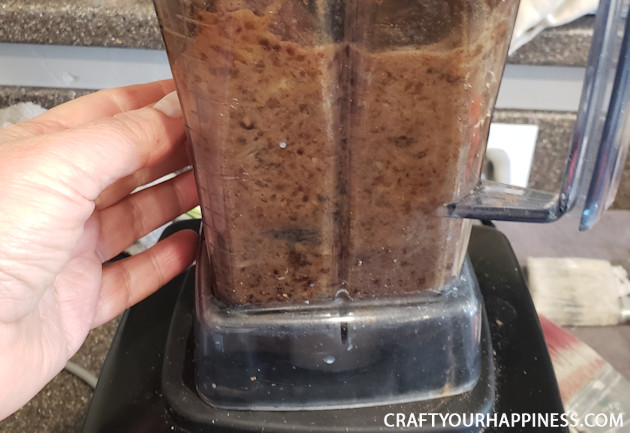 This is a thicker version which makes a wonderful dip!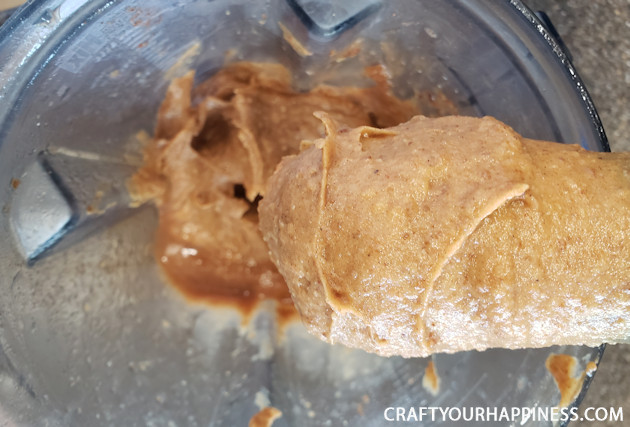 OK… I figured out the easiest way for me to get my thick caramel sauce into my squeeze bottle. (It's harder than you think.) First, I place a 1 gallon thin plastic bag in a wide jar or smaller mixing bowl. Next, I scrape my caramel out of my blender into this bag.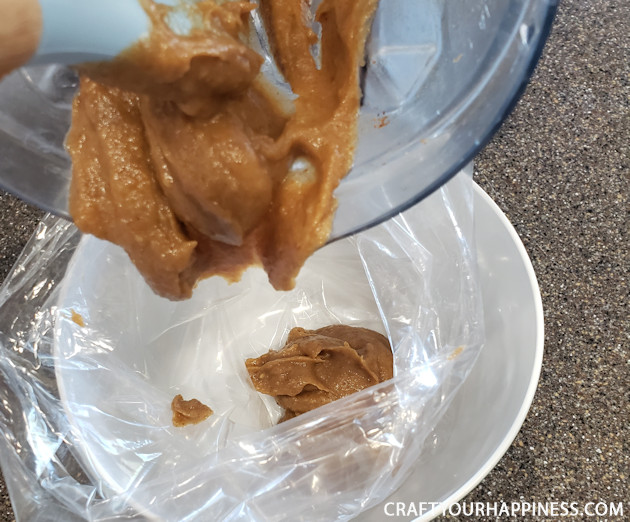 I then take the bag out of the bowl and carefully squeeze the sauce to on corner while twisting the top.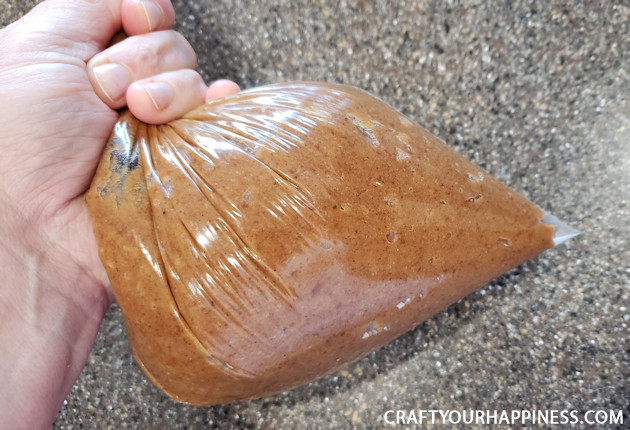 Next, I cut about a ¼" tip off the corner of the bag. The tip size depends on how big the opening is to your squeeze bottle dispenser.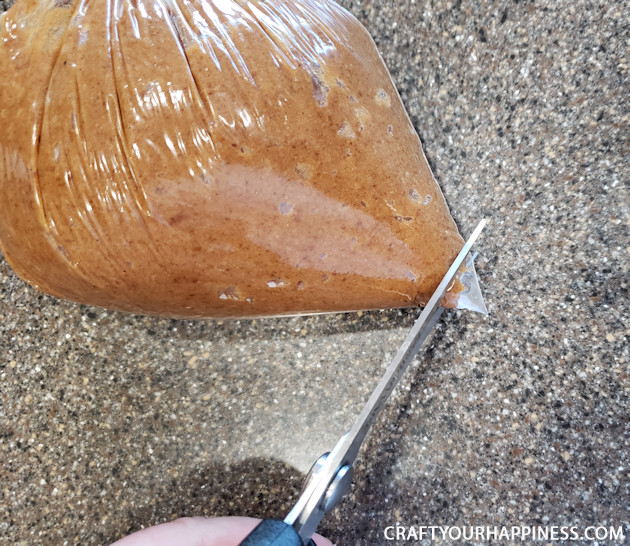 I then slowly squeeze the sauce into my bottle. I made a mess trying to get my sauce into my bottles until I came up with this system. If the opening to your bottle is narrow (as was my temporary dish liquid dispenser) it's even hard to do!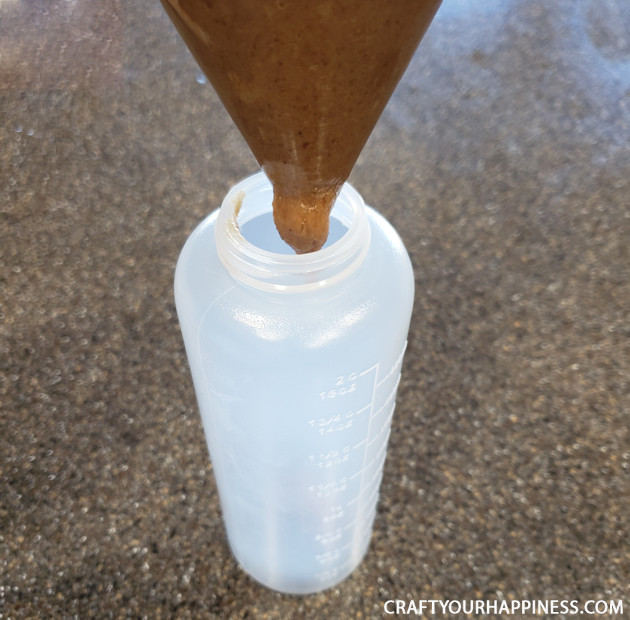 And that's it folks! It's actually super easy to do once you get the system down. I keep my regular toppings in containers so whenever I want to make a batch of apple nachos I just grab an apple, my caramel sauce out of the fridge, and my topping containers. I do make my popcorn fresh on the stove each time. But that takes like 2 or 3 minutes. I eat these several times a week with a BIG apple.