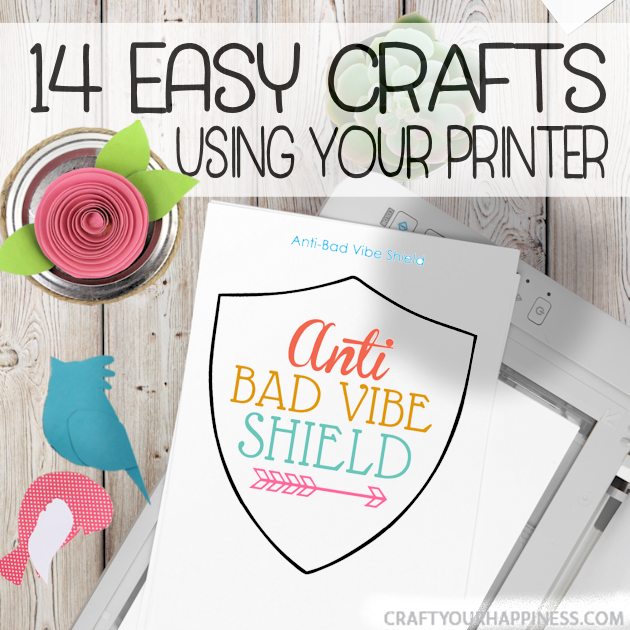 If you own a computer and printer you'd be amazed at the awesome fun and exciting easy crafts for yourself or your children that you can make!   Printers are also a great way to add personalisation to your crafts as they give you such flexibility and control of designs, so here are 14 easy crafts  to get you started that you can do at home using your printer. 
General Easy Crafts Supplies

Easy Crafts Using a Printer
Visit each post for a list of supplies and details! Here are a few images from some of the projects below. Click on each link to go to that craft.

Beautiful DIY Paper Flowers in 5 Minutes These are gorgeous and so easy to make! Very inexpensive too and the flowers can be used in a variety of decor or craft projects. There is a free download on the post you can print.
Whimsical Paper Town Shelf Sitters This little whimsical town can be placed on any flat surface and is perfect for high shelves. Free printables with lots of photos!
3D Dragon Craft Download the free printable and place these 3D dragons on any wall with double sided tape!
Birdies DIY Room Decor Another quick printable. Place these little birds all over the house!
Gratitude Reminder Tokens for Being Grateful This is a fun and inspiring printable craft to encourage gratitude.
Printable Motivational Quotes (and unique stand!) This makes an awesome gift!
Create your own colouring pages


Colouring books can be expensive to buy and many pages often end up unused or half filled if a child loses interest or makes a mistake. Making your own colouring pages really couldn't be easier – simply enter a generic term such as 'colouring template' into your browser, pick the image you want and either download it or screenshot it (It's easy to learn

how to print screen on mac

).  To download on a PC you can usually right click on the image and choose "Save as" and save it to your desktop. Next, place the image in a word document and scale it to the size you want, finally, simply print! Save money by printing the templates in black and white and by printing onto a lower grade paper. 

Create your own stickers


Creating your own stickers at home is easier than you may think. The first thing to decide is whether you want your stickers printed onto paper or vinyl and this will largely depend on the finish you want your stickers to have. Next, create your designs and lay them out so as to make the best use of the entire page, don't put them too close together though as they can be difficult to cut apart and print them using whole sheet printer paper. Finally, cut them out, peel them off and use them wherever you like!

Make your own jigsaw puzzles


These homemade jigsaw puzzles are great for smaller kids who don't require too many fiddly pieces and they fit nicely onto a side of A4 paper. What's more, if they lose a piece you can simply print another! To get started, find a

jigsaw puzzle image template

online, next print this onto A4 paper. To add some stability, glue the printed puzzle onto a sheet of cardboard (A flattened out cereal box works great). Finally using scissors or an exacto knife, cut along the puzzle lines to create your pieces. 

Holiday Printer Crafts
The quality of home printing has improved tenfold over the last few years allowing you to  achieve near professional results at home at a reasonable price.  There are many more ideas on this site and we have hundreds of free printables. So what craft will you try?