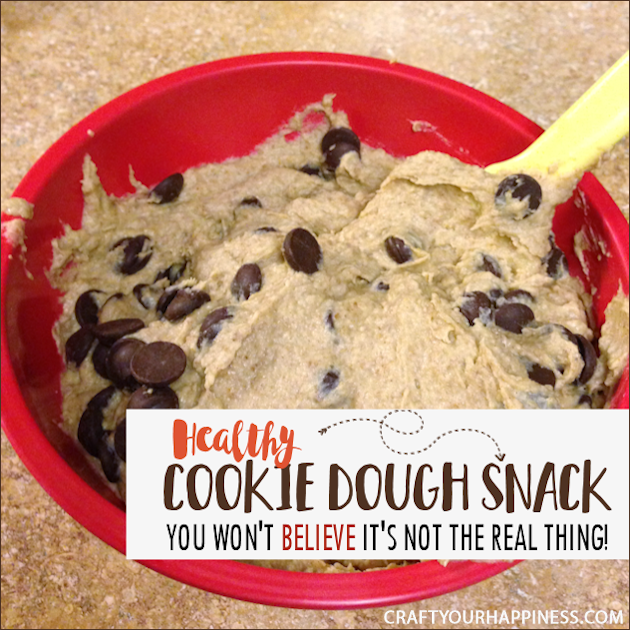 You won't believe how delicious this healthy cookie dough recipe is. And it tastes JUST LIKE COOKIE DOUGH except its good for you! Despite my mom's warning that eating raw cookie dough would give me worms, I've ingested my share of it in past years. Alas, I'd given it up a long time ago when I changed my eating habits. Little did I know an amazing  healthier version was out there waiting to be discovered!
THE SECRET INGREDIENT
Always on the lookout for nutritious ways to satiate my rabid sweet tooth, I came across some recipes for a healthy cookie dough snack. I was  a bit taken aback when I read the main ingredient: Garbanzo beans.  Huh? Yet people were saying it actually tasted like the real thing. Cynical person that I am I thought "Yeah right… I'll be the judge of that."  It took 10 minutes to whip up a batch after which I took a very tentative taste.  Holy crap… this stuff tastes like cookie dough!
I've since learned just how versatile this nutritious magic bean is and I can guarantee if I were to serve this to anyone and not tell them what was in it they would  think they were eating cookie dough. (I plan on doing  this frequently, by the way,  just to see the look on their face when I give full disclosure.)
A HEALING DESSERT
I have two goals with my food: It MUST be nutritious and what my body needs to thrive and not be sick AND it MUST be delicious.  This covers both goals. The Xylitol sweetener, which buy the way, tastes and looks JUST like sugar, has incredible benefits. In fact it can prevent and HEAL tooth decay, with plenty of studies verifying that fact. For more on that topic check out my post "Kiss Your Dentist Goodbye : Heal Cavities".    I used ground flax meal only because I happened to have some. But the best way to use flax seed which is a mega super food, is to buy the seeds and grind them as needed. This takes 60 seconds in a mini coffee grinder. You could most likely use oats in place of the flax seed, but grind those up also.  Dark chocolate has it's own benefits. I prefer Ghirardelli if I can get it but any dark chocolate is great especially if it has cacao.
A Few Ingredients
I buy much of my items on Amazon. Xylitol can be hard to find unless you live close to a health store like whole foods.
Printable Recipe
Chocolate Chip Cookie Dough Dip - And its GOOD for you!
Author:
www.craftyourhappiness.com
Healthy, Vegan and High in Protein. For Dippin' and Snackin'. Great by itself or to dip fruit or graham crackers into. Delicious! And tastes remarkably like the real thing!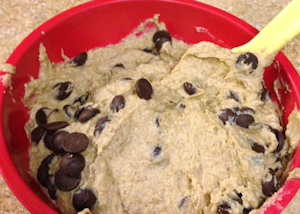 Ingredients
1½ cups chickpeas (1 can, drained)
¼ tsp salt (very scant)
⅛ tsp baking soda- heap just a tiny
2 tsp vanilla extract
¼ cup nut butter. Almond is my preference.
Soy, Rice or Almond milk. Up to ¼ cup (Start with 1 T, and add more as needed)
¼ cup Xylitol *(see notes)
⅓ cup dark chocolate chips. (Use high quality for health benefits.
2 to 3 T quick oats or flax meal (ground flax seed.) Can omit if you want the dip thinner.
Instructions
Add all ingredients (except for chocolate chips) to a blender.
Remove from blender and fold in chocolate chips. Place in fridge.
Notes
Any type sweetener will work. However Xylitol is incredibly healthy and even diabetics can eat it. It's also wonderful for your teeth and alkalizes the mouth!

Xylitol and Almond Butter can be purchased at most health food stores.

Flax seed is also INCREDIBLY nutritional. I make sure to grind some daily into my smoothies. It needs to be "ground as you go" rather than grinding ahead of time as it looses nutrients as soon as you grind it. A small inexpensive coffee grinder is perfect. See Info below.