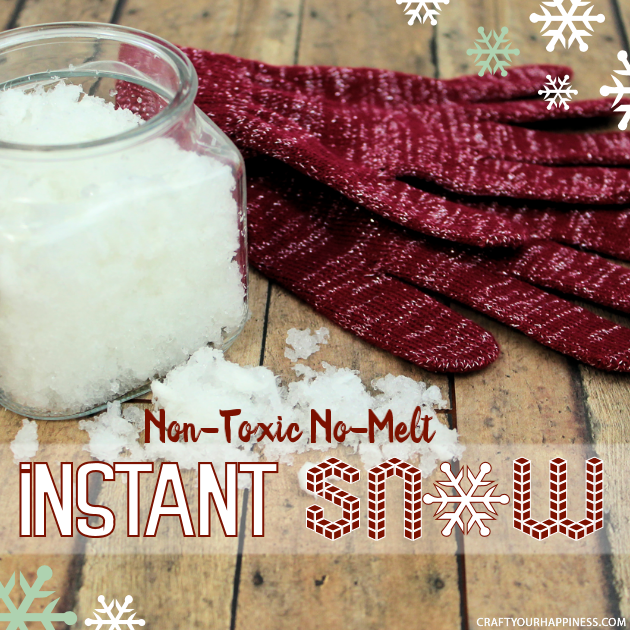 Whether you want to entertain your kids or give a unique gift to your friends and family, this non-toxic no-melt snow will do the trick. This realistic snow should keep in an airtight container for two to three weeks or longer in the fridge.  If left out in the open it will dry out but you can add water and keep using it.  It can be kept in an open container this way for a long time.  What's it for you ask? I tried to test it for decorative purposes. However, when it dries out it no longer looks like snow. So the main things you can use this for is for kids to play with or give it as a fun neighbor gift using the free tag below.
WHY DIAPERS?  Disposable diapers are made using sodium polyacrylate. It's in the center cotton-like  strip and it can absorb 200 to 300 times its own mass in water. That way you don't have to change juniors diaper every 15 minutes. It's also used in gardening for it's water absorbing ability. The substance is considered non-toxic and to read about  click here.  However,  Non-toxic doesn't mean edible. But if junior does put a little in his mouth it's not going to have you running to the ER.  If he ate a whole bunch it might cause problems due to the absorbing thing so we suggest only older kids play with it and not toddlers.  The most important thing to know about it is to NOT put it down a drain as it will clog it. Just toss it in the garbage when you're finally done with it.
And if you enjoy this post make sure to check out our Christmas Category list. You'll find things like How to Make a Small Burlap Christmas Tree Using Hangers and Christmas Gift Wrapping Ideas Using Soda Bottles and lots more!
Instant Snow Supplies
Diapers. The bigger the diaper the more "snow" you'll get.
Water
Bowl
Free Tag Download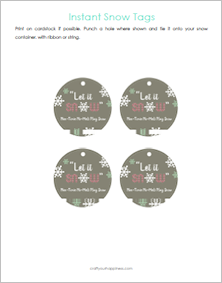 Instructions
Gather your supplies.  We recommend having 1-2 cups of water on hand as small diapers will use about 2/3 cup while larger diapers can use over 1 1/2 cups.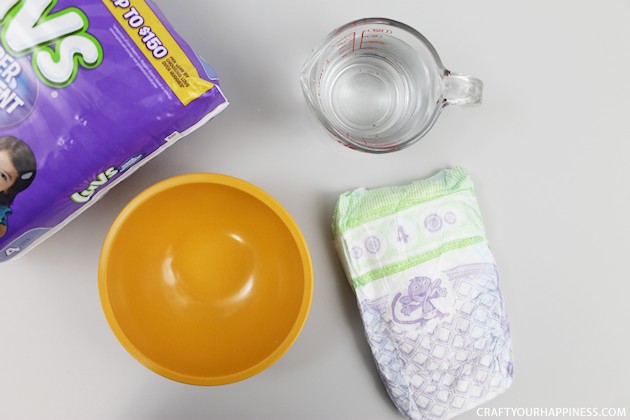 Open the diaper to reveal the absorbent liner.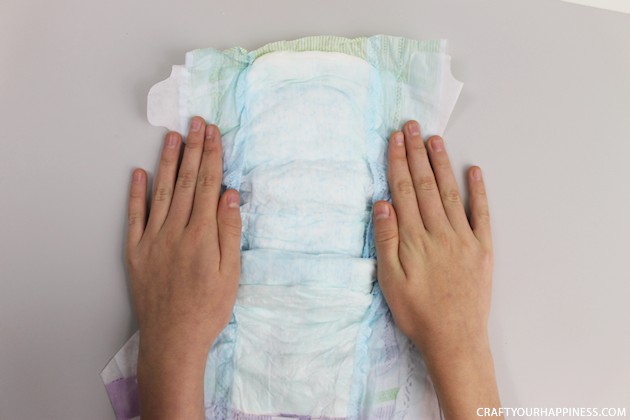 Cut along the sides of the liner so that you can access the contents.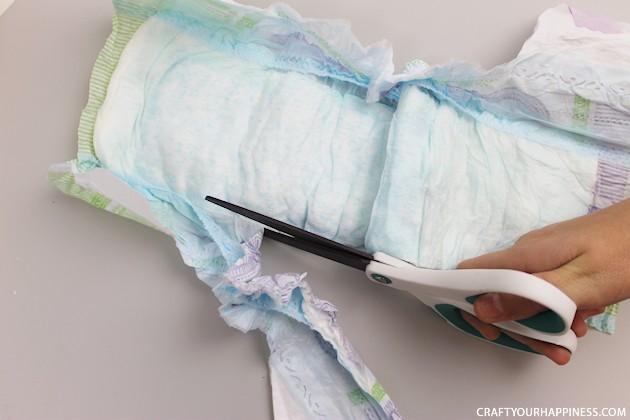 Pull apart layers to reveal the fluffy, cotton-like material.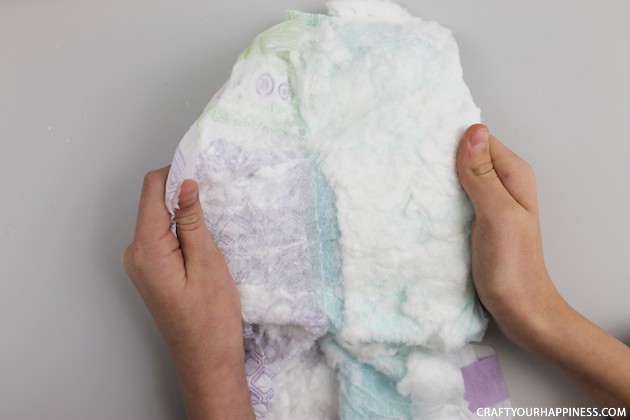 You will notice small sand-like particles throughout.  This can be a little messy, but peel away the filling, break into small pieces and place in a bowl.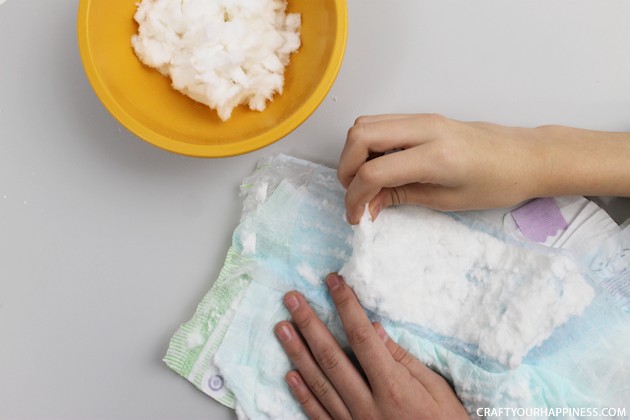 Add water slowly, mixing material with your hands as you go.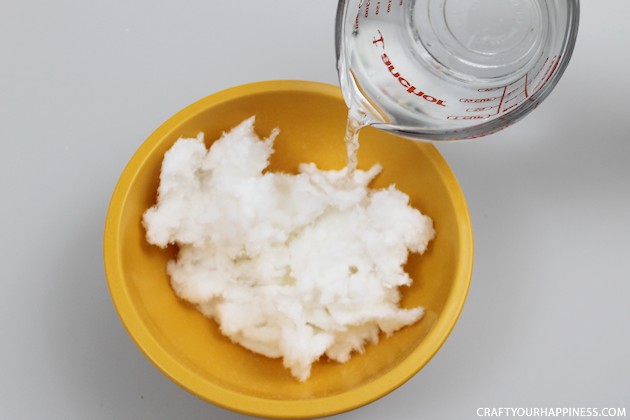 Be sure to really work through the material so that all clumps are saturated.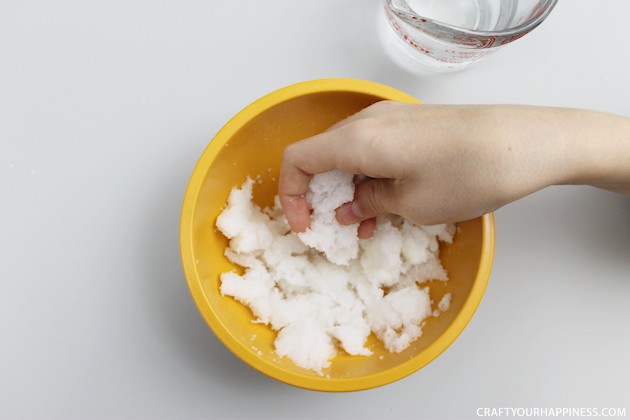 Stop adding water once you have reached a snow-like consistency.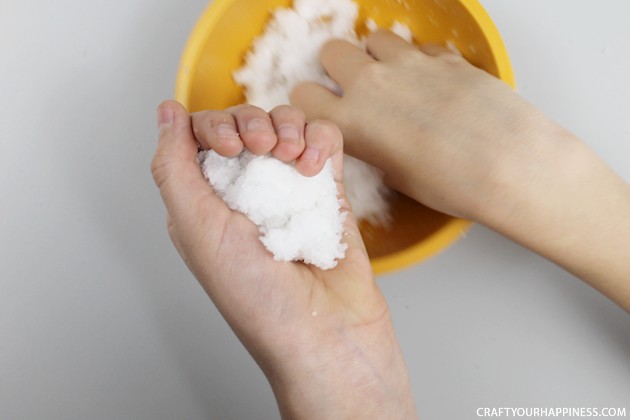 Use the faux-snow as gifts for friends or to entertain the little ones.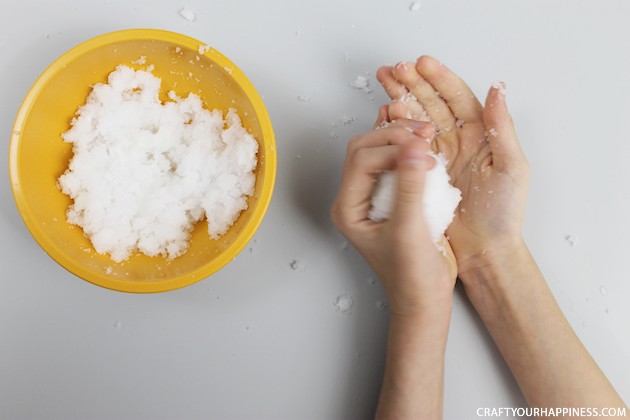 Store snow in an airtight container when not in use.  If  you notice pieces drying out, simply add a little more water.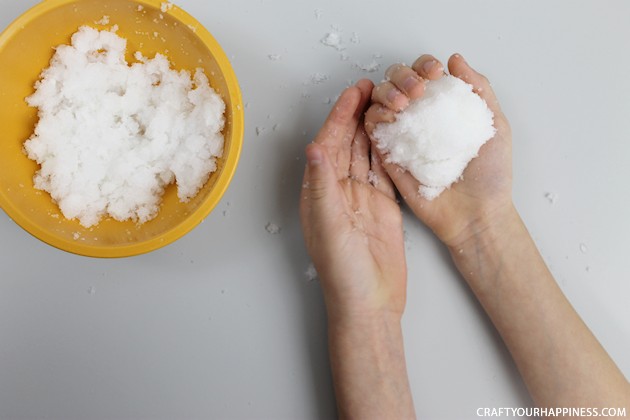 If giving your instant snow as gifts, don't forget to download our free printable tags! Let them know how to store it and to not put it down the drain.