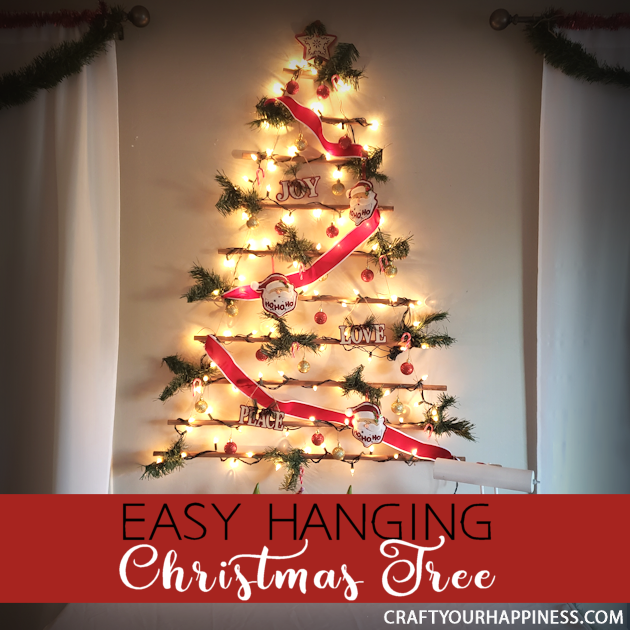 Sometimes having a Christmas tree can be difficult either for financial reasons or space reasons. We've got a great answer for you! Its an easy DIY hanging wall Christmas tree made from dowels! You can make it any size you like. Its simple, inexpensive and beautiful! If you attach ornaments with glue you can even carefully store the tree in its entirety! It's great for miscellaneous rooms too! If you enjoy this you might be interested in How To Make A Small Burlap Christmas Tree Using Hangers. Check out all our great Christmas ideas here!

Supplies

Notes: You can adjust the size of your tree however you wish. We used 5/8″ dowels to make it sturdy to hang things but feel free to purchase whatever size works best for you. You can also use  thin tree branches if you have access!
10  36″  dowels The ones shown are approx 3/4.  (this made a tree that was aprox. 45″ tall (without the star) and 36″ at the bottom.
Saw (this is my FAVORITE hand saw!)
Jute Twine (this is exactly what we used)
Twinkle lights, LED is the best choice. We used soft yellow. Our tree took a string with 60 lights.
Christmas decor (we got ours from the Dollar Store)

Instructions
Begin by laying out your dowels roughly 5-6 inches apart.  This will give you the height of your tree.  Using 10 three foot dowels, our tree was set to be about 4 feet tall.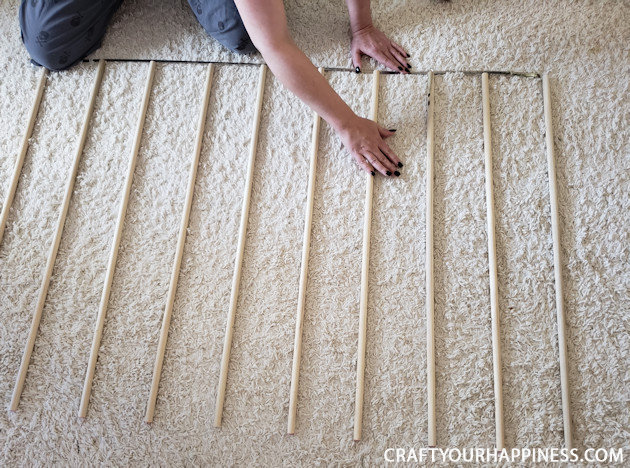 Measure 5 inches in from the end of the top dowel and place a dot with a sharpie.  Then, take a tape measure or string and create a line from that dot to the opposite corner of the bottom dowel.  (The widest side, pictured in the bottom half of this photo, is the part of the dowels that you will be keeping for your tree.  Be sure to take note of which side is which so that you can discard the right half  of the dowels.)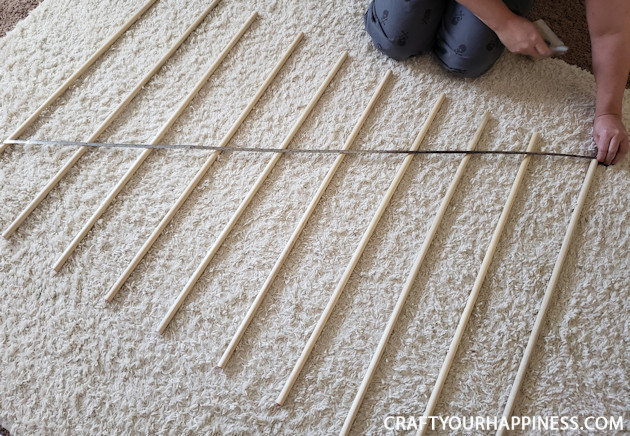 Take a sharpie and mark each dowel where the tape measure crosses it.  This will be your cut line.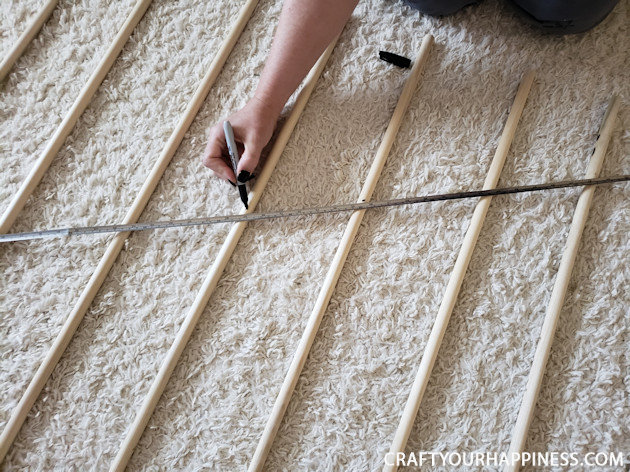 Cut down each dowel at the mark made with the sharpie.   (Be sure to separate your dowels, keeping the correct half as mentioned earlier!)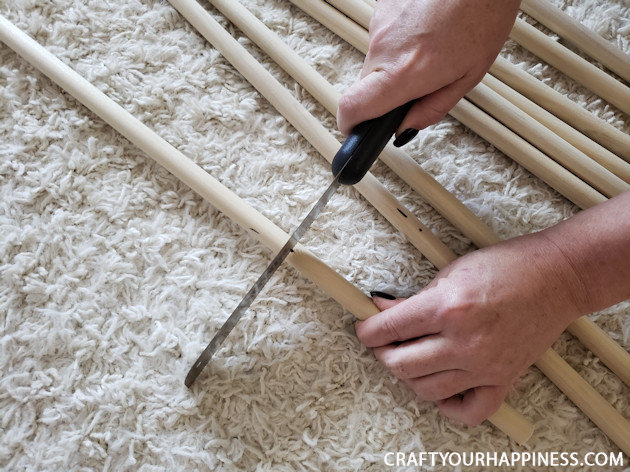 We chose to 'stain' our dowel with some watered down brown paint. This step is optional depending on the look you are going for.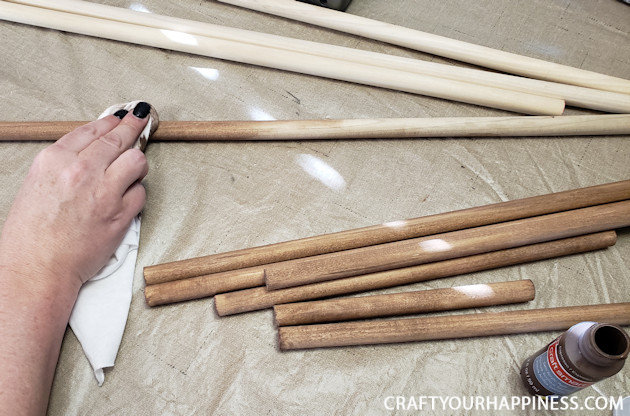 Once dry, lay out your dowel from smallest to largest, roughly 5-6 inches apart, to form your tree shape.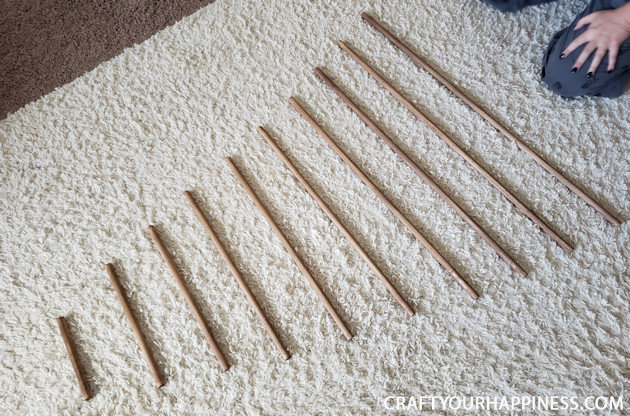 Begin by tying your twine to the bottom dowel, a few inches in from the left.  Once firmly attached, bring the twine up to the next dowel, also a few inches in, and tying it tightly.  Continue this process of each side of the dowels, being sure to leave 5-6 inches between each dowel.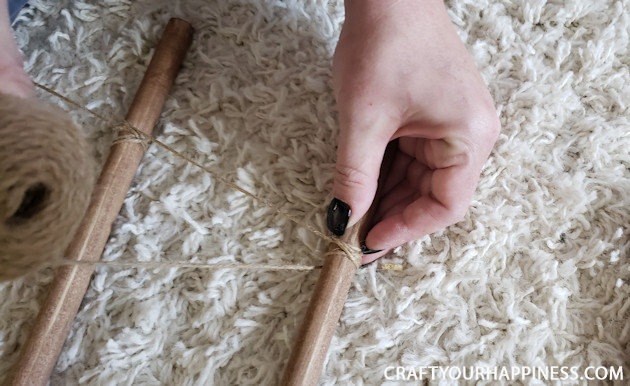 After all of the dowel are tied 5-6 inches apart down each side of your dowels, you can create a loop of twine at the center of the top dowel to hang your tree from.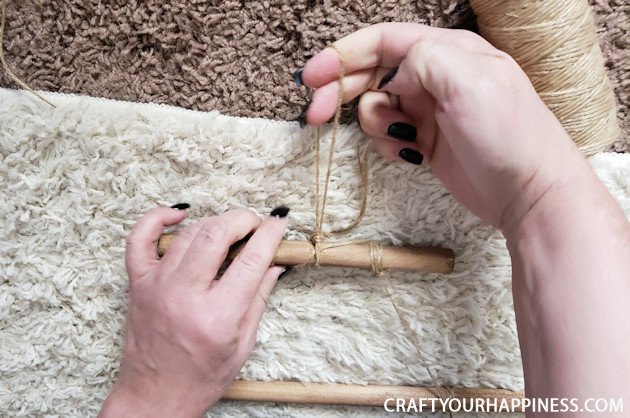 We cleared a space to fit our 4 foot tree above  our crafting desk.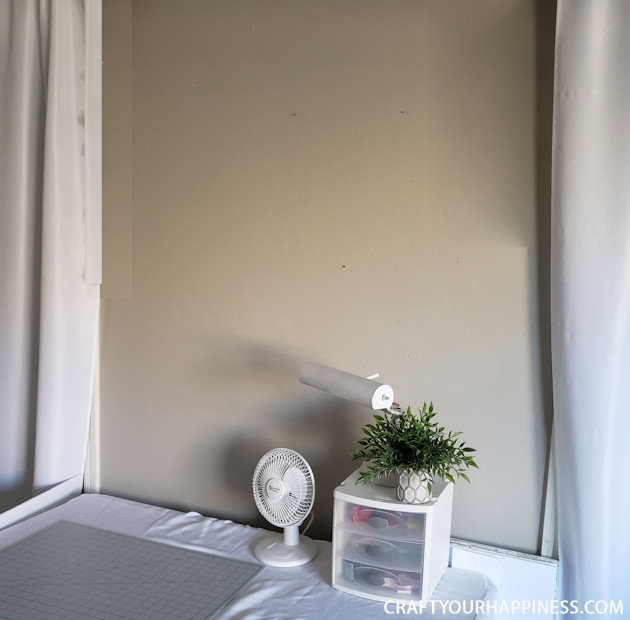 Once the tree was hung, we did have to slide our dowels a bit to make sure that everything was even.  As you can see, the bottom dowels were a little too close together.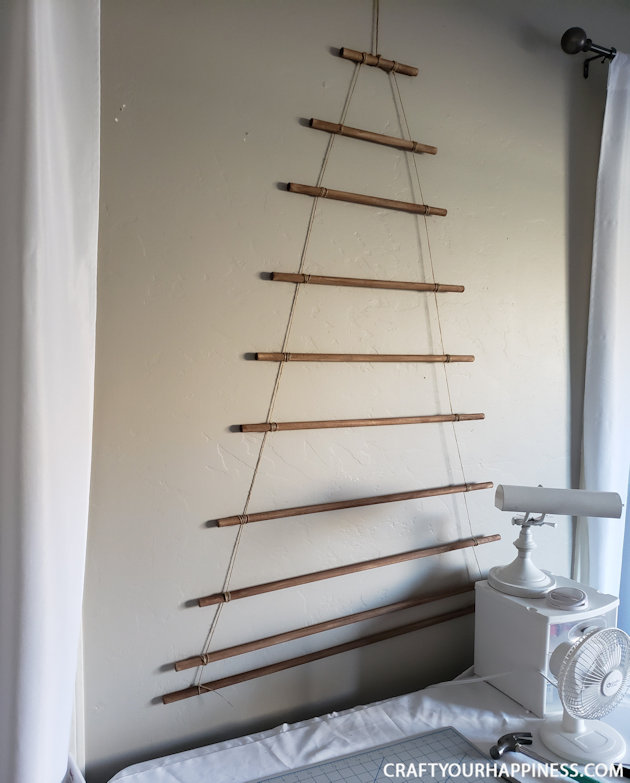 To adjust, we simply cut and retied a few strings to make everything perfect.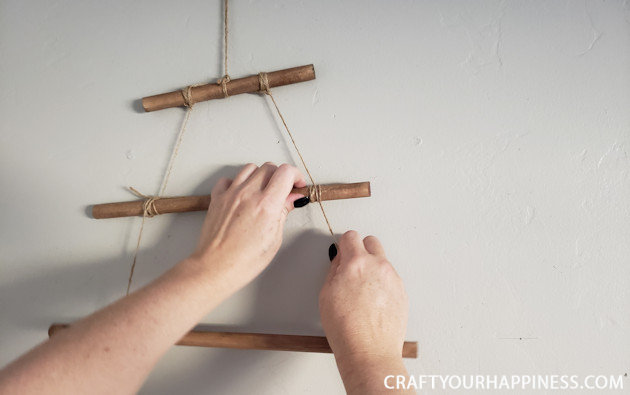 After the tree was spaced to our liking, we wrapped our dowels in string lights.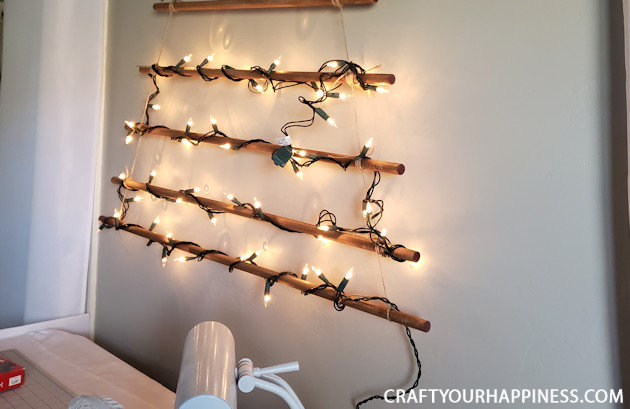 Then added a few sprigs of evergreen to give it a cute pop of green.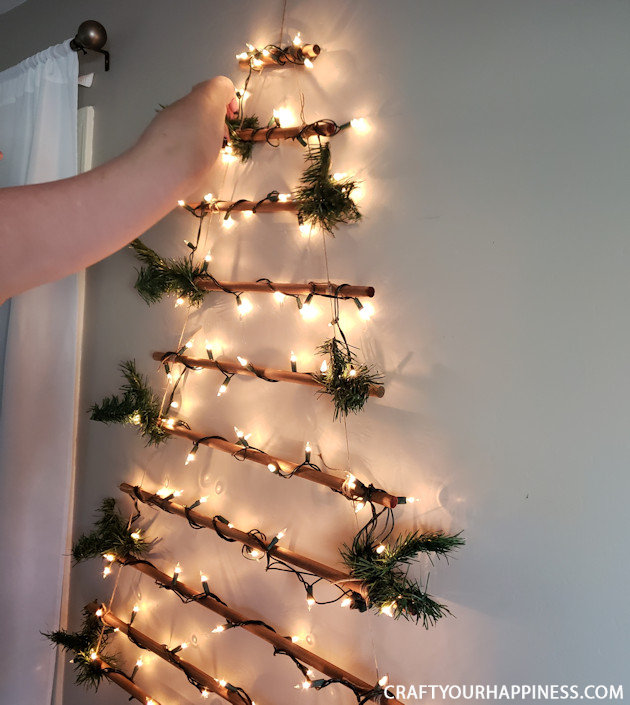 These sprigs have wire in them and can be bought in small packs that are pre-cut to about 8 inches.  They are normally used to tie lights to trees, but they were perfect for our project!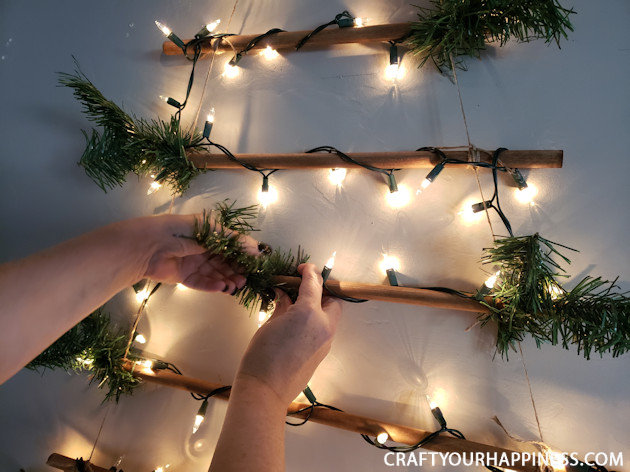 Then we began placing our hanging christmas tree decorations.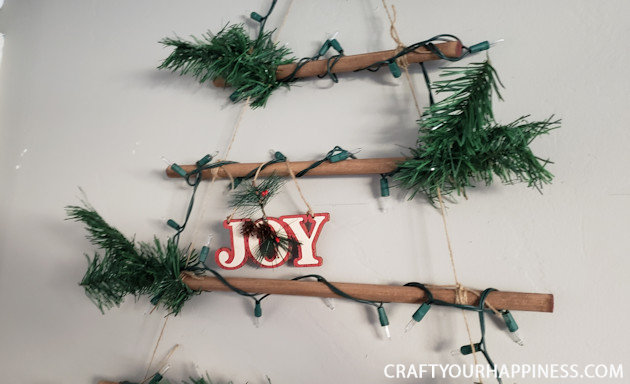 All of these were picked up at the dollar store.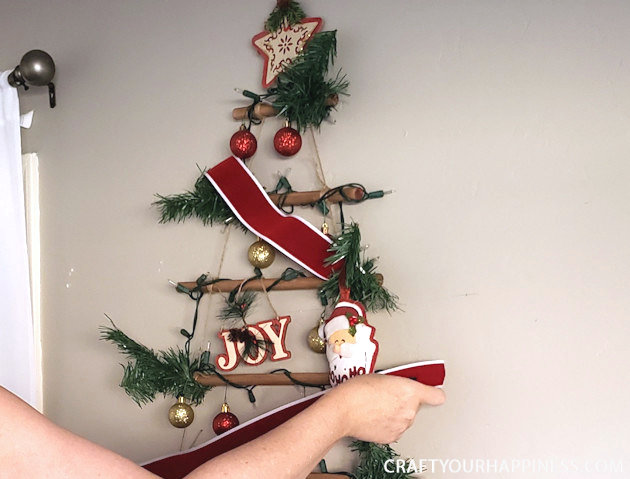 Our completed tree turned out beautifully, giving us a seasonal art piece by day and a cozy tree by night.  The perfect solution for small spaces!