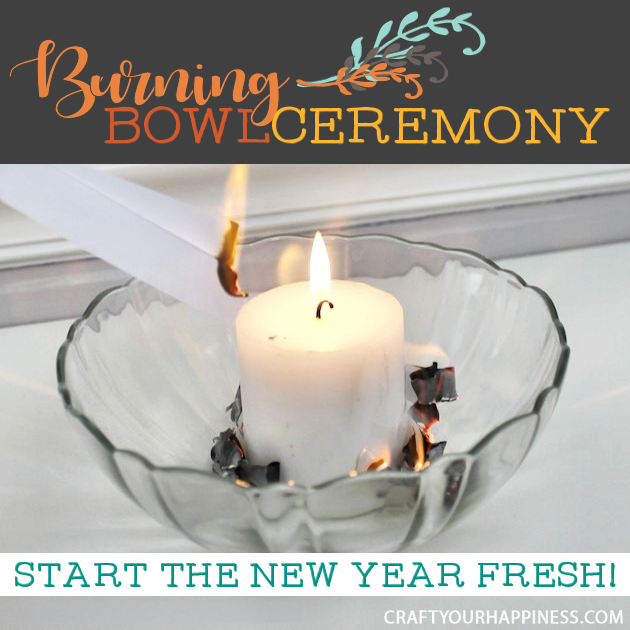 The burning bowl is a fun visual way to let go of all the "stuff" that is not working for you.  This could be anything from a behavior or habit you'd like to stop to an addiction or a relationship that's not healthy for you. It can be anger or old grudges you're carrying. Basically, any negativity that's affecting your life in a way that's keeping you from being who you want to be. You will literally watch anything that's holding you back burn up in flames. It's amazingly cathartic and empowering for children and adults alike!
You can do it as an individual or make it a family event.  You can follow the visual instructions below and also download our awesome Burning Bowl Ceremony kit for free and start the New Year empowered with a fresh outlook.  Make sure to grab our free "Unique New Years Resolution Ideas Kit" as it goes hand in hand with this wonderful activity. And if you like this you might also enjoy our Sage Smudging Ceremony Kit.
SAFETY: Even though its just a candle you are dealing with fire so please be safe. Don't do it outside if there is any wind. Don't do it on the ground. Find a safe clear surface. We don't suggest doing it inside but if you do make sure there is good ventilation.
Burning Bowl Ceremony
Large metal bowl, large glass bowl or large mixing bowl covered with several layers of heavy foil to protect it.
Pencils, one per person
Burning Bowl Ceremony Kit Download below
Burning Bowl Ceremony Kit Download
free pdf
Instructions
The simplified instructions are as follows below. If you prefer to do a more detailed ceremony with greater explanations and a nice handout download the kit above. It comes with a detailed Leader Sheet.
Each person needs a pencil, some strips of paper and a full sheet of blank paper. They are to write the things that they feel are holding them back on each strip of paper, one per strip. These can be things such as anger, a health issue, a bad habit etc. Anything negative they would like to get rid of.  After they write it down they hold the paper to the candle flame and light it on fire then drop it into the bowl and watch it burn. They continue doing this until they can think of nothing else to write about.
They then take their blank sheet of paper, or the Positive Future sheet from the kit, and write down everything they hope for the new year.  Once the ashes have cooled they should be buried. If there are just a very few they can be blown to the wind!
The basic supplies you need for the ceremony are a metal or glass bowl, a candle, some paper and pencils.
If your grabbed the kit there is a page for cutting into strips. Other wise just cut any paper into about 12 strips each to hand out to each person participating.
Each person writes down one thing on each strip of paper that they would like to leave behind in the past year. Then they place the end of the strip into the candle to let it catch fire.
As soon as the paper catches fire they then drop it into the bowl and watch it burn up. They continue this until they can think of no more issues or negative things to write down. 
–
After they have written and burned up every thing they can think of they take a clean sheet of paper, or the Positive Future Instruction Sheet and Positive Future writing sheet. They then write down everything they wish for themselves for the New Year.  That's it!