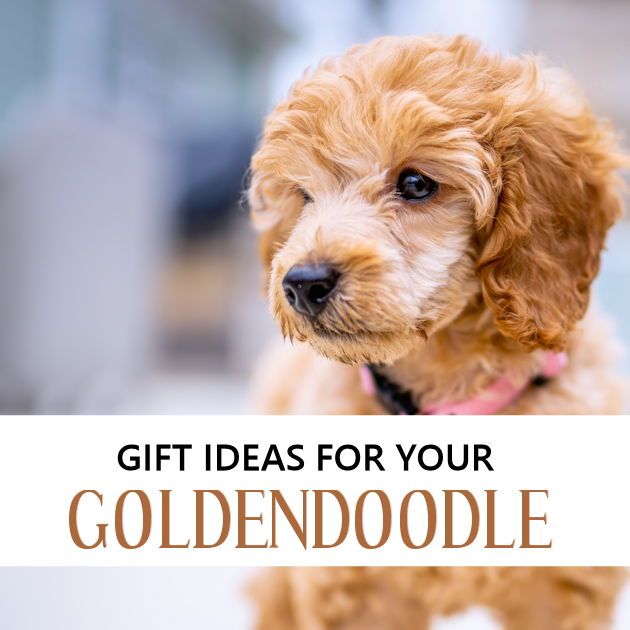 Photo by Skyler Ewing from Pexels
Everyone loves to receive gifts. And, if the gift corresponds with someone's passion or interest, then it becomes even more memorable. Pet owners love gifts their pets can use and play with. People who own Goldendoodles have to use a variety of items to keep these fluffy goof balls healthy and satisfied. If you want to give something to a Goldendoodle fanatic, we have got some fantastic ideas for you. In this article, we are going to talk about different types of gifts that you and your doodle will adore.
DIY Post Puppy Potty Bell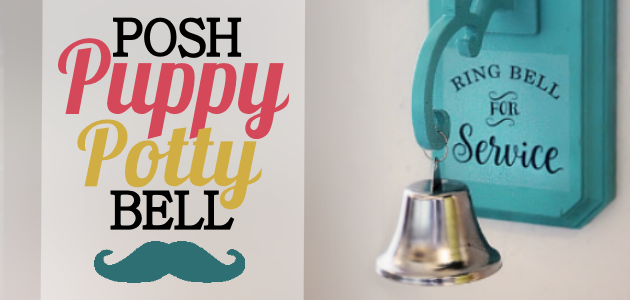 About Goldendoodles
Goldendoodles are not pure breeds. They are a crossbreed between golden retrievers and small, cuddly poodles. They are also known as groodles or doodles in certain parts of the world. Because of their mixed genes, they are not as large as golden retrievers, nor as small as poodles. They are of medium size, but are quite muscular thanks to their golden retriever genes and have a curly fur coat covering their body, which comes from their poodle genes. They were first bred in Australia in the 1990s. The original aim was to create another crossbreed similar to the popular labradoodle. Thus, Goldendoodles were born, and people fell in love with them instantly. Although each Goldendoodle has unique characteristics, they also have some common features. They have a round skull, furry tail, wide muzzles, drop ears, and oval-shaped eyes. There are also different types of Goldendoodles such as cream, black, apricot Goldendoodles. Check out welovedoodles.com to know more about this amazing breed.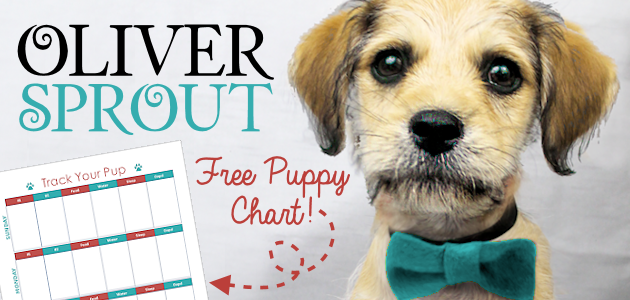 Popular Gifts for Goldendoodle Lovers
Now that we know some details about Goldendoodles, it will be easier for us to pick gifts for people that own one. Here is a list of items that will make a doodle owner and their pet extremely happy.
1. Goldendoodle T-shirts
A doodle owner is certainly a proud owner. So, they will be happy to receive a t-shirt with a Goldendoodle print. You can get them a store-printed t-shirt that has catchphrases such as "Doodle dad" or "Doodle mom". You can also order a custom t-shirt with the name and picture of the doodle printed on it. But no matter which one you pick, make sure that the t-shirt is comfortable to wear. Otherwise, even if the owner likes the t-shirt, they will not feel comfortable wearing it and may put away the t-shirt after wearing it once or twice. The design is important, but so is the comfort factor. More GoldenDoodle Tees!
Life is Golden with a Doodle T-shirt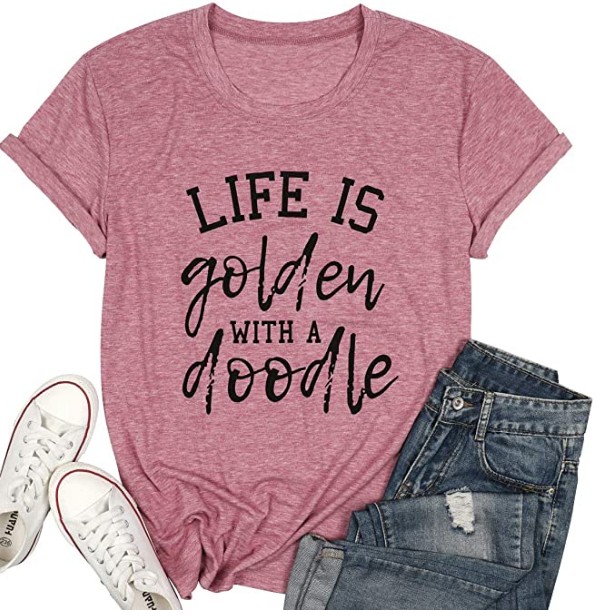 2. Goldendoodle Mugs
Similar to t-shirts, you can buy the doodle lover mugs that have Goldendoodle paintings on them. It can be either a picture of a Goldendoodle or a catchphrase. But since this is a mug, you do need to focus on the quality of the paint. Make sure that the paint on the mug is water and heatproof. This will ensure that the print will stay on the mug for a long period. Every time the owner drinks from the mug, they will be reminded of their cute pet. Also, try to give them ovenproof instead of a casual mug. These are more versatile and the prints have a higher quality.  Check out the mug below and view LOTS more here!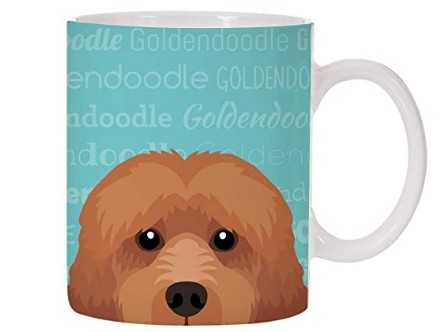 3. Adhesive Window Sticker
Suppose the doodle owner loves to travel in their vehicle. You can give adhesive window stickers to them. They are great decorative accessories and doodle fanatics will like them. They can place them not only on vehicle windows but also on the back of their laptops or any other smooth surface. There are some amazing Goldendoodle stickers by Nicker stickers. You can pick one from their collection. The standard size for a sticker would be 4.5″ in length and 5.5″  in wide. Also, ensure that the stickers are weather resilient. You do not want the stickers to fade away when it rains or lose color under extreme heat.
Doodle Window Sticker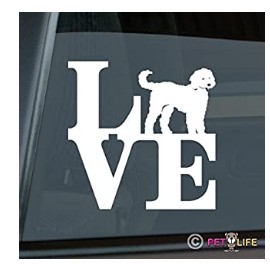 4. Plush Toys
We previously mentioned that Goldendoodles are very energetic and love to play around. So giving the doodles some plush toys will make them and their owner very happy. Some plush toys are shaped like a Goldendoodle. The pets become even more attached to these toys. Make sure that the toys are soft and cuddly. The texture of the toy must be smooth to the touch. If the texture is coarse, the dog will not enjoy playing with it and will be considered an unsuitable gift. If the owner has small babies, then both the dog and the baby can play with them.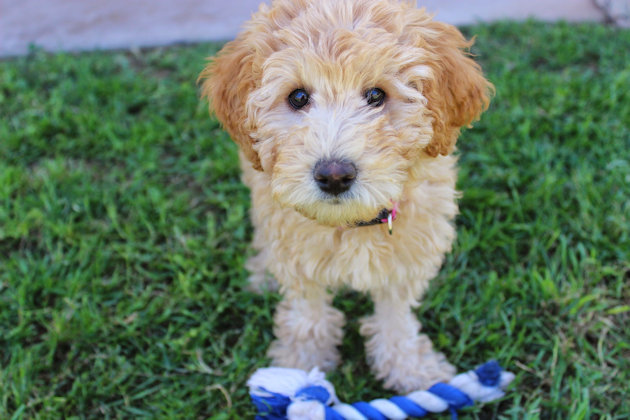 5. No Tear Shampoos and Conditioners
Because the Goldendoodles have curly hair, they catch a lot of dust. The hair can even get tangled up. Brushing such hair can be stressful for the dog and very time-consuming if you do not have the right tools. This is where shampoos and conditioners come to the rescue. No tear shampoos will help to smoothen up the tangled hair. Most dogs feel agitated to take a shower. They might move around and be nervous while taking a bath. If they move around too much, normal shampoo or soap can enter their eyes and irritate them. You need no tear shampoos to prevent this from happening. Conditioners will make their fur shiny, clean, smooth, and easy to comb. A doodle fanatic will definitely love a good-quality shampoo and conditioner for their dog.
6. Dog Harness
Dog harnesses are better than leashes. Leashes go around the neck while the harness goes around the body. This puts less stress on the neck and the dog feels more comfortable moving around. Since Goldendoodles love to move around a lot, a harness is a better choice for them than a leash. The harness also makes training a dog much easier since the owner will have better control over the dog. That is why harnesses make a more useful gift than leashes. Some popular dog harness brands include Ruff wear Front Range Dog Harness, Expawlorer Big Dog Soft Reflective No-Pull, Puppia Authentic RiteFit Harness, etc.
Harness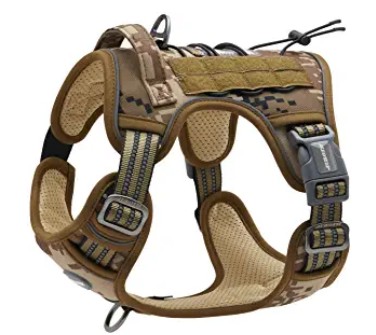 7. Dog Crates
Most people prefer to keep their dogs free at their house. But there are others who want a separate place for their dogs to rest and buy dog crates. They are comfortable as well as the dog and also love to have a place of their own. This is why dog crates make an excellent gift. Since Goldendoodles are not very large, you can choose from a wide variety of crates. However, before you go and buy a dog crate for gifting, make sure you know about the owner's house. If the dog crate is big and takes a lot of space, it can be a problem for the owner.
8. Dog Food
Although Goldendoodles can eat a lot of human food it does not hurt to give them special dog food. These special foods are essential for the healthy growth of the dog. It is also a very good source of nutrition, such as calcium, potassium, phosphorus, and some vitamins. Purina pro plan makes excellent dry dog foods that doodle will love.
9. Feeding Bowl
If you are giving dry dog food, then why not add a feeding bowl as well. Goldendoodles, especially the puppies, tend to flip over their bowls when eating. So the best feeding bowl for them would be a non-skid one.  Some bowls have raised edges, so the food does not spill. Rather than picking a food bowl with one bland shade, pick bowls that have colorful designs. Dogs tend to get attached to these colorful bowls and will eventually fall in love with your gifts.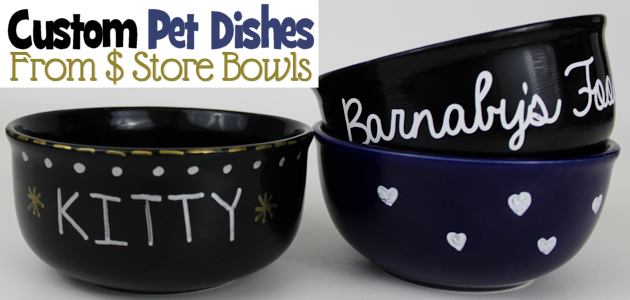 10. Dog accessories
Some people take part in dog contests with their pet doodles to show the beauty, intelligence, and talent of their dogs. A dog owner who takes part in such contests will love beauty-enhancing accessories for their dogs. You can give them small hair clips to tie the hair. You can also give them colorful bowties that will make the doodle look more posh and classy. There are also dog-sized sunglasses that look fancy. Honestly, there are various items that you can pick. Go to any regular pet store, and you will find a lot of accessories that you can give as a gift.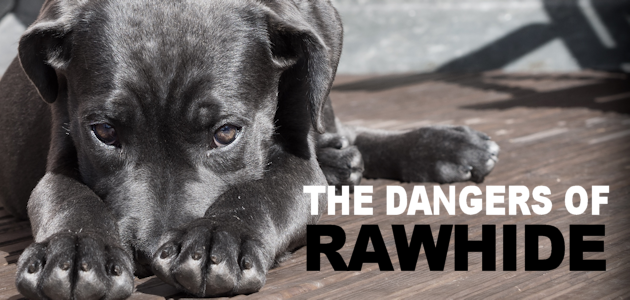 Final Thoughts
Some people can get so attached to their pets that the pet's happiness makes them happy. If your gifts are adored by the Goldendoodles, then the owners will love them as well. Your gift does not have to be super expensive and fancy, but it should be meaningful.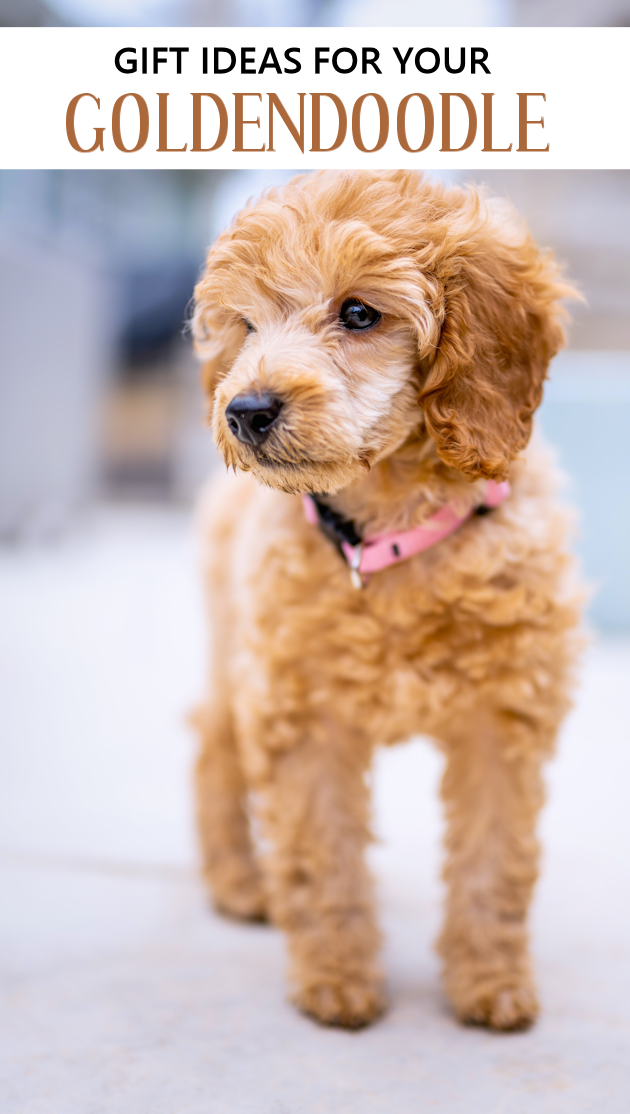 Photo by Skyler Ewing from Pexels