By Jennifer Hull, Operations Manager/ Pet Care Specialist/Previous Manager Central Pet/ Owns 2 dogs and 5 cats
Unknown to many pet owners, rawhide for dogs has no FDA regulations and causes hundreds of cases of sickness and death each year. If you have a canine companion, chances are you've spent countless hours perusing the pet store isles for toys and treats to keep your little one busy. If you're like me, and have multiple pups at home, finding a healthy but affordable option to treat all of them can pose a challenge. Growing up I always had pets at home and rawhide treats were a staple for our household. They were cost effective, came in bulk packages and were available in a wide selection of colors, flavors and shapes. It wasn't until I got older and had a dog of my own that I began to research what goes into the treats my furry children consume.
My first dog, Jack, was a black lab mix who LOVED to chew. Naturally, I turned to the treat that I was familiar with. Large bags of "all natural" rawhide chews. Affordable and long lasting and Jack loved them. I knew enough not to purchase anything that wasn't 'Made in the USA' and to look for the 'all natural' label, but that was about the extent of my knowledge. Over the years Jack must have had hundreds of these flat strips of hide. Did he die? No. Was he poisoned? No. So why the concern with rawhide, you ask. Where do I begin?
There were multiple occasions that Jack would chew the rawhide bones or strips into soft, rubbery, saliva soaked pieces. While attempting to swallow these pieces he would gag, regurgitate and then pick it up and try again. There were a few times that we all came running to pull the slobbery mass from the back of his throat, ensure that he wasn't going to die, and then tossed it out only to replace it with a new one. This got me thinking. Was this just my dog's inability to be patient enough to chew his food properly? Or was this a common occurrence for other pets as well? After I began researching the product, I was blown away by what I found.
After you've learned about how to keep your pup safe you might enjoy our Personalized Dog Bowls or DIY Dog Bed from a Suitcase post.
How to Make Easy Low Calorie Dog Treats!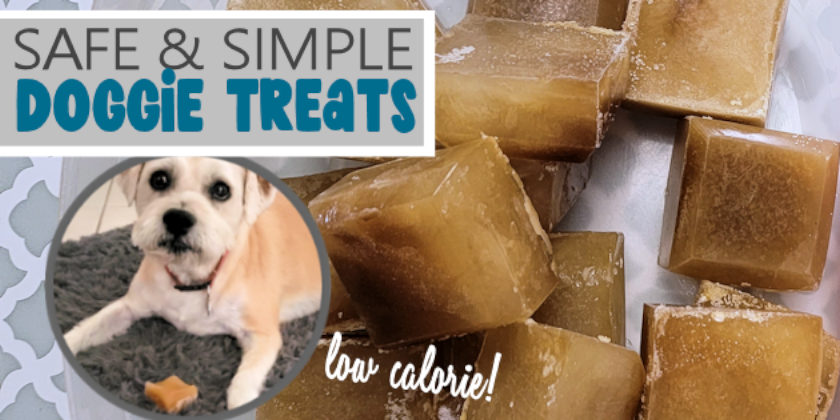 Choking & Death
In the US alone, hundreds of dogs die each year from these seemingly harmless rawhide treats. What they don't tell you on the label is that the rawhide you are feeding your beloved pups may cause contamination from bacteria or chemicals used when making it, (a process I recommend you read up on),  digestive irritation from chemicals or bacteria and,  more commonly, choking, blockages and death.  Yes, MORE commonly. The truth is the chances of contamination or digestive irritation are fairly typical among most pet treats. Your pet may have an allergy, be sensitive to specific ingredients, have a sensitive stomach or run the risk of getting salmonella or E coli from poorly processed treats. But this applies to most all pets and treats out there.  For these types of issues, dog insurance would usually cover your vet bill.
If your pet swallows these slobbery pieces of rawhide they run the risk of those pieces becoming lodged in the esophagus or other parts of their digestive tract. These rubbery chunks can pass through the stomach, undigested, causing blockages in the intestine without any immediate sign of distress. Depending on where that blockage is located and its size, your vet may be able to remove it through their throat. However, once it's made its way to the stomach or intestine, abdominal surgery is required. This, of course, is assuming that you catch it in time to save them. An unresolved blockage will lead to death.
Safe Fruits & Veggie Treats
free printable pdf chart
What to Watch For
Below are some of the key things to look out for when it comes to a blockage or illness from a rawhide treat.
Gagging
Regurgitation
Vomiting
Diarrhea
Repeated swallowing motion
Refusing to eat
Inability to have a bowel movement
Signs of abdominal pain
Fever or lethargy
If your pet is experiencing any of these symptoms, contact your veterinarian. Of course prevention is the key.
Tips to Prevent Problems
But your pet loves their rawhide treats and that's all that fits into your budget, you say. Like I stated earlier, my Jack must have consumed hundreds of these treats over his life and he never died from them.  But there are a few things you can do to greatly lower the risk of your dog choking or having a blockage if they still chew on rawhide.
Size: First, when buying rawhide make sure that the treat is proportionate to your pet. Don't give small chews to large dogs and monitor your pet when they are chewing on their rawhide treats. If your pet whittles their chew down to a piece they could potentially swallow, remove the chew and throw it away.
Ground Rawhide Treats: While large rawhide bones and strips last longer, there are rawhide treats made from ground up rawhide. They come in a variety of shapes, colors and flavors. These are sometimes more of a treat than a chew, depending on your dog's chewing strength and habits, but they break down and can eliminate the risk of a blockage.
Buy USA: This is all we carry at my store. There have been several cases of contaminated treats from China. Researching that topic will turn your stomach when you learn what chemicals and "meat" is used in many products from China. As with all dog treats, know where your products come from and what's in them.
Don't Believe Labels:  'All Natural', '100% digestible' and 'Made with real <whatever>' can actually mean just about anything! You'd be amazed what they can get away with putting on a label. Do your research and make the best decision for you and your pet. A very helpful site is www.dogfoodadvisor.com  which gives detailed information about what is in many brands of dog food.
Recalls:  Dog Food Advisor also has an area that lists recalls as they occur. You can view that page directly here.
Rawhide Replacements
Natural Cow Hooves: This tips my list after trying everything. They love the others but this is the most cost effects because they last so long. (updated May 5, 2017)
Himalayan chews
. These are very hard, all natural with no preservatives. They can last a long time depending on your dog.  Get the correct size for your dog. Made in U.S.
Antlers.
A very long lasting high protein, low fat chew. Made in U.S.
Bully Sticks. This brand made in U.S. These are incredibly popular and good for dogs. If you don't mind where they come from. Ü
KONG fillable toys: These can be filled with a variety of treats such as  peanut butter, applesauce etc. Then frozen.  Made in the U.S.
West Paw brand Zogoflex is a line of  toys made for heavy chewers and they have a lifetime guarantee and are made in the U.S.
Nylabone Dura Chew Hollow Stick. The pug in our family adores this thing as is but you can also fill it with treats.