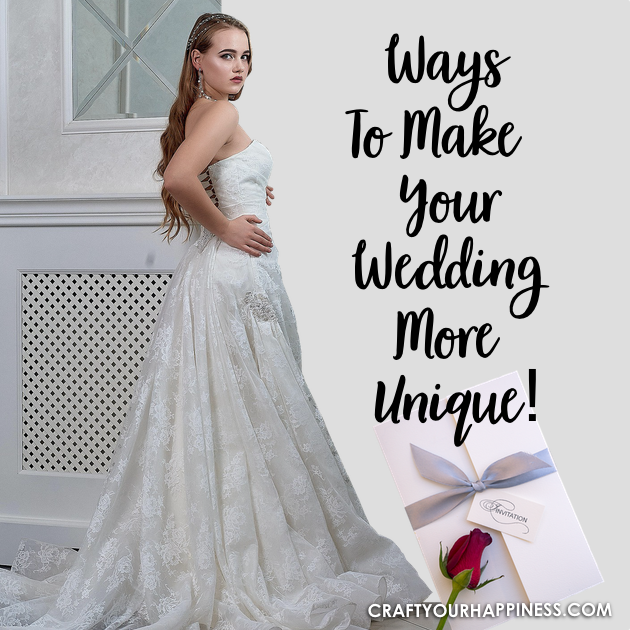 Ideally, a wedding is about a bride and her groom's decision to embark on a marital journey. This is a beautiful decision that comes with many other factors. However, by extension, it is a joining of two separate families with several witnesses attending to make the day memorable. For this reason, your wedding is not entirely your special day. This is why personalizing your wedding and making it unique is a big deal for couples, especially the bride. 85%  of couples usually start discussing their wedding plans after being engaged for fifteen months, but how can they make their day more unique and personal? Here are some tips on how.
Ideas For a Fairy Wedding!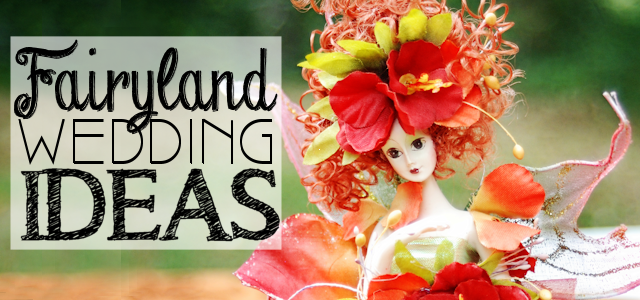 Personalize the program
Printed wedding invites and program schedules have been popular over the years. Perhaps, you wish to move away from that trend and instead set a tone unique to both of you. For starters, design and print a program with fonts, you both love. Include fun facts about each other, song selections, and unique love notes special to you. Add personal details from your engagement photoshoot or even an illustration showing places you both visited as a couple. These are simple things that infuse personality into your special day.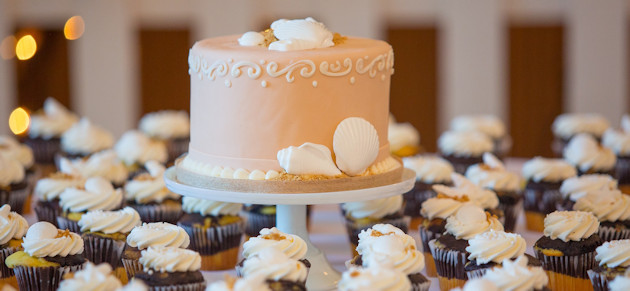 Host cocktails before the ceremony
Usually, cocktails are hosted at the wedding reception after the ceremony has taken place, but you can switch things up. An hour-long pre-ceremony cocktail will give guests a chance to mingle with each other and perhaps cover up the bride's late arrival. It is always advisable to serve one type of cocktail during this time, as the reception will hold a lot more. You do not want to ruin your guests' surprise element at the after-party when they already sampled all the drinks before the ceremony began.

Adorn your guests with small gifts
Cute little unisex brooches or hair clips are excellent items to present your guests when they arrive. To make it work, arrange these items on a tray near the entrance of the wedding aisle. It is even more remarkable when you plan your wedding around a specific theme. Surprisingly, these minute gifts cost little. Depending on the design you want, it could range from $2 to $10.
31 Trash the Dress Ideas with a free downloadable kit.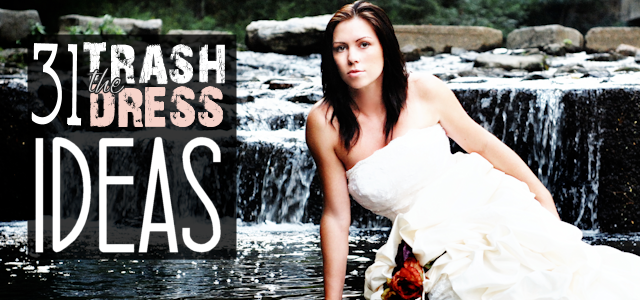 Write thank-you notes in advance
You can make your wedding more memorable by writing personalized thank you notes weeks or days before it happens. When your guests arrive on that day, ushers can present these hand-written notes to them. This method, however, works at weddings with strict invitations. With each card numbered against your invitation list, they are easily identifiable. Another technique you could use is having your wedding planner pre-arrange your thank you notes on seats at the reception. The guests will be pleased that you did. Besides, it is an excellent strategy to skip the receiving line to shake hands with everyone.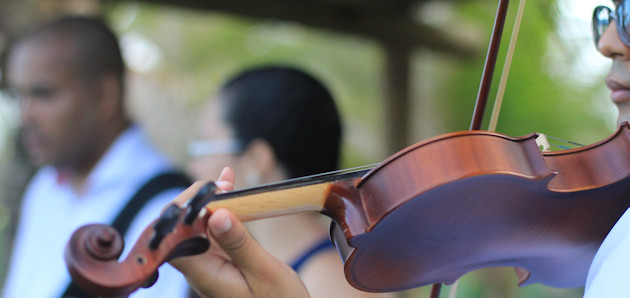 Cultural elements
This is very effective if you and your partner share different cultural beliefs.  Very often, such marriages present unique challenges to the couple in question and their families. Therefore, because contrasting customs impact marriages, show commitment from the wedding planning stages. You can infuse cultural themes as a way to appreciate your spouse's heritage. For example, if your groom is Chinese, add traditional symbols peculiar to his nationality on your printed invites and program line-up. As a tip, however, research what the symbols mean before using them. Otherwise, choose other elements of a traditional wedding known to your spouse's heritage and weave it into the ceremony.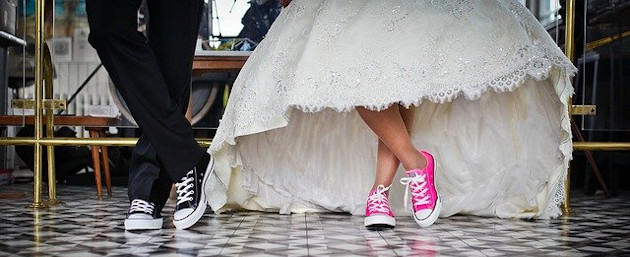 Custom crests
You do not need to be a royal to own a vintage crest. Today, several online platforms allow you to create a custom crest for your wedding. Remember, you and your partner must like the design. These monograms add style to your invites and give your event a unique appeal. You could choose to have the crest blown out as a background for photographs or appear on a screen when it is time to toast. To add creativity, let oval engagement rings feature in your crest. It will add even more meaning if your engagement ring is the same shape as well. If you are reading this post as a bride-to-be, maybe you should consider Sylvie as your final destination for the perfect ring. Did you know oval engagement rings add elegance and femininity to your fingers? It is also the ideal way to create an elongated look for that beautiful ring finger.
Let your bouquet hold a special meaning
The bouquet is one of the outstanding elements of a wedding, but how many people add extra meaning to it? For example, if your parents or in-laws have favourite flower choices, add it to your bride's bouquet. It is a great way to include their preferences for your wedding. On the other hand, if your choice is having bridesmaids, have each of them hold a flower loved by the special people in your life. The types of flowers, or even the colours, contain a special meaning. By placing a hidden message in the choice of bouquet flowers, you have added a personal and unique element to your day.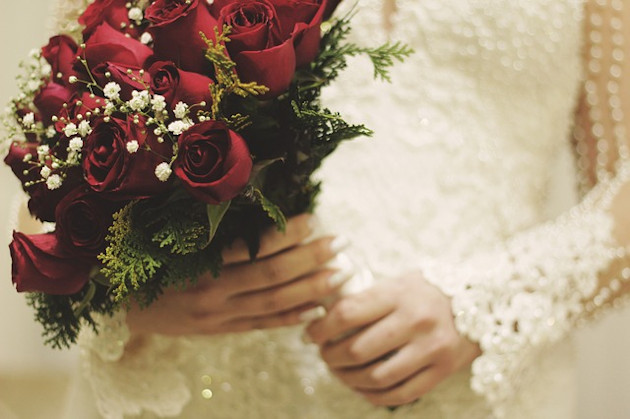 Family photo wall
How lovely will it be to connect your special day to past weddings, which hold meaning to you? It could be your parents' or in-laws' special day, but whatever it is, this is a poignant touch to any current wedding. By displaying a photo wall of family members' weddings, you inadvertently express your undying love to them. It is also a very affordable wedding décor you can include either at the reception or the church. Couples love this because they can switch these into digital photos.  Design choices range from hanging photo frames on trimmed hedges, on sturdy platforms, or photo stands. To be even more creative, move it to the reception grounds entrance, or add it as a prominent feature to your backdrop. If you consult a professional photographer, he/she may advise you to use two-toned colours for all. Black and white photos are usually the most preferred because they help achieve a vintage style.
From our post Whimsical Living Room #11 : Grande Finale Photos
Include a guestbook
Keeping a guestbook is a great way to compile a memorable wedding scrapbook. To make this work, leave a glass bowl with blank cards and pens. Ask guests to write down their best memories of you or your spouse and sign off with their names underneath the note. Weeks or even months after the wedding, you can put all together to create a scrapbook worth viewing on wedding anniversaries.
Unique Wedding Ideas & DIY Guest Book Tutorial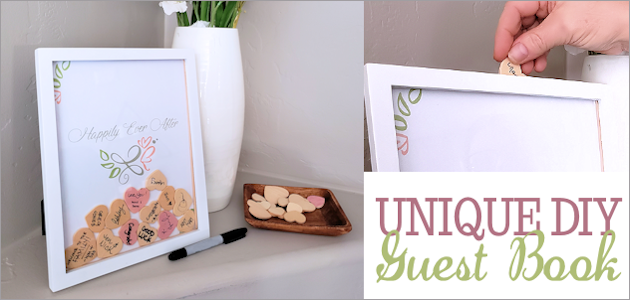 Walk down the aisle to a song
The traditional wedding march is a beautiful song and will remain an all-time favourite for many years to come. But, how about adding your personality to your first entrance by walking to a particular piece you both love? Most couples reserve that one song for their first dance, but you do not have to. Whatever you choose, remember to pick a slow tempo song that is not repulsive to the guests.
If you are still confused about the choice of song, below are a few examples to sample:
Here Comes the Sun – The Beatles
At Last by Etta James
Songbird by Mac
Lucky by Colbie Caillat
Thinking Out Loud – Ed Sheeran
Thousand Years by Christina
Over the Rainbow/What A Wonderful World – Israel Kamakawiwo' ole
Pachelbel's Canon
Choose a unique wedding ring
Traditionally, wedding rings have been made from gold, white gold, or perhaps silver, but these days, you can do pretty much whatever you want with your rings, and changing things up is a great way to make your wedding day more unique. For example, the carbon fiber and opal rings at https://theartisanrings.com, all have a very distinctive look that will blow your guests away. It's also possible to design and have your own one-of-a-kind ring made if you want to take it a step further. Just makes sure you choose a ring you love as well as one that will add to the uniqueness of your wedding day because you'll be wearing it for the rest of your life.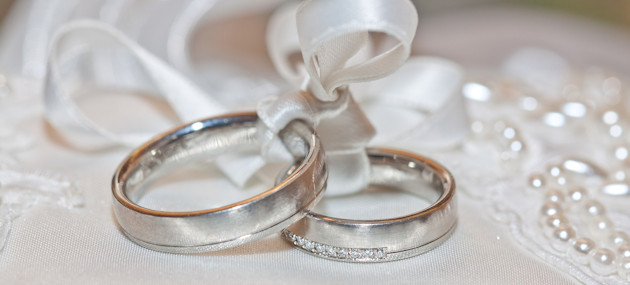 It is easy to lose sight of infusing both of your personalities to your wedding during the planning stages. However, take a breather to realize this is a special occasion you are allowed to remain the focus of the gathering. You create memories by weaving bits and pieces of individual and family (including in-laws) interests, including your love story.\