Looking for a more modern plastic bag holder you can make? We've got two of 'em! These Mid Century Modern bag dispensers (the ones you get at the grocery store) are made from a 2 liter soda bottle and a DVD or CD. Add spray paint and a few stickers along with our free label below and you've got not only a modern function piece to hang on the wall or inside a cupboard but also a great upcycle. We've got more ideas for getting Organized with Soda Bottles here. Or check out our entire Plastic Bottle Crafts & Upcycle section! It's filled with wonderful creative and useful ideas for adults.
UPDATE: We've recently added a Contemporary Kitchen Craft Series that has a new updated version of this bag holder with a different style and top cover. So check that out too!
Plastic Bag Holder Supplies
Download
We've got a pdf label you can cut out or a .studio3  file if you have a Silhouette cutting machine.
pdf labels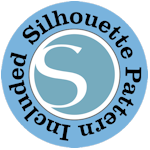 Instructions
2 liter plastic soda bottle with the label removed.
Measure for your bag opening. You want about a 2″ opening. We use a dry erase marker for marking our bottle as it wipes off easily.
Cut along the lines you made.
Cut the bottom of the bottle off at whatever height you want your container. Our bottle had a natural line on it so we followed that. WE made our second dispenser shorter to allow it to fit inside a cupboard door.
Trim the ends with scissors to even them out if needed.
If desired, you can use an iron to round the  top edge. Set the iron to high and press the top end against it for about 15 to 20 seconds until it starts to round.  Only do this to the larger opening.
Heating the end gives it a very nice rounded edge.
Spray paint your bottle.
For the first bottle we applied a Silhouette label.
We used black electrical tape to make the triangle shapes.
Spray paint a DVD or CD. Glue on a small piece of ribbon to use for the hinge.
Attach your lid.
For the second dispenser we used a cut out label.
Spray adhesive was used to apply the label.
For the confetti design we used colored dot labels.
Paint the CD.
Apply the ribbon hing.
Sticky two sided Command Strips work wonderfully to attach your holder to the wall. You could also attach a ribbon to each side and  hang it up or use a hole punch to hang it on a nail.
Fill your dispenser with plastic bags.
Completed plastic bag dispensers!