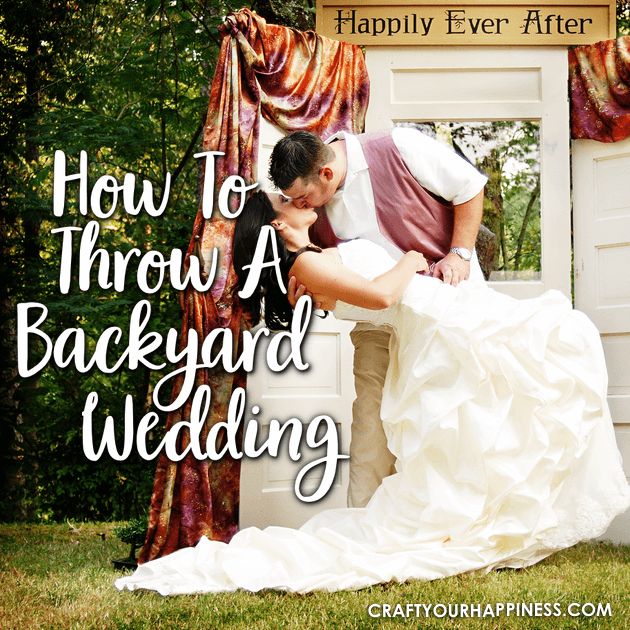 A backyard wedding can allow you to enjoy your special day in a place that's personal and familiar to you. It will save you huge amounts of money and you also won't have the hassle of traveling anywhere on your wedding day.   However, a backyard wedding isn't necessarily all smooth sailing – there are likely to be added preparations that are necessary when using your home as a venue. Here are just some of the steps you should consider when throwing your own backyard wedding.   If you want to see what a full=blown backyard wedding looks like make sure to check out our post filled with awesome photos click the link below!
Ideas For a Fairy Wedding!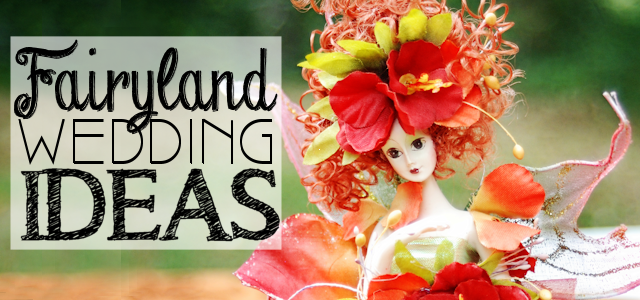 Consider the practicalities

First of all, you need to be sure that your backyard is suitable for a wedding. If you're only inviting a few guests, you may only need a small backyard to host your wedding in, but if you're planning on inviting a large number of people, you may have to rethink your venue options. It's also important that you look into permits. There may be restrictions in place when it comes to noise, parking and use of fire (even use of candles). Check that you're able to work around these restrictions – otherwise your wedding may not be allowed to go ahead. Vendors such as DJs and caterers may even require proof of permission.
Get your backyard into shape
It's likely your backyard may need some improving and tidying before your special day. This could involve making major improvements such as adding a patio or it may just be a simple case of trimming back plants and mowing the lawn. You may want to hire a landscaper to save you the hassle of getting your backyard ready.
Find the right vendors
While you may not have to worry about securing a venue, you'll likely still need to consider vendors such as a DJ, photographer, caterers, a cake maker and hair/beauty. Certain vendors may not do home weddings, while others may charge extra. Bear this in mind when looking for vendors to use.
Consider parking
One of the biggest issues to consider could be parking. If you don't have a lot of local parking space, you may have to consider booking a valet service that can take guests' cars to a local car park. Warn your guests ahead so that they know not to leave valuables in their car.
Hire a portable toilet
If you only have one restroom and a lot of guests attending, there are likely to be big lines. Consider hiring a portable toilet for the event so that guests have other options. You could settle for a regular portable toilet or you could look into a few upmarket options (yes, there are luxury portable toilets out there with mirrors, lighting, sinks and extra room). Consider where the portable toilet will be located so that it's out of the way.
Put up a garden tent
There's no way to know for certain what the weather will be like. Consider putting up a tent in your garden in case you need shelter from the elements (it could provide cover from the rain and shade from the sun). A garden tent with sides will protect you and your guests from the wind. It may be possible to use electric heating inside certain ones. You will however have to be careful about open flames – many tent-for-hire companies and county fire regulators won't allow any form of fire inside whether it's a barbecue or candles.
Rent a dance floor
Renting a dance floor could be a fun option to look into for your wedding day. This could allow you to designate space in your garden for dancing and could help to build a party atmosphere. There are lots of companies that specialize in dance floor rental. Make sure to rent a dance floor that is weatherproof unless you plan to place it in your home.
Splash out on decorations
While part of the appeal of having a home wedding could be the familiarity, you may still want to add a few decorations to transform it into somewhere a little more magical. There are companies that specialize in flowers and decorations that can help you with this, although you may prefer to source your own decorations. Lighting is a big consideration. If you haven't got much outdoor lighting in your backyard, you may want to consider hiring some fairy lights or even some flood lights. Candles can meanwhile add an ambient glow – these may need to be placed in lanterns for safety reasons. You may have to also rent a lot of furniture. This could include chairs for the ceremony and tables for the meal.
There are a multitude of other décor options that you can look into. You may want to hire an altar archway to take your vows in front of, as well as looking into floral displays to place around the backyard. You could also look into banners and balloons. It depends very much on the theme of your wedding – some people prefer to go rustic, while others like their wedding to be more glittery.
Warn the neighbors
Your wedding is likely to be a loud event, so make sure to warn the neighbors in advance. You don't want your neighbors to think that you're just throwing a noisy house party as they may call the police on you. Tell your neighbors a few months in advance so that they can make plans if necessary (they may decide to plan a night away). You could also ask neighbors about the possibility of parking for guests – if anyone has space on their driveway, it could be useful for your special day.
Hire a clean-up crew
The one thing you don't want to be doing the morning after your wedding is cleaning up. Consider asking some friends or family to help you clean up or ask your caterers if they would be able to help in this regard. If you're heading straight on your honeymoon, don't leave the clear-up until when you get back – there could be food waste that you don't want to leave to attract vermin.