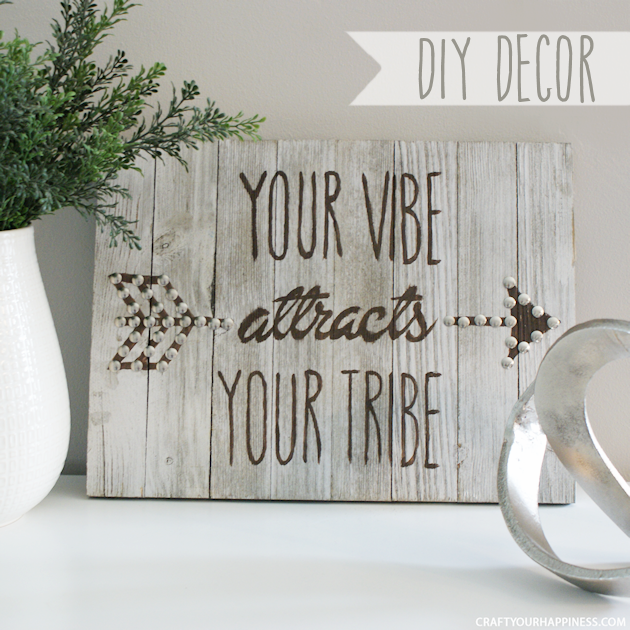 It has indeed been proven that what we think affects everything around us.  So, to help remind you of that, you can make your own "Your Vibe Attracts Your Tribe" wood plaque; meaning how we feel and act is the vibe we put out and it draws certain types of people to us. Great reminder for kids, too, when you let them know that their "tribe" is basically their group of friends.
We've got several other posts to help make sure you keep your brain positive, such as Tips to Stop Negative Thoughts in Their Tracks ,  Free Yourself from Suffering in One Minute : Heal Depression & More., and I'd be remiss if I didn't mention our other good vibes craft… How to Make a Good Vibes Necklace.
Your Vibe Attracts Your Tribe Supplies
NOTE: The sign we made is 12×16. We've added the patterns for a couple of smaller sizes. HOWEVER, the smaller you go you may not be able to use the thumbtacks.

Text & Arrow Download

pdf – 3 sizes


Instructions
Print the downloadable sheets above to the desired size and gather up your supplies!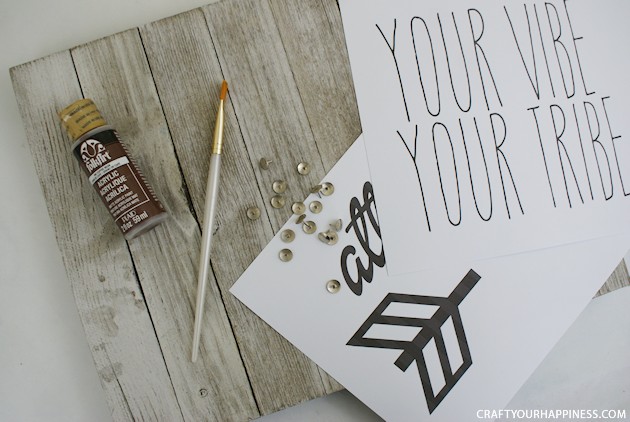 Cut the printouts into sections.  You should have 5 pieces when complete (keeping the "your vibe" and "your tribe" together on their sections.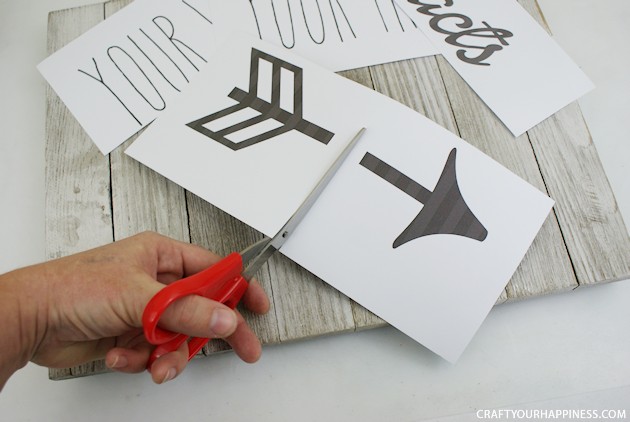 At this point, you would place the carbon paper beneath each of the sections and align it on the board.  Because we did not have any carbon paper on hand, we used an old trick of flipping the paper over and scribbling with a soft pencil behind each letter.  (Chalk works, too!)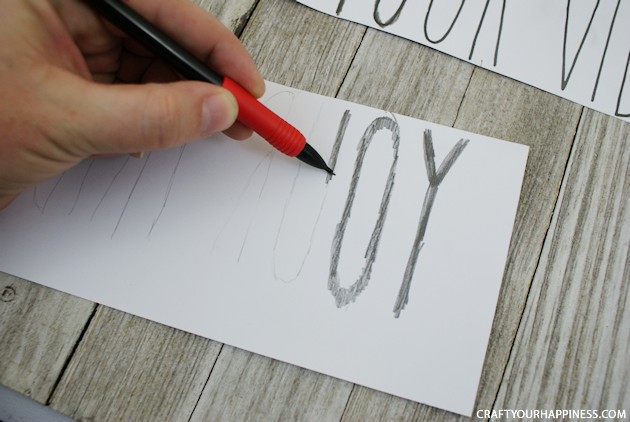 Place the words in their proper spots on the board.  (If using carbon paper, place it directly beneath the printout.)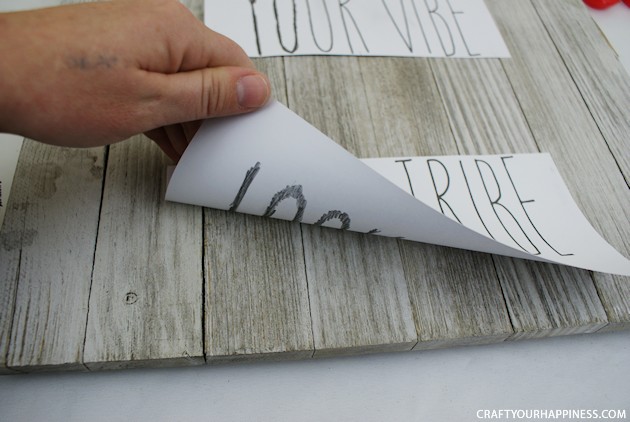 Whether you have carbon paper or not, this part is the same.  Simply take a hard object (in this case we used a plastic mechanical pencil with the lead retracted) and rub the top of each letter.  Press firmly in order to get the pencil, chalk or carbon paper to adhere to the wood board.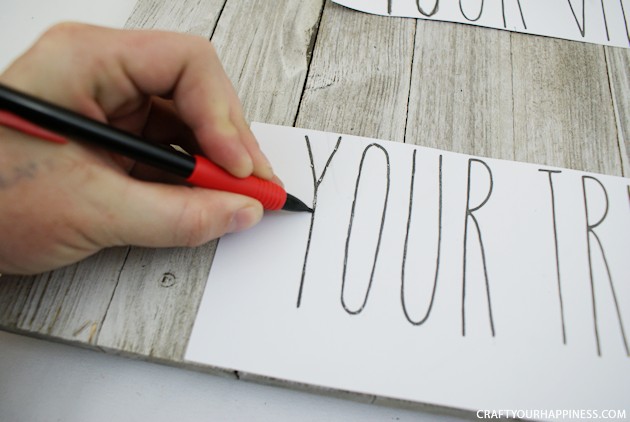 Track your progress as you go to ensure that the transfer lines are visible and straight.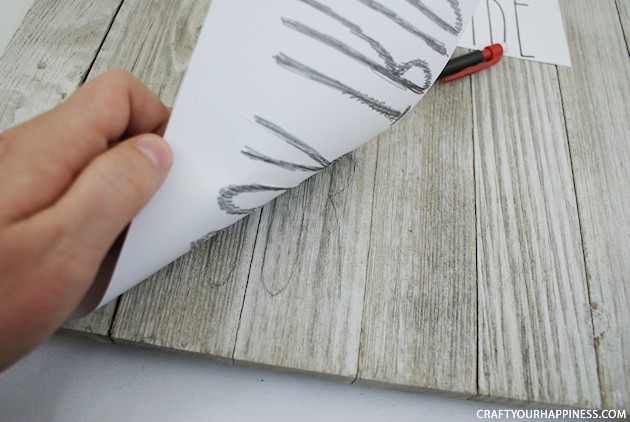 Once complete, lift away the paper to reveal your guideline.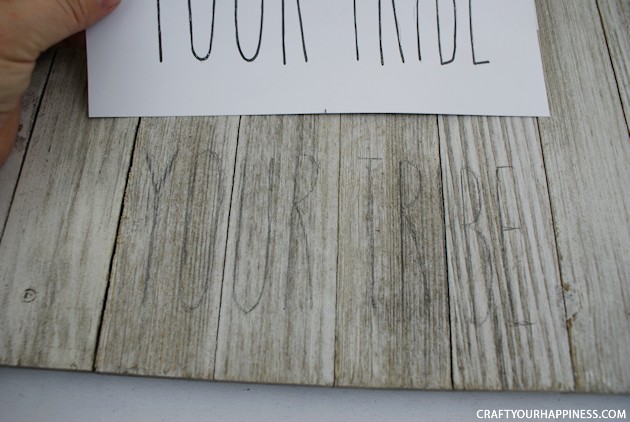 If there are any areas that are a little light, reference your printout and simply darken them a bit.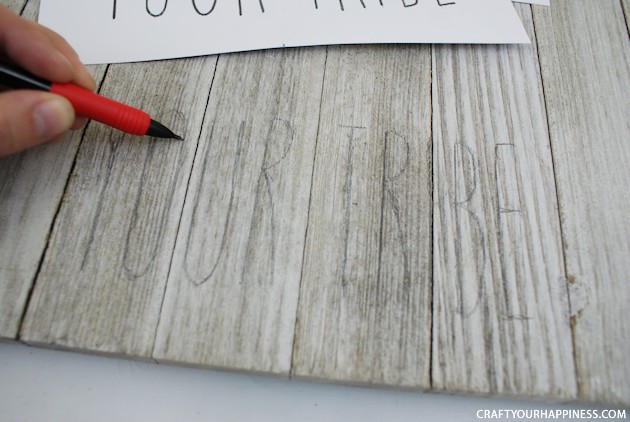 Keep in mind that we will be painting these lines, so they don't need to be perfect!  Just visible enough for you to know where you're painting.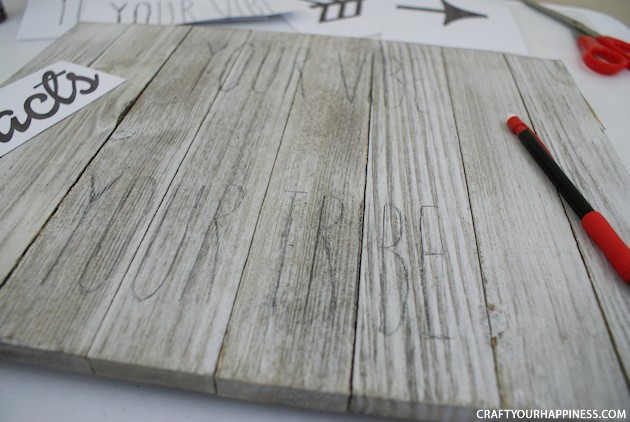 When it comes to the "attract" portion, the text is much thicker.  Don't worry about pressing the entire thing onto the board.  Simply trace along the center of each letter.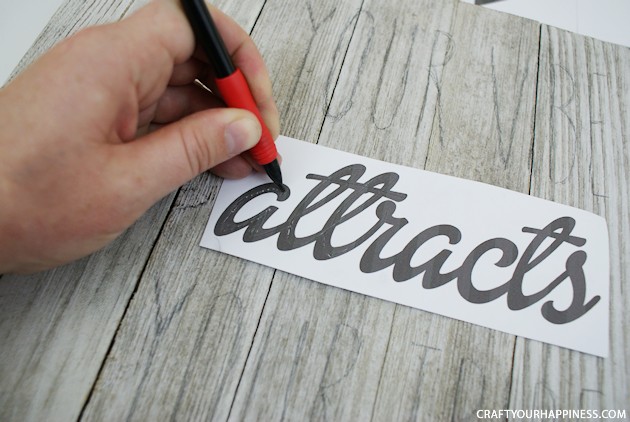 Keep the printout when complete to use as a reference when painting.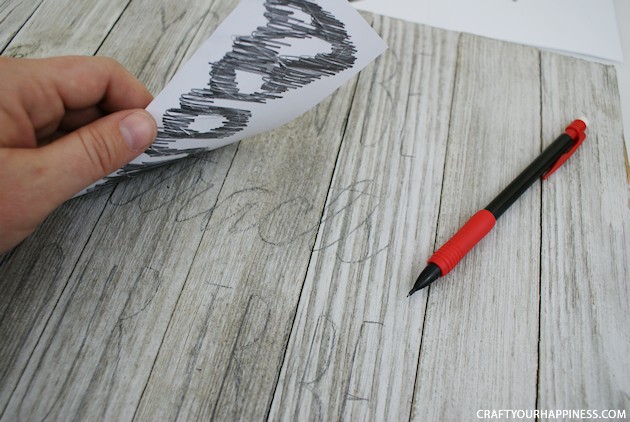 Complete the same steps for the arrow pieces on either side of the "attracts" section.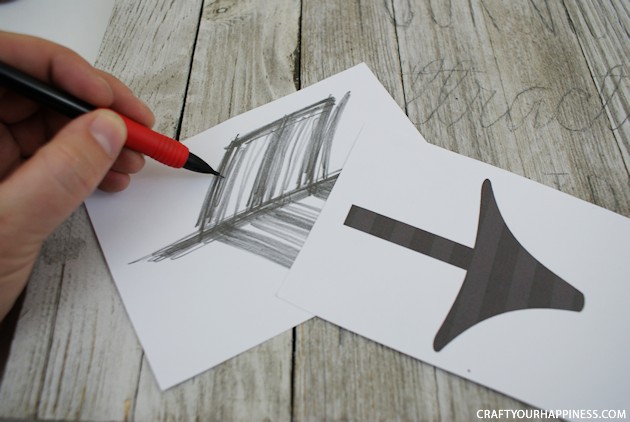 Once again, don't worry about filling them in!  Just trace along the center of each line.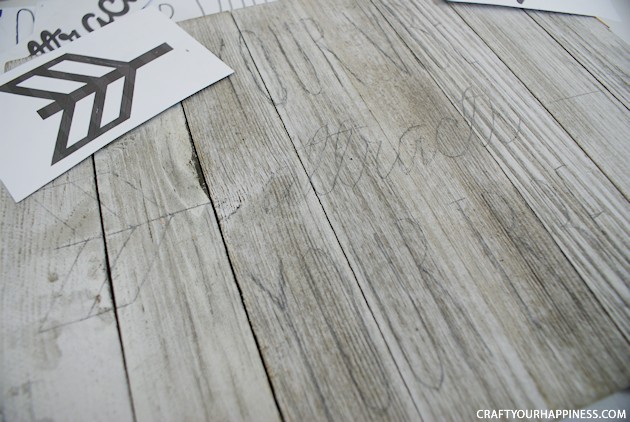 Once all of your printouts have been applied, it's time to grab your paint!  We used a dark brown color that matched the 'cracks' between the boards.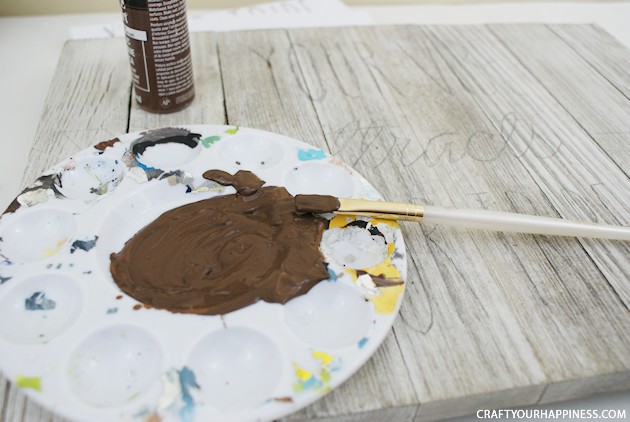 Begin by painting over the letters.  Not a painting pro?  Don't worry!  This design is meant to have a raw feel and any little mishaps will just make it more charming and add to the overall appeal.  If you're having trouble painting smoothly on the rough surface, just water down your paint a bit for a smoother stroke.  Be careful not to use too much water since we're working with wood and it will bleed into the texture.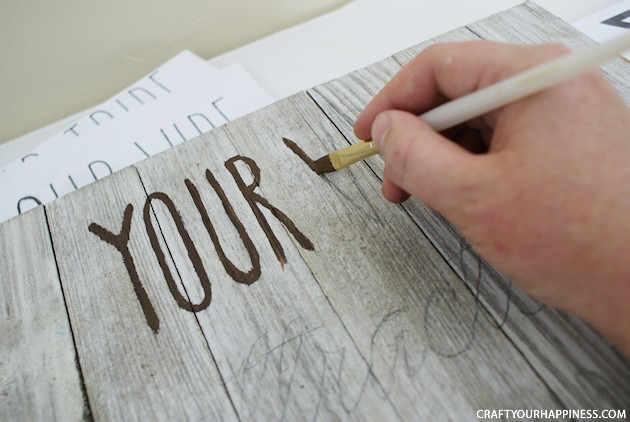 When you get to the "attracts" section, grab your printout and use it as a guide to shape your letters.  Once again, it's not meant to be perfect!  Have fun with it!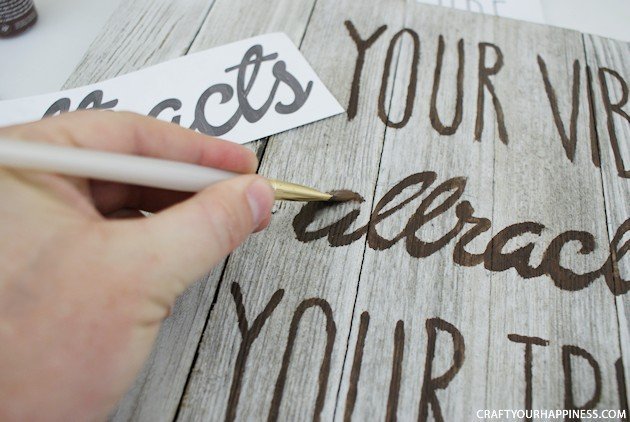 When painting the arrow sections, we turned our brush to utilize the full width for thicker lines.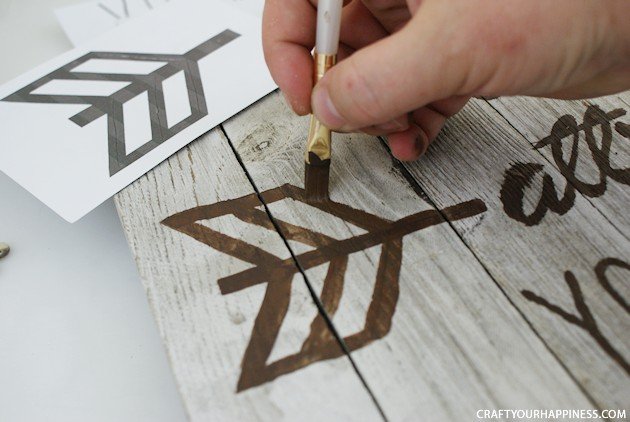 Be sure to fill in the arrow tip completely, using your printout for reference.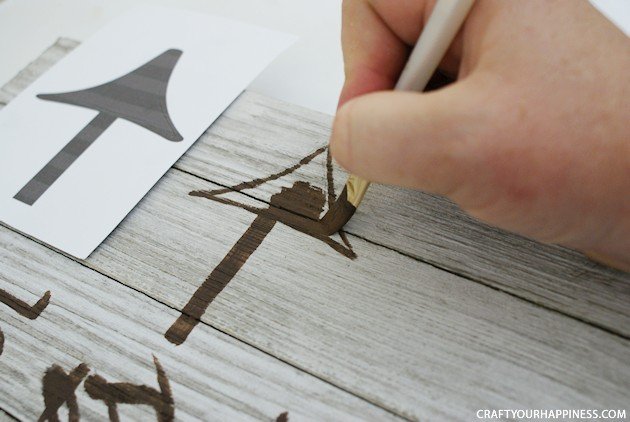 Now to add some charm!  Grab your thumbtacks and begin pressing them into the painted portion of the arrow, roughly 1/4 apart.  Do this along the entire painted portion of the arrow.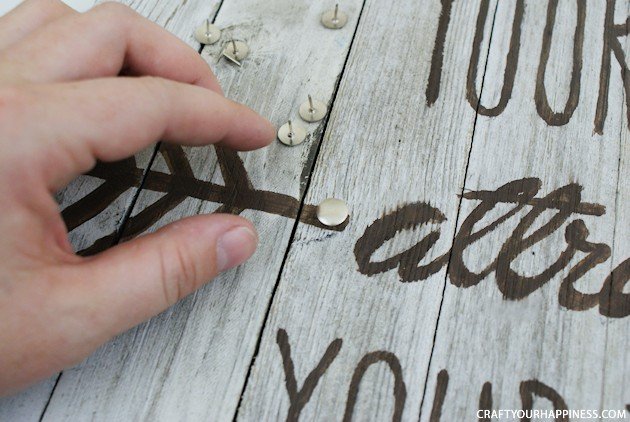 While the majority of our thumbtacks pushed right in, there were a few that required some assistance.  Use a hammer to get the thumbtacks into tougher planks or knots in the wood.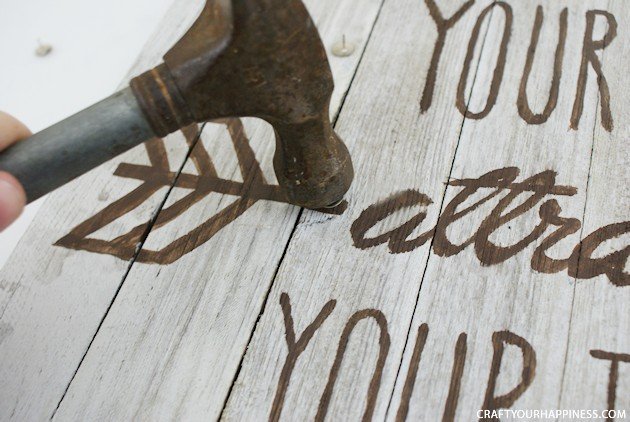 When completing the arrow tip, simply place the tacks around the edges of the triangular tip.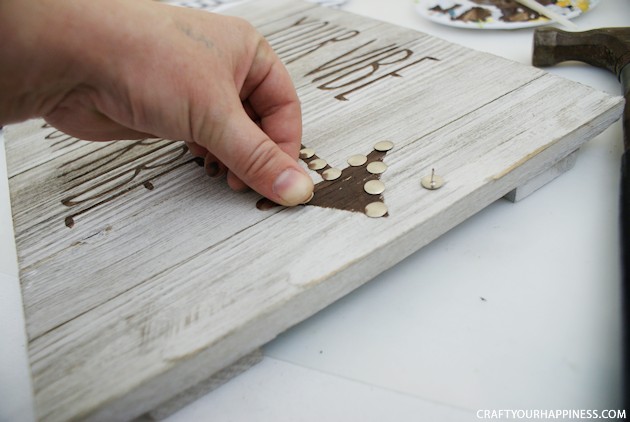 Once the tacks are in, you'll have a darling, uplifting sign that will look great in any room!  The best part?  It really looks like something out of a home decor store.  (I've already had 2 people ask me where I bought it!)  I love it when such a simple project packs such a big impact!