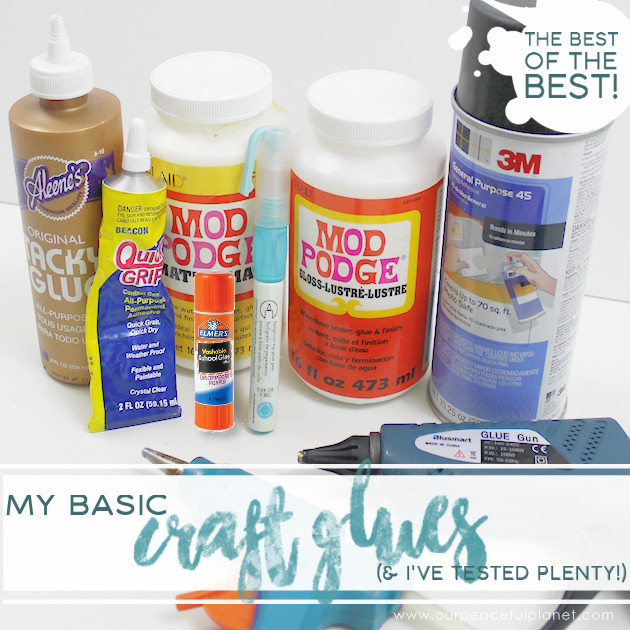 I'm guessing I've tried over 20 different types of craft glue  in the past couple of years trying to find the best ones I need to specific crafting jobs.  As a crafter I've been through a multitude of different tools as I've strove to find the best ones for my various needs. I thought I would share the results of all testing and maybe save you some money and give you the list of what I think are the basics you need for crafting. I'll tell you why I like something and why others weren't up to par. Sometimes I've hit a winner first try. (I love it when that happens.) If your looking for other crafting supply posts check out our
Craft Room Organization Ideas.
My Glue Drawer
These are a few of the things I use now and have tested in the past.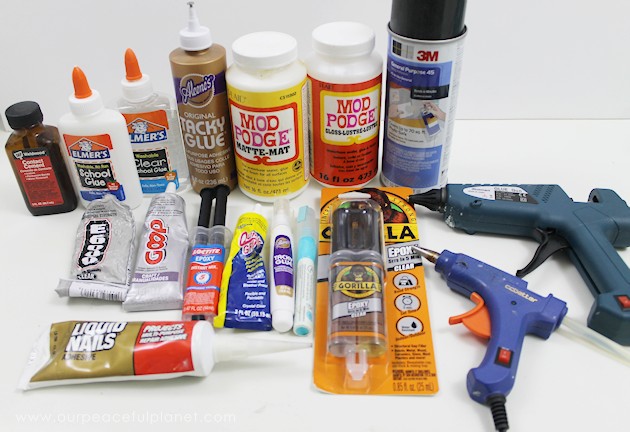 My Basic Favorites Craft Glue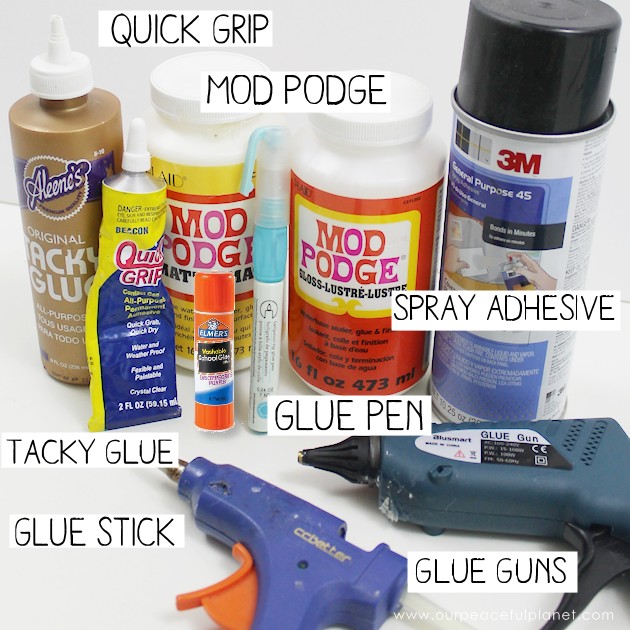 These are the basics I keep on hand at all times.  I'll tell you why. These are my most used to least used.
1.Glue Guns. I've been on a quest for the perfect glue gun for years.  I always keep a small one that holds small sticks and a large one that holds larger sticks. The trick is finding one with an on/off switch on the handle. No easy task! I keep two guns, a small one and large which one both take different size glue sticks.
Small Glue Gun: My favorite small one is the  Mini Hot Melt Glue Gun. (Do yourself a favor and always get the longer sticks so you're not refilling the thing constantly.) This gun has a nice fine point and is wonderful for detail work.
Large Glue Gun: I've just recently had to get rid of my BST Power Glue Gun. I love that it was white and it had great reviews. However, it had NO ON OFF SWITCH. Huge drawback. I don't like having to unplug and plug a glue gun in every time I use it.  This larger Glue Gun has the on off switch!
2.Quick Grip. Right now it comes in this set of three with two other items) This is my new favorite find. It dries fast and holds permanently. This is the next best thing to a glue gun when I'm in a hurry.
3.Spray Adhesive I use this stuff ALL the time. It is wonderful for attaching large pieces of paper or fabric to things. Not sure what I'd do without it. This brand is permanent and temporary depending on how long you let it dry before applying. I also use it for attaching larger labels to things. Always do your spraying outside in the open though.
4.Glue Pen. These are so great for gluing tiny things. I actually have the Martha Steward Ball Point Tip Pen but it's not available on Amazon right now.  EK Tools has a really highly rated one. I used it when making my DIY Makeup Storage. The next best thing to this is a dob of Elmer's Glue and a toothpick. But this is much easier.
5.Elmer's Glue Stick. Just like the kids use in school. These are so handy, and inexpensive, for paper crafting or tacking things down. They do tend to dry up easily but hey, they're dirt cheap.
6.Mod Podge I Is a sealer, a glue and a finish all in one. I keep matte and gloss on hand. I mainly use it as a sealer and glue.
7.Tacky Glue. This one is a difficult one for me. I actually keep it but don't like using it much. It's a thick fairly quick drying glue but it's horrible to keep the nozzle clean. I keep a nail poked down in mine so I can help keep it clear but it still clogs easily. In all honesty I tend to use other glue first and this one last. If regular old white glue will work or Mod Podge I'll use it before Tacky Glue.  I did just see they have an "Ever Ready Tacky Glue" which I ordered and will test out and update this post once I have.
Why I stopped using E6000 I know this is a favorite for strong holds but I always end up tossing out more in the end then I use. Like Tacky Glue it's horrible to keep the nozzle clean and I've actually had it not hold some things well. I've replaced it with the Quick Grip.