I know spin tops are a bit old school but that doesn't mean they can't be a lot of fun. What's so awesome about these is that they're made from a CD, and ping pong ball and a soda bottle lid and they literally spin forever. This is a great activity for the kids both the making of them and the playing with them afterwards.  They can be decorated with permanent markers or patterned paper and have teams to do top battles, see if they can knock the others off balance within a confined area. Or play and see whose lasts the longest. But I'm telling you, if you do the latter be prepared to wait a while! I have to tell you it's a bit zen just sitting and them watching the thing spin. You might want to make one special for yourself and spin it and watch it for a bit.  If you're looking for more things to keep the kids busy check out our
Nerf Basketball Makeover
and our
Gnome in a Cup a Fun DIY Nature Craft
.
Spin Top Supplies
NOTE: Anything you add to the top, such as the decor we added to the lid top, will change the balance so be careful as it might not spin as well. I think things like a little sparkle would be fine though.
Permanent Markers or Scrapbook Paper  (If you chose to decorate with markers try to get CDs that have no printing on the front or else they can decorate the shiny underside just as well.)
Mod Podge or glue
Soda Bottle Lid
Hot Glue for Lid and ball
The wobble you see is to due to the flower I glued on the top.
Instructions
Gather your supplies. We chose to cover ours with paper.
Trace your CD or DVD onto your paper.
Spread Mod Podge or glue onto your CD or DVD.
Poke a hole into your paper where the hole in the CD or DVD is. Using an X-acto knife works great but the hole does not have to be neat as it will be covered on both sides.
Using hot glue or another fast drying glue, glue the soda bottle lid over the center of the TOP of the CD or DVD. This one is a bit sloppy. Try to be even and light with your glue. That makes for more even spinning.
Press down firmly. This is your spinner handle.
Glue the ping pong ball underneath where the hole is on the CD or DVD. Go easy on the glue.
These are three of our finished spinners. We added things on the top of the handles but be careful as that can affect how it spins.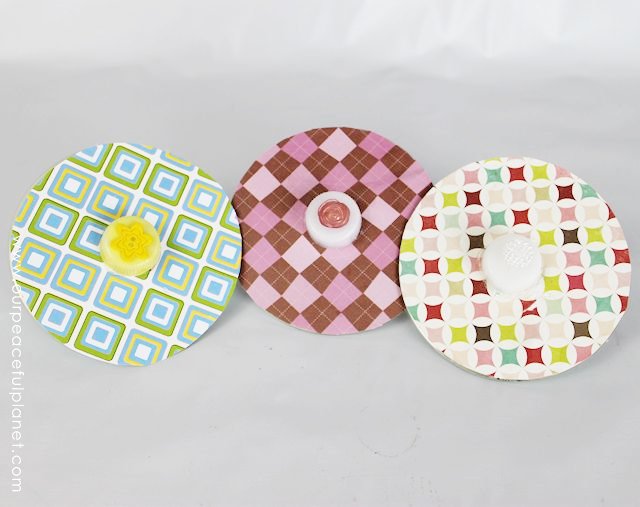 We did a gold glitter version.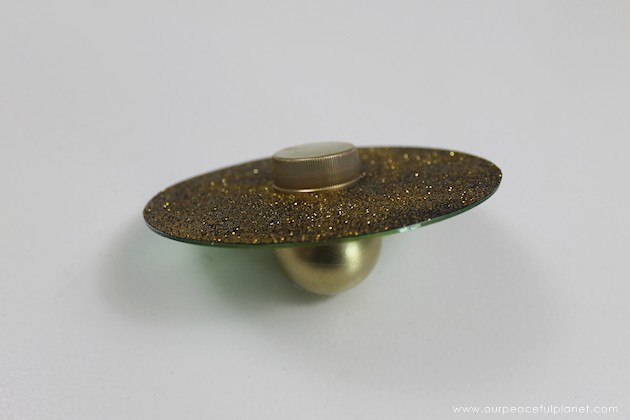 And that's how to make super awesome spin tops!