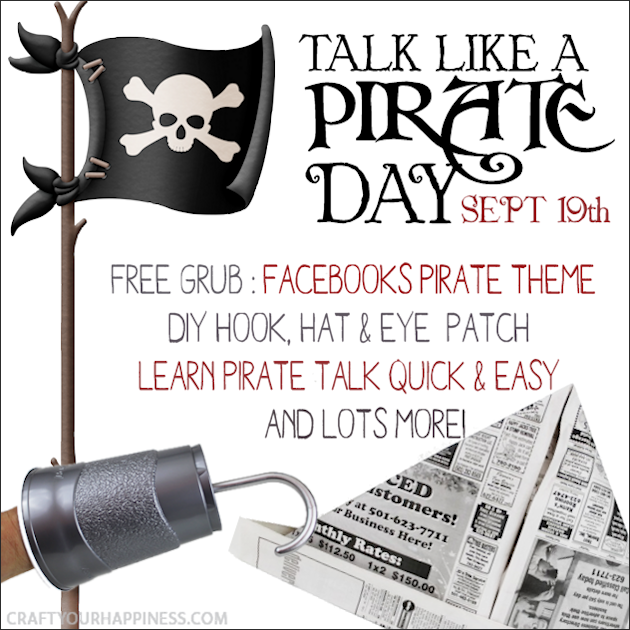 Me and me matey Cap'n Roy invite you to join us in celebration of International Talk Like a Pirate Day which falls on September 19th every year. It's one of those days that gives you a chance to let your hair down, haul anchor and have all kinds of piraty goodness! You'll find things to make and wear, free food, learn how to turn your Facebook into pirate talk, tell pirate jokes and much more below.  This is a day for grownups and kids alike to have fun!
Free Grub! 2017
This gets updated each depending on who's giving away free stuff. This year only Long John Silvers is playing.a

Free Stuff
Every year these  change. We try to keep the ad updated with the current year's specials. If we find more we'll add them!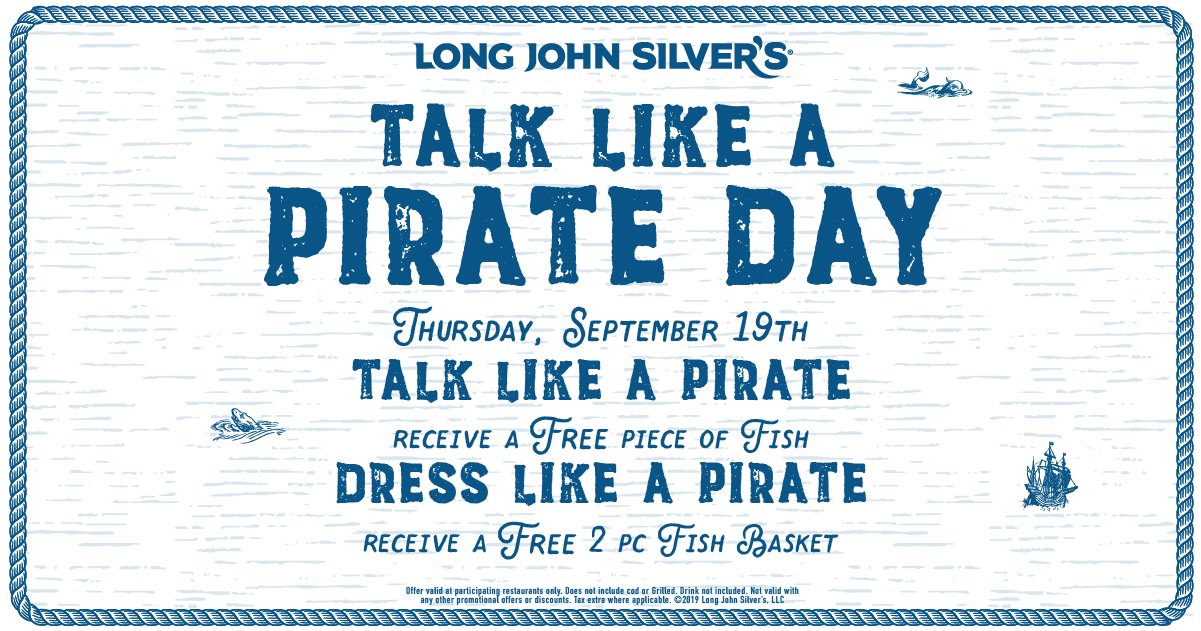 Shop Like a Pirate
How to Talk Like a Pirate
LANGUAGE
First and foremost you need to learn to "talk like a pirate". Here are some words and phrases to get you started. You can also use this online Pirate Translator.
Aargh!: Ouch! Or Ugh.
Ahoy!: Hey there!
Ahoy: Hey!
Arr! : I approve.
Avast!: Stop! Look! Or Look out!
Aye: Yes
Aye-aye! : Yes, Sir.
Batten down the hatches – Prepare for a storm.
Blimey! : Yikes!
Blow me down! : I can't believe it..
Booty : Treasure
Buccaneer: A pirate
Davy Jones' Locker: the bottom o' the sea, where the souls of dead men lie
Dead men tell no tales – Eliminate the witnesses.
Doubloons : Pirate coins
Grog : Booze (usually rum)
Heave ho! : Put some effort into it.
Hornswaggle : To scam or swindle
Jolly Roger : Pirate flag (skull and crossbones)
Keelhaul: a truly vicious punishment where a scurvy man be tied to a rope and dragged along the barnacle-encrusted bottom of a ship. They not be survivin' this.
Lad or Lassie : A boy or a girl
Landlubber : A non-pirate (usually a person who does not sail)
Lily-livered: faint o' heart
Matey: A shipmate or a friend.
Me hearties : My friends
Me hearty: a friend or shipmate.
Me: My.
Old salt : longtime sailor
Pillage : To plunder
Scallywag: A bad person. A scoundrel.
Scurvy dog!: a fine insult!
Shark bait : Anyone who is about to be tossed overboard into the sea
Shipshape : Neat and tidy
Shiver me timbers!: an exclamation of surprise, to be shouted most loud.
Son of a Biscuit Eater: a derogatory term indicating a bastard son of a sailor
Swashbucklin': fightin' and carousin' on the high seas!
Thar she blows! : There's a whale.
Thar: The opposite of "here."
Three sheets to the wind – Inebriated
Walk the plank: this one be obvious.
Wench: a lady. Do not use when a wench be near.
Yo-ho-ho: Pirate laughter
Turn Your Picture Into a Pirate
This site lets you upload a head shot of yourself, or link to one on Facebook, and it turns you into a pirate. You can see what that will look like on the left. You can then use the image in various places.
If you know how to work any type of graphic software, you can do it yourself using clipart. That's what I did for my Facebook avatar for the day. You can see that image on the right.

Dress like a Pirate
Eye Patch
At the very least you need to have a pirate hat and an eye patch. Both are easy to make. (pdf)

Pirate Hat

5 MINUTE PIRATE HOOK
Supplies
18 oz Plastic Grey Hefty Cup (any brand or color will work and you can paint them. These were just perfect for this.)
Plastic clothes hanger
Silver spray paint (or color of choice)
Heavy nippers (small saw would also work)
Drill or something to put a hole in the cup.
NOTE: Make the hole smaller than the end of the clothes hanger hook. That way you can just push it in and it holds!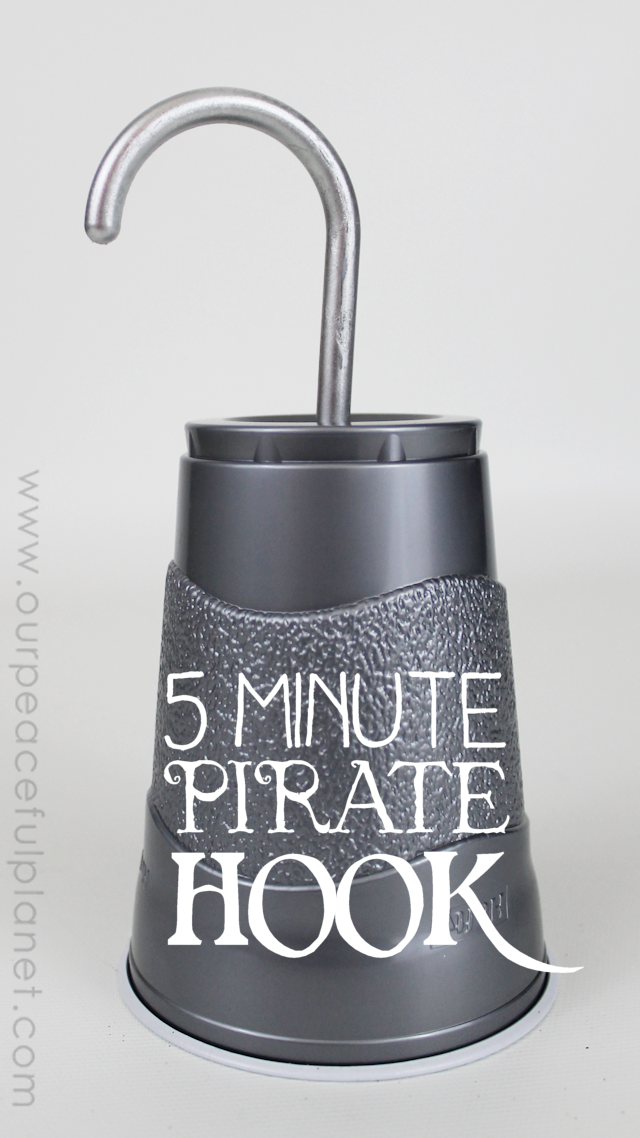 Change Facebook Language To Pirate!
Yep… you can actually choose "pirate" as your language on Facebook with some awesome results. It does NOT change anything you personally write but it changes the titles and notices of many things. Easy to do and you can switch it back after the day is over.
Other Ideas to Celebrate the Day
Have a Pirate Movie Marathon (Many are available to watch on Amazon and Netflix)
A Few of Our Favorites
Tell Pirate Jokes
These are all over the web but here's a few to get you started:
What's a pirate's favorite type of socks? Arggggile.
What does a Jewish pirate say? Ahoy vey!
What does a pirate nerd wear? An iPatch
What's a pirate's favorite place to eat? Arrrrrrby's
Drink  Some Grog
Our family as pirates.