We've got a wonderful way to inspire your kids to do their homework with a small portable desk homework helper station! It comes complete with pencil/pen holder, snack holder, inspirational quote and a place to store their homework. This very creative upcycle made from a TV tray comes together very quickly and you can color it however you want. We have
THREE FREE PRINTABLE THEMES
to choose from!
It also utilizes our Homework Helper Wall Pockets which you make using 3 ring binders!  You might also remember our Portable DIY Lego Table we made from the same type of TV stand!

Homework Helper Supplies

NOTES: You can design the desk however you like, but we will link to the exact items we used below. You can use a variety of containers for the top. Use one longer one if you wish!  Just make sure there is room for them to work.
Download Themes
pdf  (click download  button under graphic)
Instructions
NOTES TO KEEP IN MIND:  Measure the top of our tray and purchase the containers ahead of time. You can then adjust the painting to fit the containers if desired. Keep in mind this is a small surface so you want fairly slim containers so there is still room to do homework on.
We started with an old wood TV tray you can find at many thrift stores.
The top was a bit worn so we sanded it.
Spray paint one side of the table the color you want.
After the first color dried, tape off the dividing area and paint the other side.
You can use Washi tape if desired to decorate it.
Designs work best if you don't use a large container that will cover it up.
We decided to use sticky backed Velcro to hold our containers in place.
Decide where you will place the container(s)
Apply a strip of Velcro to the back and to the table. Though we used a larger strip, we decided a small piece on each end would work better.
Print out the labels and signs of choice and cut them out.
To make them sturdier and last longer we applied packing tape over the small ones before cutting them out.
Our TV stand had a cross bar that was in the middle of the legs and high enough to attach a pouch. We used one of our Homework Helper Wall Pockets to hang on the bar. We added two grommets to the container to allow it to hang. These are super easy to make and grommets are also cheap and easy to use! Check out our tutorial to make your own!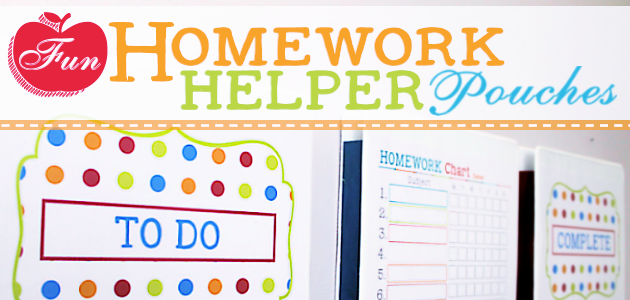 This is the pouch we made for our homework helper desk.
Two small screws were placed in the cross bar to hang our pouch. You could also tie it on using ribbon or heavy string.
This is the "Dreams Don't Work Unless You Do" theme.
A snack bin.
A container for pencils and pens etc.
Our pouch with an inspiring quote.
This is our Super Hero theme. We also have a Dr. Seuss theme.