Our oldest daughter came to visit recently.  She lives in Arizonawith her husband, son, 2 dogs and 5 cats. She's an amazing woman who I admire as much as I've admired anyone on the planet… and she is crazy talented. (A lot of the posts here are her work. I link some below.)
Now let's go back a few years.  29  runaways at age 16, many out of state. Drugs, alcohol, police, youth facilities, car chases, pregnancy, court appearances, and weeks on end not knowing if our child was alive or dead. She was our troubled teen and needless to say, it was difficult times for my husband Roy Rivers and I which also included several lost jobs because when Jenny was on the run Roy could not be out looking for her.
Yet here she is, this incredible woman who not only grew from her experiences but taught her mom and dad along the way. She is honest, empathetic, compassionate, and wise beyond her years. She also has a killer sense of humor. During those sleepless nights as parents, we never saw this person coming out of those troubled times. Nor did we see how close our relationship would be.
And though at the time we would have opted out at any given moment, we would not trade any piece of the person she is because of those experiences and I'm pretty sure she wouldn't either.
When I think back on my life it does appear to be the really hard times that I grew and learned from. That seems to be part of the human condition as a quite I once saw validated: "Pain Instructs".  It also seems to be how we learn to be less judgmental. We only put ourselves in another's shoes when we've had to walk in them ourselves. Like I said, on this journey, Roy and I also learned a great deal and became better people.  Roy talked about one such lesson in "How I Learned to Never Judge a Book By It's Cover."  Below are a few of the tips that we attribute to why things turned out so well for all concerned.
2006


Update
Front and center Dec 2018 with her two brothers, husband and son after doing a Escape Room together.
Brother Adam, Husband Nick, Jenny, Son Ashton, Brother Charles.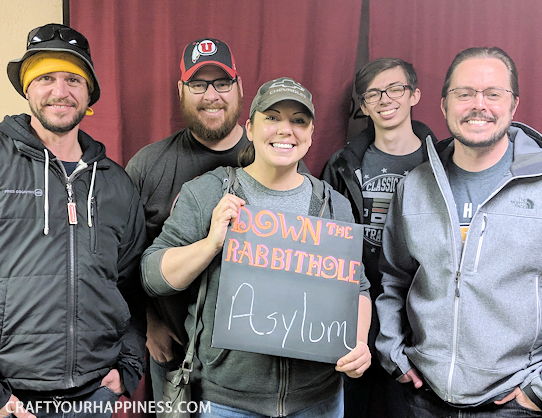 Jennifer's Book
Check out Jennifer's beautifully illustrated book
Me & Myself, A Love Story
  on Amazon. It speaks about the importance of self-worth. It's a wonderful message for older kids and adults alike.
 It's written and illustrated by her and available in paperback or Kindle.
Jennifer's Work
Just a handful of some of her work helping out on the blog.

Tips for Parents
Know your kids. Know who their friends are, where they are, what they are studying in school etc.
Spend at least 15 minutes a day talking with and focusing only on them, without judgement.
Give unconditional love. No matter what they do you love them, even if you don't love their actions.
When you have to discipline do it out of purpose, not anger.
Shower your kids with love and acceptance every chance you get.
Do not yell or use physical violence in any situation. Walk away until you can be calm.
Do not be condescending.  Be as logical as you can. And yes, that's hard to do.
Never, ever give up.
Our daughter told us in later years that even when things were at their worst she knew we were there for her. It didn't matter what she had done she could come to us when she needed too. We were her safe haven. This is not about condoning bad behavior. This is about unconditional love for your child.  Some of these kids will experience incredibly harsh aspects of life.  Knowing that mom and dad are there no matter what they do, will save them.

Dangers

Obviously there are some serious dangers depending on what your child is doing.  All you can do is the best you can to keep them safe. (Roy used to nail her windows shut so she could not get out at night!) The worst can of course happen. But by far the largest portion of these kids grow up without serious damage. Keep that in mind.
Final Thoughts
There is indeed great hope for those of you who struggle with your own teens. This time will  pass and some amazing growth can be had along the way for you and your child. People, like clay, are sculpted by their experiences.  Roy said something years back that I've always remembered.   "Our choices can teach us who we are and who we are not."   We've found that both are incredibly important.