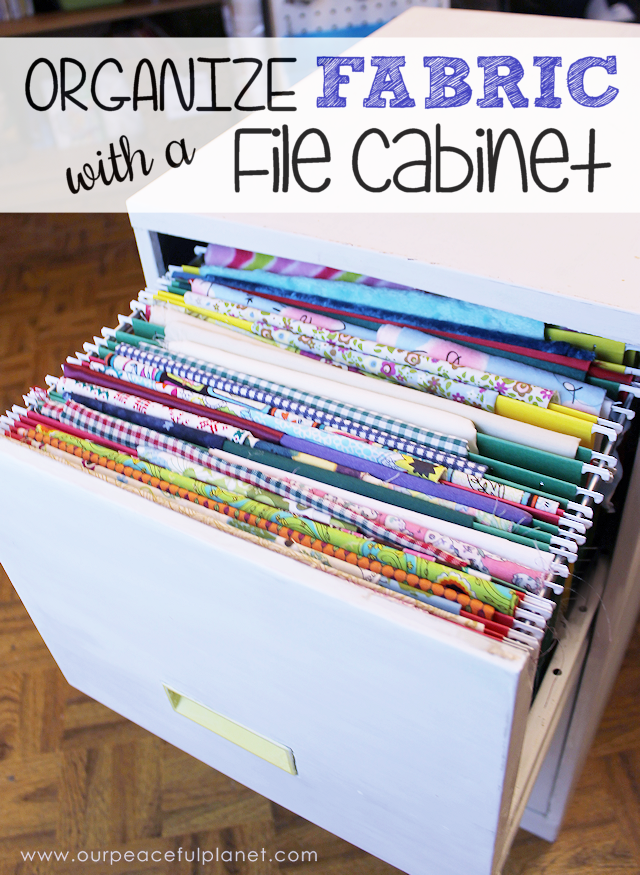 If you're like to sew or craft and have lots of small pieces of fabric lying around we've got a clever and unique way to organize fabric using a hanging file cabinet. It tucks them away but open a drawer and you can see each piece easily! We used an old file cabinet we had and painted it.
UPDATE: We've got a new classier version of this! Check out our 2 Drawer File Cabinet Makeover For Fabric Storage for even more ways to do this project! And if your looking for other ideas in general on craft organizing check out our  post The Most Creative Craft Room Organization Ideas.
Supplies to Organize Fabric
Some file cabinets are built to hold hanging files, some are not. If yours isn't just purchased a cheap hanging file frame like I did.
File cabinet
Hanging file frame  (If your cabinet isn't set up to hold hanging files.) The link is to the exact one I purchased. $6.88 for a set of two. It's adjustable for size.
Tiny binder clips (optional but you can hold fabric onto the folder if desired to help keep it in place.)
PROS & CONS
After using this system for a while I felt I needed to give the pros and cons.  The pros are that its very clever and looks great and allows you to see all your fabric scraps at a glance. The con is that inserting the files in and out can be tricky if there's a lot of files as it tends to want to grab other fabric with it. Using a small binder clip to hold them is a help. I suggest not filling the drawer too full to help avoid this.  I would also suggest cutting the files into two piece so you don't have to pull out two groups of fabric when you want something.
I welcome any suggestions on how to make this work smoother! Just leave them in the comments below or you can email us using our contact form!
The File Cabinet
My file cabinet was really beat up. I decided to paint it. I used chalk paint but it was my first attempt and I wasn't completely pleased with the coverage or end result but it worked for my purpose.  If I did it again I would grab some Rustoleum spray paint and give it two or three coats.

I had tape and labels stuck to my cabinet in places. I scraped them off then used Goo Gone to remove the residue. Then I scrubbed the whole thing down good and painted it with two coats of paint. Again, I'd spray paint it next time!

The plastic grips on mine popped out easily and I painted them a contrasting color. Then I inserted my hanging file frame as my cabinet was not set up to use hanging files.
The finished file cabinet ready for my fabric.
There are two ways to do this. You can cut each file folder in half and use them separately or keep them together as I did and place your fabric on each edge.  For extra small pieces I placed more than one scrap on a side.
The finished result! A very pretty way to organize fabric.

Using small binder clips can be helpful.