Make these beautiful DIY paper flowers in 5 minutes or less!  Use them in your crafts or decorating. Attach them to a lamp shade. Even use them in your hair! They are quick and almost free to make and they can adorn just about anything. Download our free pdf template and you'll have a dozen made in no time!  (There's a silhouette file too if you own that machine!)  These would go beautifully on our clothespin craft container or our lovely upcycled string dispenser!   FYI: We have a specific craft coming up next week that utilizes them in a very unique way so stay tuned or better yet subscribe to our posts!
DIY Paper Flowers Supplies
Cardstock for flowers and leaves
3/16th dowel, or anything about that size for wrapping the flowers. We used the end of a paint brush!
Downloadable Flower Template
4 Different Sizes (pdf)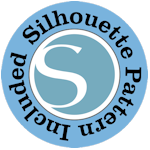 Instructions
Print out the free template and firmly hold it over a piece of cardstock while you cut it out on the lines.
Starting with the outside end begin to wrap it around a small dowel or the end of a small paintbrush. A pencil can work but its a bit too large and makes it difficult.
Once you get to the end you will have the other ends round piece left.
The rest of the flower will sit on this "base" as shown. FYI even if you let go of the flower it will stay together.
  Place a glob of glue onto the base.
You need to use enough glue to attach the entire flower.
Press your flower down carefully, twisting it in tighter if needed.
Hold it for a few seconds. (This is what the hands of a crafter looks like… covered in paint!)
That's how to make DIY paper flowers! Cut out your leaves and glue on if desired.